FFI MODULE 1: KITCHEN FOUNDATIONS AND KNIFE SKILLS
There was quite a bit of anticipation leading up to starting this course, as well as preparation – but once I dove in, I realized just how remarkable this program is and how vast the opportunity for deeper learning. I was a bit apprehensive about the knife skills lessons but continued to remind myself that with any new skill, it's not going to happen overnight – and that I should slow down and enjoy the process of learning something new.
Before I started, I ran through FFI's very extensive list of required equipment and started with buying the things I'd need for the next few modules. I bought a new set of knives (I had a couple of J.A. Henckels knives previously, so I decided to stick with that brand), and have come to the decision that this course will serve as a great excuse to get some new appliances (namely, swapping out my almost 15-year-old blender)!
Lessons 1 and 2 were focused on learning the many different knife skills required in plant-based cooking. This was an important one for me; my friends who have seen me cook know that my knife safety skills are less than up to par (i.e., habitually talking and not looking at my hands while chopping – not recommended, folks)!
LESSONS 1 & 2: KNIFE SKILLS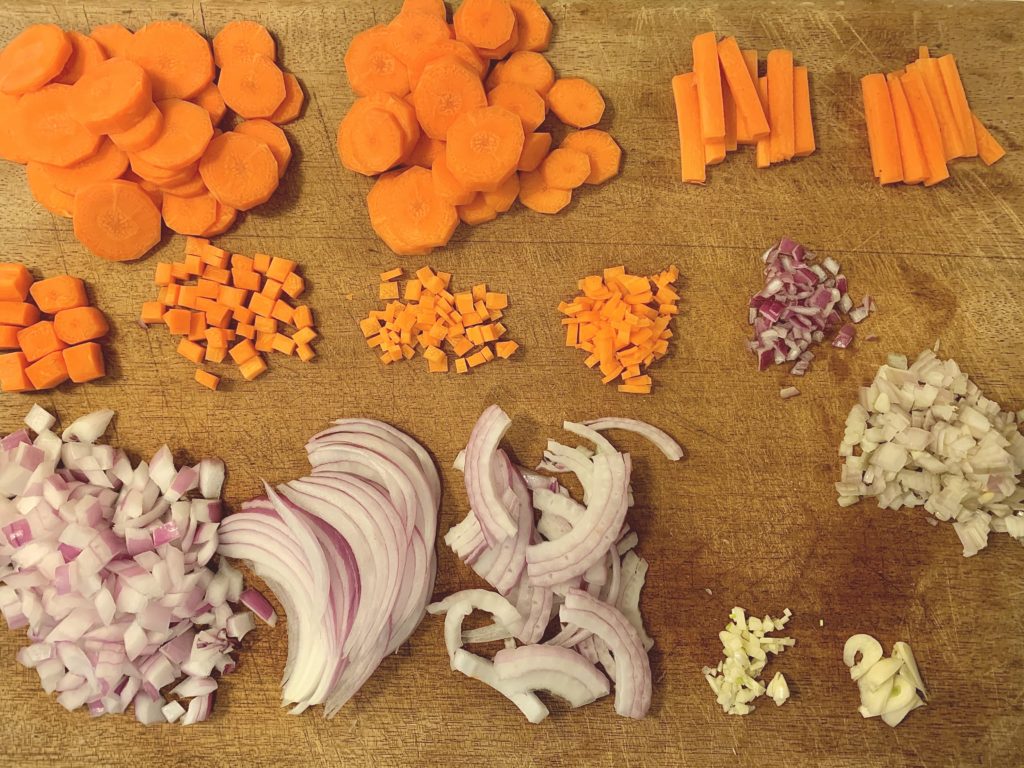 A few of the highlights from these first two lessons:
MIS-EN-PLACE: This translates to "everything in its place." FFI is big on having all your tools ready and ingredients prepped prior to starting a new recipe – it makes for a smoother cooking process and less room for mistakes (or even injuries) when everything is ready and yes, in its place.
PINCH GRIP & CLAW GRIP: I'm slowly but surely learning to adopt safer, more efficient ways of using a knife. The pinch grip refers to the hand holding the knife, wherein your thumb and index finger hold the bolster (where the blade and handle meet) to guide the other fingers – which essentially gives you more control and precision. Whereas the claw grip holds and guides whatever you're cutting while tucking the tips of your fingers under so your knuckles are facing the blade. Are my friends breathing sighs of relief yet?!
OBLIQUES: No, not another *abs are made in the kitchen* plug – alas, it's my new favorite knife cut. Also known as the "bias cut," it's similar to a straight rondelle slice, but angled at about 45 degrees. In addition to those two cuts, we also practiced over a dozen other techniques. These in no way became muscle memory after one lesson, but were super helpful nonetheless and I'll (hopefully) refine these skills more over time.
LESSON 3 – GAZPACHO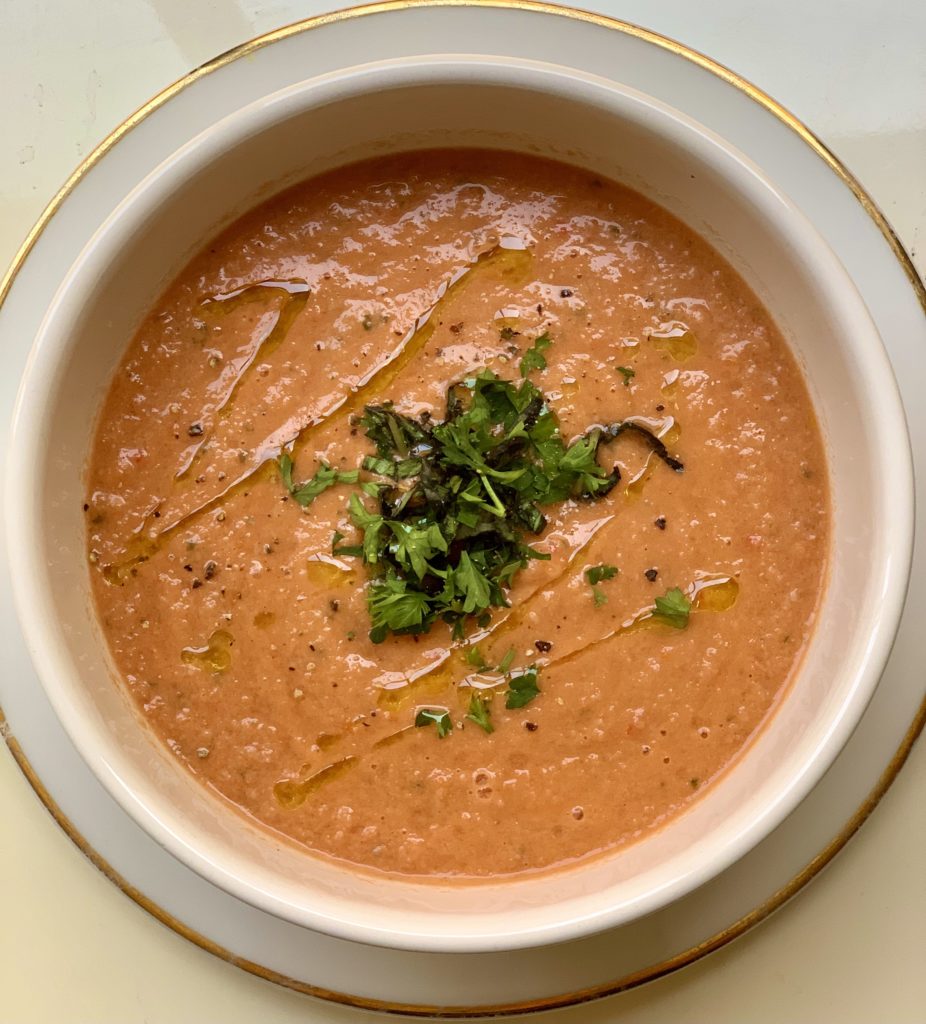 I was pretty grateful that our first recipe was one that I already had some familiarity with. I LOVE a savory, chilled gazpacho and had NYT Cooking's recipe on repeat last summer. That said, FFI's version was quite different than gazpachos I'd made prior, so I still felt like I was learning something new. I actually discovered through this lesson that traditional Spanish gazpacho uses day-old bread to give it quite a hearty consistency, as opposed to the primarily tomato-based recipes I'd used in the past.
This gazpacho's flavors were fantastic – my only mistake was using gluten-free bread in the recipe, which gave it a bit grainer of a consistency that isn't ideal. But, it was still delicious and I enjoyed it with a simple salad on the side. I can't wait to make one this again over the summer – it really is the perfect al fresco appetizer on a warm night.
LESSON 4: MUSHROOM ESCABECHE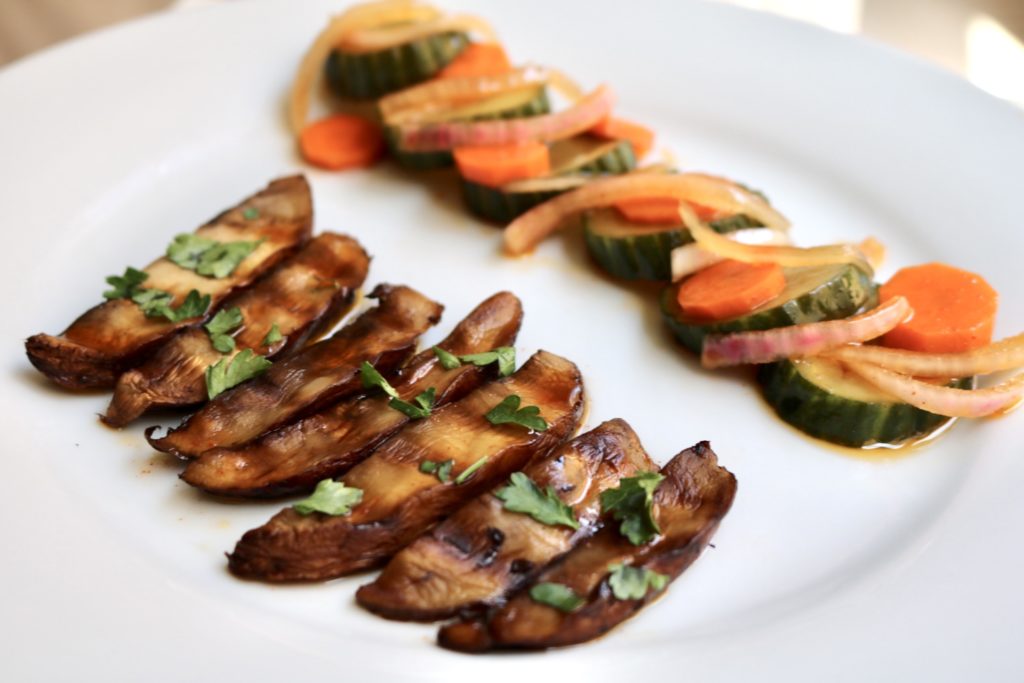 Confession: I had never even heard of escabeche prior to this lesson. This popular Mediterranean apertivo typically uses grilled meat as the protein, but FFI's version uses juicy portobello mushrooms that I grilled with salt and olive oil in my grill pan. The pickled veggies served alongside the mushrooms offer a really unique smoky flavor, thanks to a bit of smoked paprika.
It's a really fun recipe that can be enjoyed tapas-style, with cocktails, or as an appetizer. I definitely want to try using this specific pickle brine with other veggies – I used red onion, carrots, and cucumbers this time around, but am going to try it with cauliflower soon (and maybe a different grilled veggie, like bell peppers).
That's a wrap on Module 1! Next up: Module 2: Raw Food. I'm so excited to learn the fundamentals of elevated raw cuisine, including Matthew Kenney's famous raw cacio e pepe that's served at Plant Food + Wine (one of my all-time favorite restaurants in LA). The recipes in this module are a bit more intricate, mainly because raw food requires a lot of preparation (particularly dehydrating and soaking of ingredients) but I'm really looking forward to learning a ton of new information and techniques. Particularly with summer in full swing, the light, fresh quality of raw dishes are so appealing. Wish me luck – and, as always, thank you for following along on this journey!