FFI MODULE 6: SALADS + DRESSINGS
After the cheese module and a very indulgent holiday season, this next section – FFI Module 6: Salads + Dressings – was welcomed with arms wide open.
Each salad we learned was incredibly unique, flavorful, and vibrant; and, true to FFI form, presented new ways to think about a dish we tend to overlook. Most of us view salads as a healthier yet less satisfying option compared to other meals, but this section proves us very, very wrong in that regard.
To kick off FFI Module 6, they broke down the anatomy of a salad, namely:
The base: This is whatever ingredient "leads" in the dish, and it doesn't just have to be greens; grains or other prepped vegetables can make up the base, too.
The dressing: My favorite part of the salad (obviously), the dressing brings the flavor, fun, and (usually) fat.
The garnish: Aside from helping tie the dish together aesthetically, a simple added garnish can really help in bringing unexpected tastes and textures to a salad, and it's an area you can get creative with. Whether it's a pickled onion, fresh herbs, cheese, nuts, fresh or dried fruit, the toppings really help to round a salad out.
With that, here's a wrap-up of the gorgeous salads I learned to make in FFI Module 6.
LESSON 1: COBB SALAD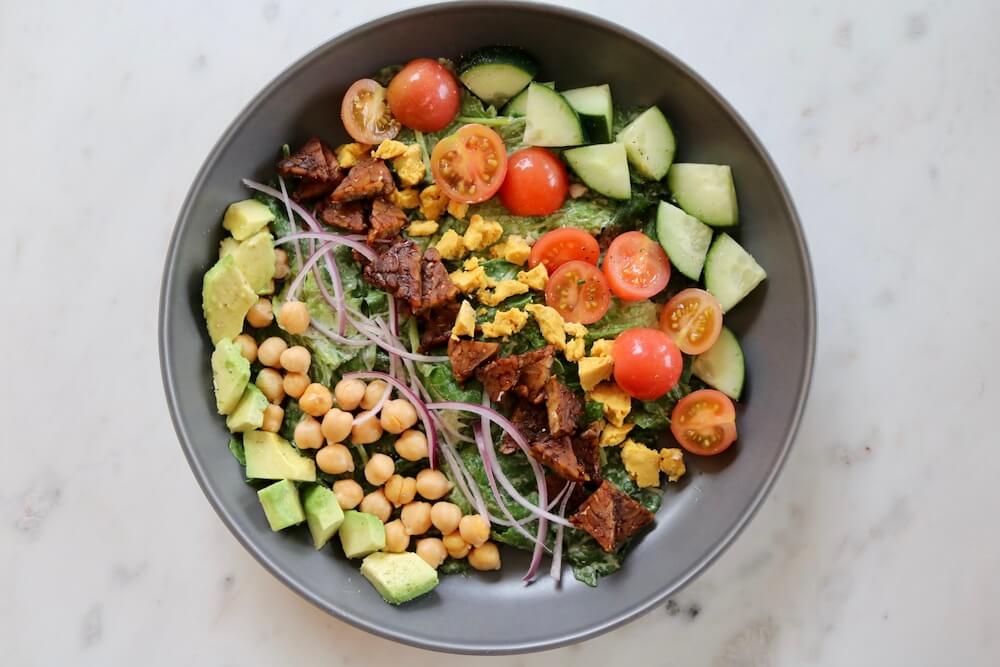 This salad get 5 stars, all-around. It's hard to even decide what the best part of this cobb salad is because all of the ingredients come together so tastefully – but if I had to choose, it would be a very close tie between the bleu cheese dressing and the tempeh bacon. The former was made from an aquafaba mayo base (which, I kid you not, tasted like a traditional mayonnaise but better – 'egginess' and all) and fresh dill and other tasty spices that resulted in a perfect cross between a bleu cheese and ranch dressing; the latter was an incredibly easy, thinly- sliced and baked tempeh with an incredible marinade made up of molasses, tamari, and smoked paprika flavors. Oh, and I got to use my leftover vegan cheddar from the last module in this one, which was fun. Next time, I might opt for little gems over the romaine and baby kale mix they recommended – but overall, this salad was just superb.
LESSON 2: CALIFORNIA SALAD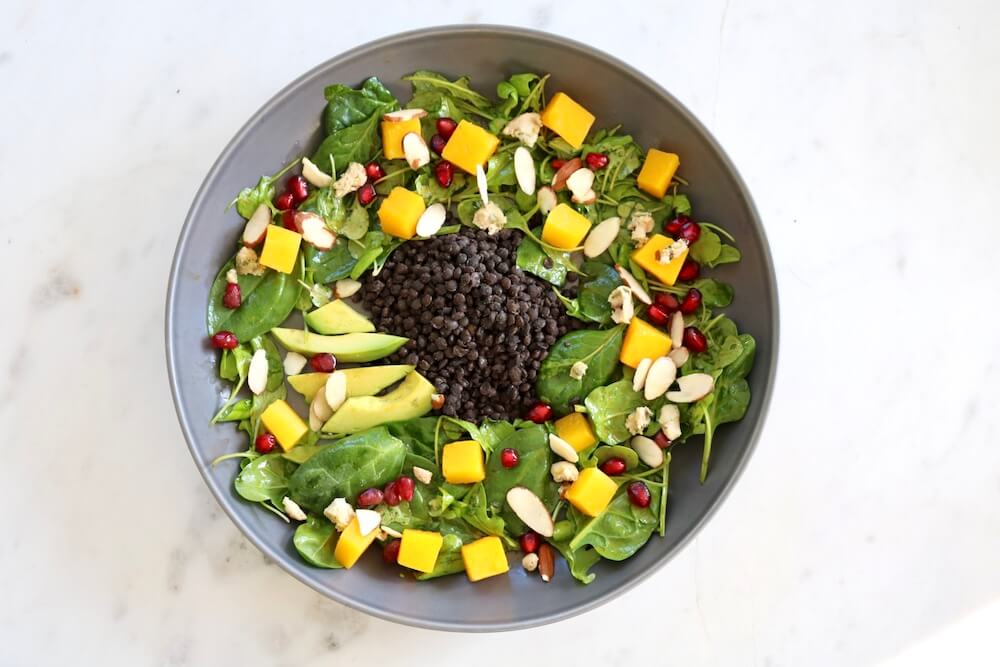 This one was very ME – between the beluga lentils and the harissa vinaigrette, it's the perfect salad that's light and clean but protein-rich at the same time. The lentils were the base here, but they were surrounded by a healthy slew of spinach and baby arugula, roasted butternut squash, sliced almonds, avocado, and pomegranate seeds, with a healthy serving of a zesty harissa vinaigrette and leftover bleu cheese crumbles from the former module.
LESSON 3: KHAO YUM RICE SALAD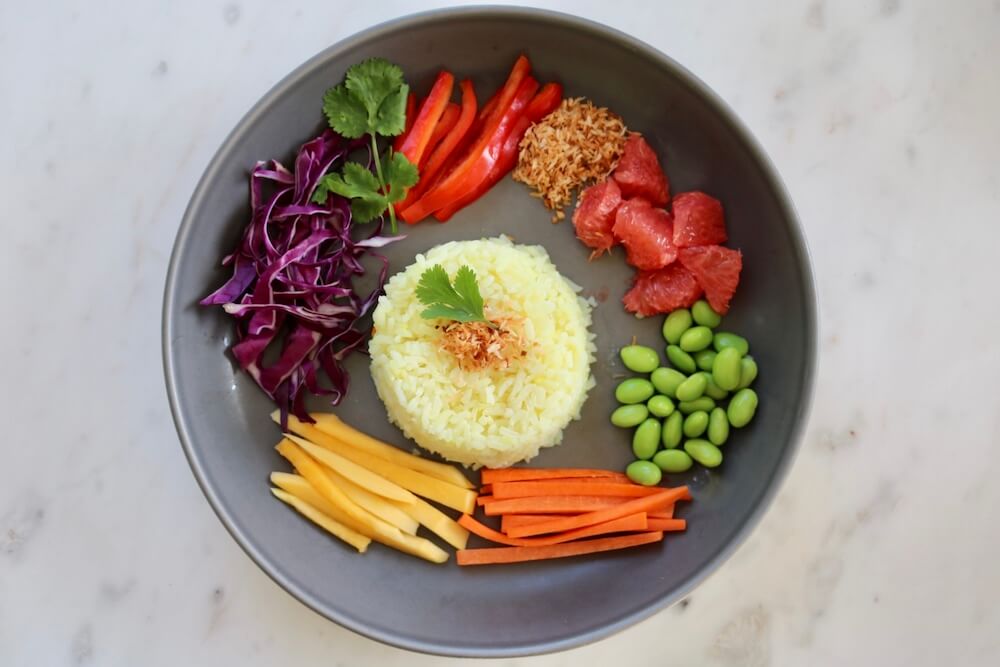 This salad was just a delight. Khao Yum is a southeast Asian-style dish that essentially translates to "mixed" salad, with the idea being that you should combine as many nutritious and seasonal foods together as you can. The best part of this salad was, hands down, the turmeric rice as the base. It was super fluffy and the turmeric gave this touch of earthiness that I just loved. It paired so well with the fresh bell peppers, purple cabbage, carrots, and edamame. The hint of sweetness from the papaya, grapefruit, toasted coconut shreds and divine lemongrass dressing was just perfect.
LESSON 4: THAI SPAGHETTI SQUASH SALAD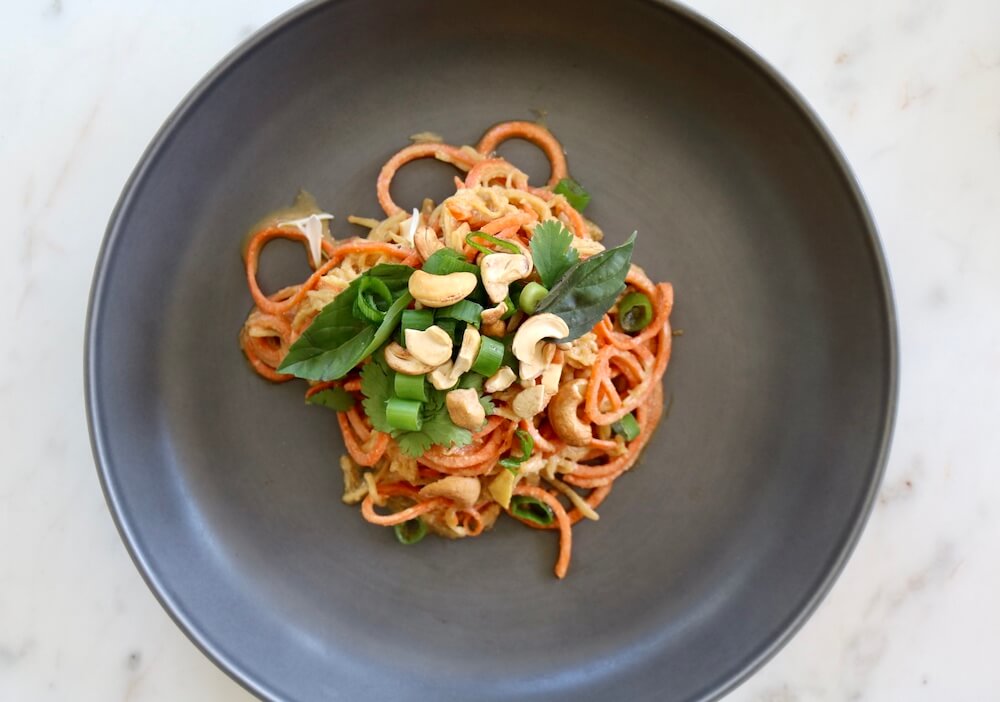 This tasty salad included spiralized carrots and spaghetti squash as the base, with an assortment of delicious flavors coming from roasted cashews, green onion, Thai basil, cilantro, and a creamy-sweet cashew dressing. It had plenty of fun textures and flavors to play around with, and was a really fun take on traditional Thai flavors in the context of a spiralized salad.
LESSON 5: BEET TARTARE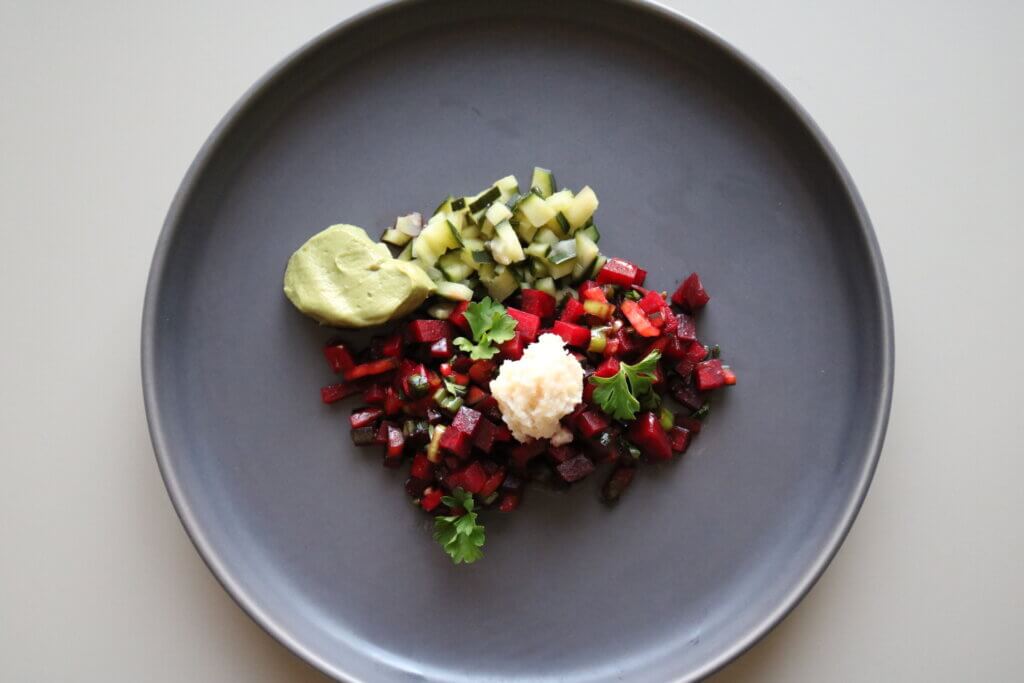 I had actually tried this beet tartare the first time I experienced Matthew Kenney's Plant Food and Wine in Venice, so it was yet another full-circle moment in learning how to make the dish, myself. And, I'm very pleased to share that my homemade version didn't disappoint. The dish encompassed roasted, chopped, and marinated beets, a chopped quick pickle, and an avocado mousse. The garnish, a horseradish, was the unexpected kick I didn't know I needed; and between that, the richness of the mousse, and briny taste of the beets and pickles, it's just a gorgeous appetizer that I can't wait to share with others.
I happened to make this dish on a particularly warm January evening here in LA and enjoyed it on the patio with a glass of chilled red wine while watching the sunset. It was one of those unexpectedly delightful weekday evenings that reminds us that enjoying life shouldn't be reserved for a mere two days of the week.
Thank you for joining me on this imperfect journey of lessons in life and in food. If you haven't read my last FFI post on the epic cheese module, it's worth a read. And in keeping the spirit of Veganuary alive and well this month, be sure to check out my post on how to go vegan this month (and beyond). Cheers!