FFI MODULE 2: RAW VEGAN CUISINE
When we think of raw vegan food, most people's minds go to crudité and well…raw fruits and veggies. But pizza, lasagna, and cheesecake? Not so much.
Not only did this FFI module greatly expand my understanding of everything a raw plant-based dish can entail, but it also helped reaffirm my need to slow down and exercise patience. Rome wasn't built in a day, nor is truly elevated raw vegan food.
That's not to say that there are recipes out there that don't require hours of soaking, dehydrating, and preparation – but the FFI chefs' decision to have this section of the course up front (and after the knife skills section) was clearly deliberate.
WHAT MAKES RAW VEGAN FOOD UNIQUE
NUTRIENT DENSITY: As soon as food is cooked and heat is applied, the natural, live nutrients begin to lessen. That's not to say that cooked food isn't healthy, it is – but the vitamins and minerals are most potent when food is in is raw. So, incorporating raw food into your diet regularly is the best way to maximize plants' nutrients for your health.
PREPARATION: When it comes to raw vegan food, preparation is key. Many items need to be soaked or dehydrated prior to actually making the dish. And, there are often many steps. My learning lesson here was to make these recipes on days that weren't stacked with calls for my day job. Once I figured that out, it was smooth sailing (and much more enjoyable). I set timers to soak and drain, prep different dish elements, and actually found those breaks to be a welcome reprieve from my work day.
EQUIPMENT: I invested in several kitchen items for this course, but they are tools I'll use for years to come, including a food dehydrator. It's such a great machine to have around (and can cost as low as $40) – even when you have fruits or vegetables you don't think you'll get to eating before they overripen, throwing them in a dehydrator is such a great way to reduce food waste and enjoy tasty snacks. I had a couple of apricots lying around and sliced them up to dehydrate for a tasty snack or addition to salads or granola.
Check out some snaps of my raw dishes below. They took some time, but man – were they worth it.
CAULIFLOWER RICE NORI HAND ROLLS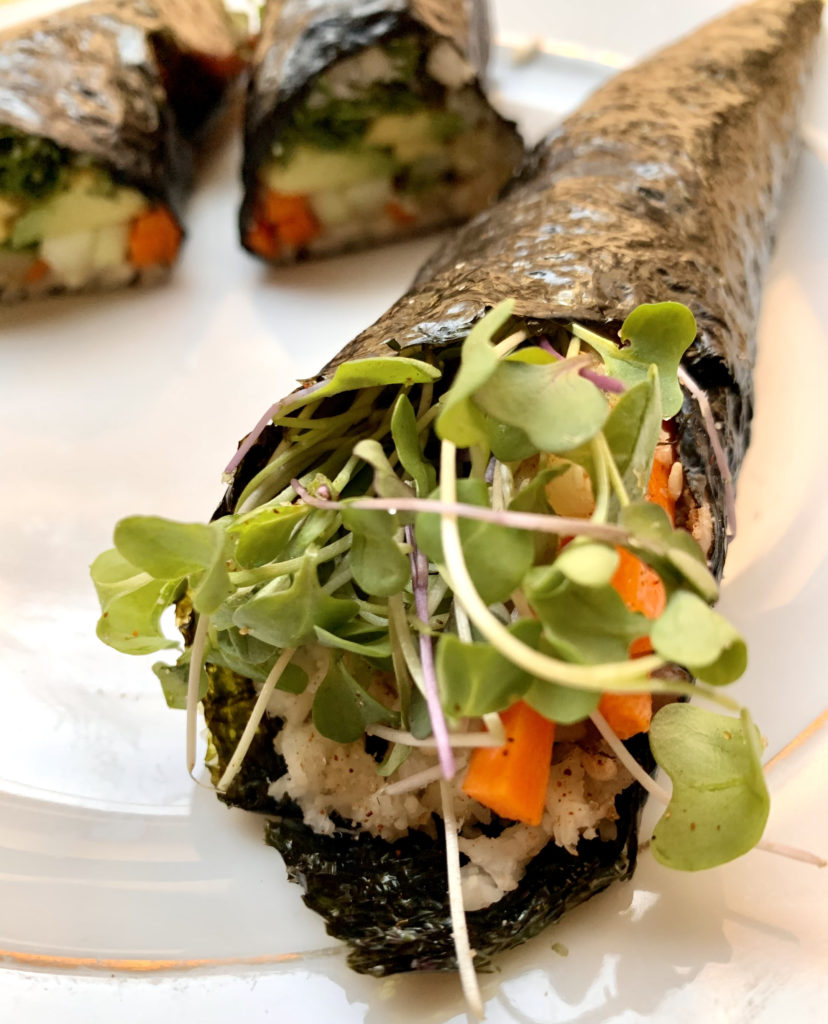 These hand rolls were so tasty and light. While I do love my traditional sushi rice, the cauliflower had such a great texture and surprisingly a lot of flavor, as the recipe called for us to add mushroom powder to give it a more complex umami quality. The fresh carrots and cucumber gave the roll such a nice crunch, and the avocado provided some added richness. Topped off with microgreens and rolled up in a nori sheet, it was a recipe that's so easily replicated and makes for a perfect lunch or starter.
KELP NOODLE CACIO E PEPE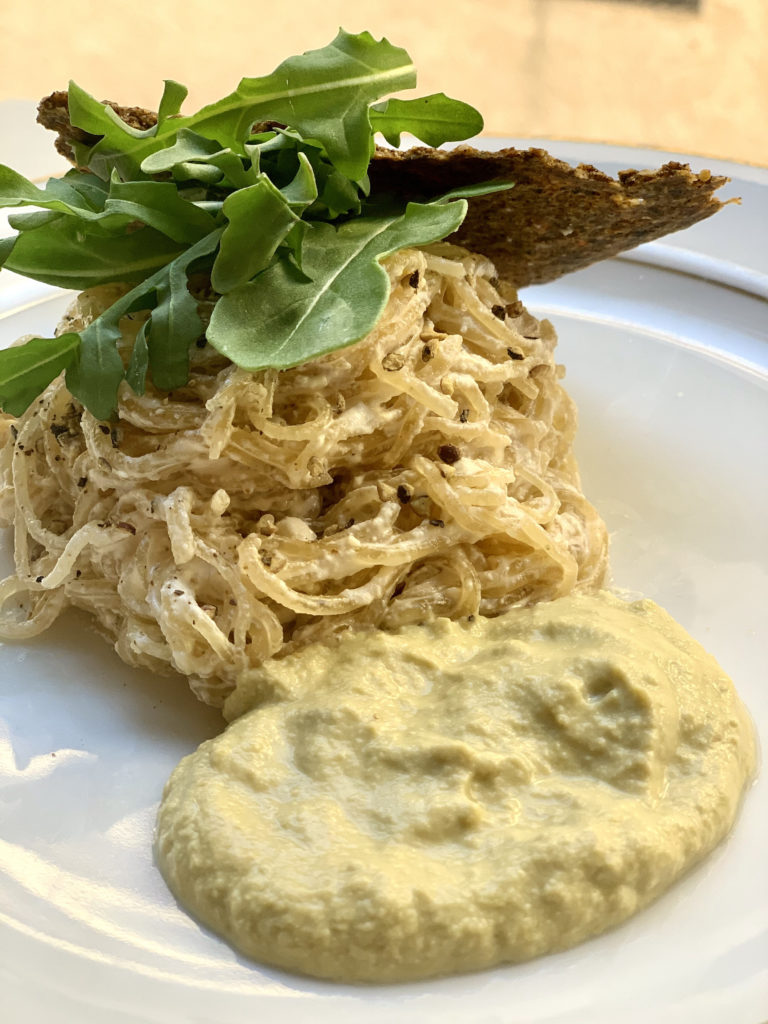 This recipe was so unique and turned what is typically a delicious, albeit heavy pasta dish into something that was light yet with an intricate, layered flavor palette. The creamy cacio sauce was quite easy to make once the cashews were done soaking (just a quick spin in a high-speed blender with some seasoning, while the pangrattato (a thin, crispy cracker) used as a garnish actually took me nearly 24 hours to dehydrate but was so worth it – and all made from black olives, carrots, buckwheat, and flax. I used the leftovers as croutons and as a base for the raw pizza below. The puree on the side was simple and only made from green olives and soy milk. When you assembled a full bite with the noodles, arugula, puree, and pangrattato, the briny flavors really came together beautifully – and totally blew my mind.
LASAGNA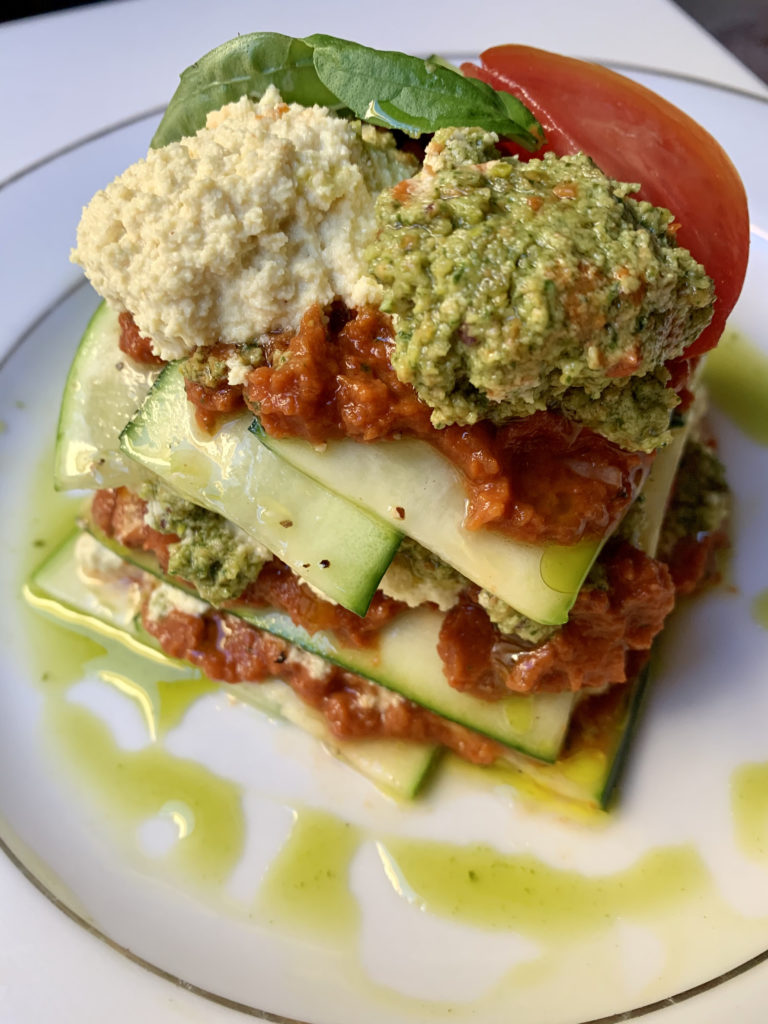 Ok – this raw zucchini lasagna was a true labor of love. It had many steps, but the end result definitely justified the time investment. The sundried tomato marinara was truly one of, if not the best marinara I've ever had. And the pistachio pesto was so zesty and bright, with such a good texture (and added protein and antioxidant benefits) from the pistachios. The macadamia ricotta requires a bit more fine-tuning on my end (I should have processed it a bit longer to get a creamier consistency), but overall, the meal was a hit.
PIZZA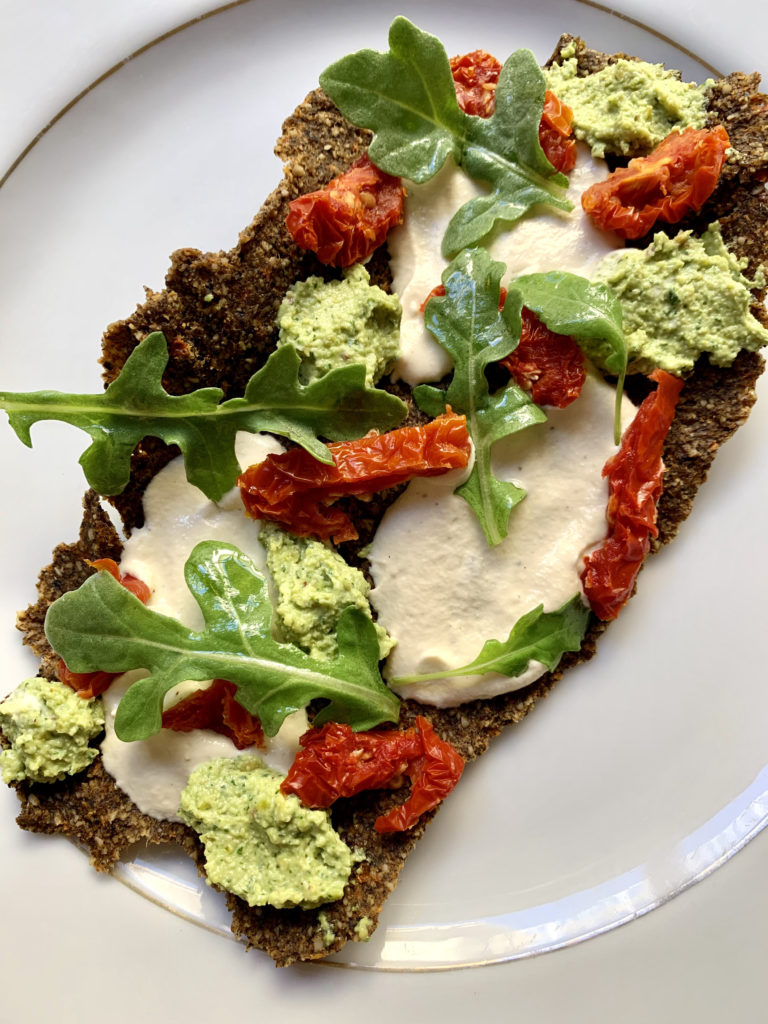 This was such a tasty and relatively easy dish to make once you have the pangrattato base – I used my leftover pistachio pesto, sun-dried tomatoes and arugula from the lasagna – so the only new element was the reishi crema. The crema was essentially made from cashews, lemon, nutritional yeast and resihi powder – which I learned is a major nutritional powerhouse with major antioxidant benefits – and it resulted in such a great replacement for traditional cheeses used on pizza.
BLACKBERRY CHEESECAKE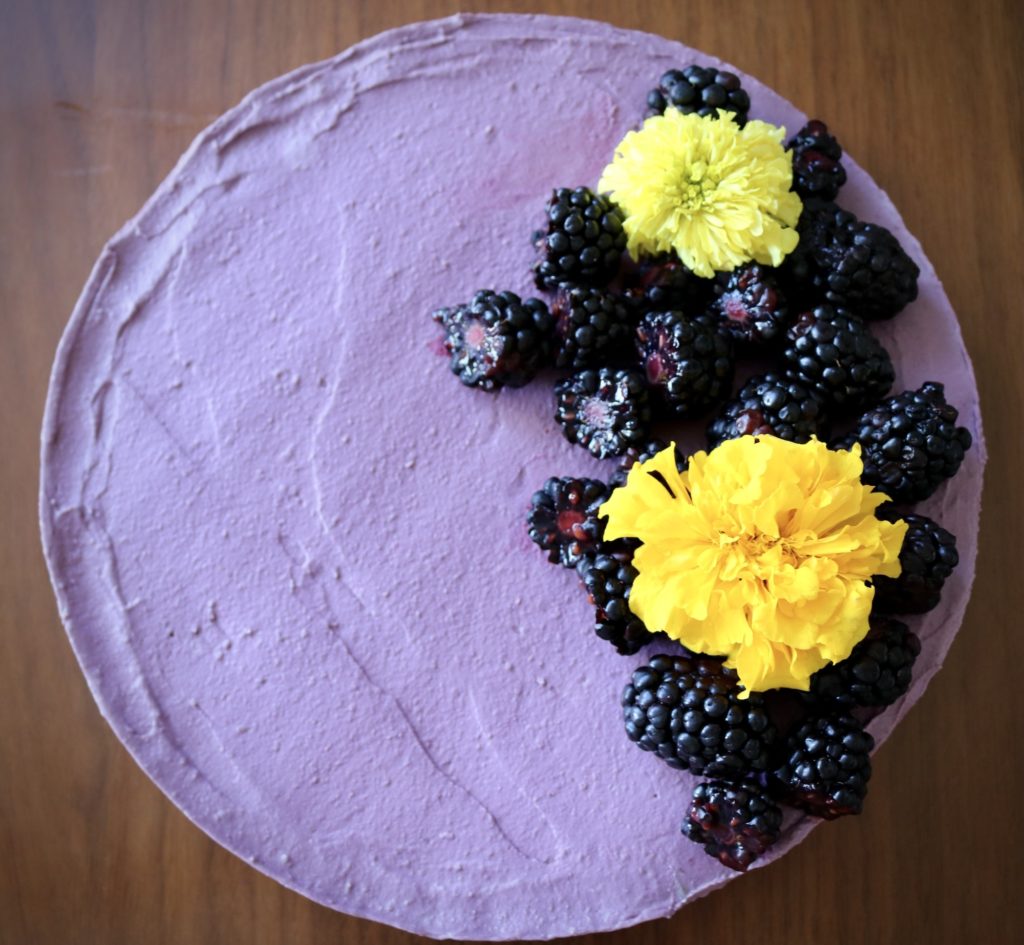 This cheesecake was really special, for a couple of reasons. Though the dessert, itself, was delicious, it also represented the culmination of a lot of new knowledge, skills, and newfound patience. This section reminded me to slow down and remember that cooking can be so cathartic when you allow yourself to just soak in the experience and know that there's no need to rush a good thing. By the time I arrived at this final lesson, all of this really hit me, and as a result, I so enjoyed every minute of creating this beautiful dessert. The cashew-based cheesecake was so creamy and decadent, but next time I might try it with a bit sweeter berry, as it was a bit more tart than I like my cheesecake to be. But, the macadamia date crust was the showstopper – they even had us add a bit of spirulina powder for added health benefits.
Thanks so much for joining me as I made my way through FFI's raw vegan food module! The dishes were dynamic, refined, and so gorgeous. But what made it meaningful to me was the subliminal lesson I learned: that cooking, and living, slower is a virtue. And that while sometimes a quick recipe is, on its surface, the most attainable way to cook, I do believe that we can prioritize and make time for things that bring us joy. That pursuit of joy will look different for everyone; but to me, I learned that carving out a late afternoon to prep, cook, and enjoy a meal at the dinner table with loved ones was actually exactly what I needed to unwind that day. Once I embraced that, my perception and experience with these lengthier lessons shifted dramatically.