EASY VEGAN PESTO (WITH SUPERFOODS)!
I recently made a game-changing little gem salad with grilled veggies, white beans, and pesto, and realized that – given how in love I am with the latter – it was due time that I shared my easy vegan pesto recipe with you all.
Pesto is such a special sauce. It makes me think of times at home during COVID when my only social outing consisted of visits to the neighborhood farm stand, where I'd stock up on fresh basil and run home to make pesto. It's also reminiscent of my cherished time spent exploring Italy, where pesto was aplenty.
Pesto also makes me think of summer, dining al fresco in warm weather, and – my two favorite things – pizza and pasta.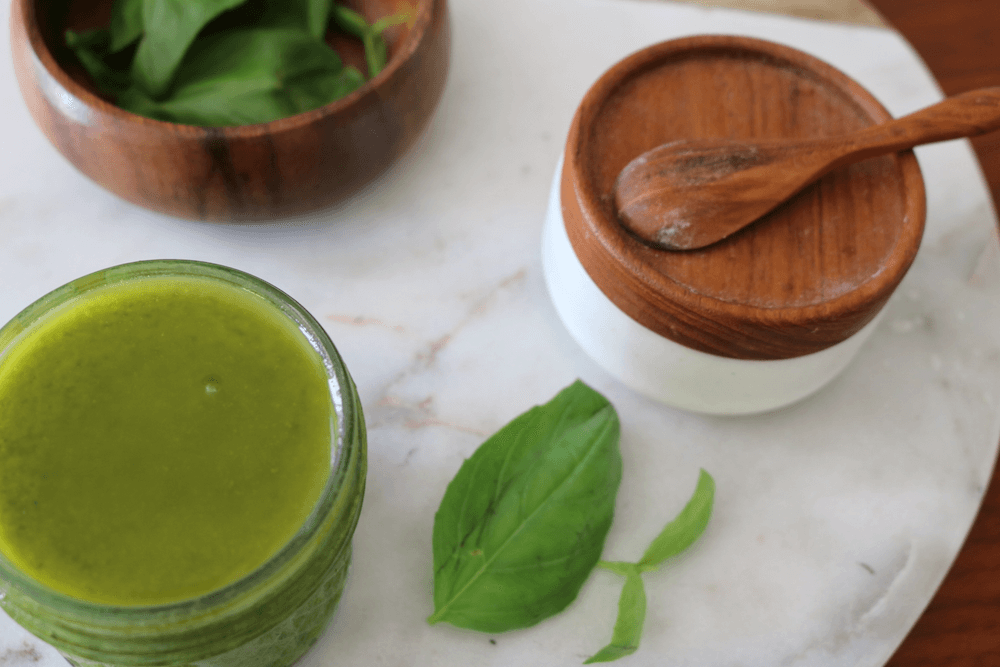 And while pesto is, undoubtedly, a glorious accompaniment to the pizzas and pastas of the world, it is also an incredibly versatile sauce. You can use it as a dressing, a drizzle, or a dipping sauce, spread across a delightful panini, dolloped on top of potatoes, displayed on a crudité platter…the options are endless.
This easy vegan pesto recipe is, honestly, the best I've ever had; trust me when I say you'll be slathering it on anything and everything in your kitchen in no time. And not only is it delicious, but it packs a nutritional punch, to boot: the hemp seeds bring a hearty dose of omega fatty acids, protein, and fiber to the equation (in addition to a slew of essential vitamins and minerals such as vitamin E, magnesium, phosphorous, and potassium, to name a few)! That said, you could also swap the hemp seeds for pistachios, sunflower seeds, or even good old pine nuts, which are used in traditional pesto.
I hope this easy vegan pesto becomes a well-loved staple in your kitchen, as it is in mine. Enjoy!