THE BEST VEGAN DOG FOOD (UPDATED 2023 – TOP 5 BRANDS)
My dog, Cookie (a.k.a. Bestie, Cook-a-roo, Cooks, Cookie Monster, Cookie Bear) has had tummy issues since my mom adopted her at age 1. Once I took over ownership of her last year, I was determined to find her the most nutritionally-dense, gut-friendly, vegan dog food on the market; and after a few months of researching, taste testing, and gut checking, I think it's safe to say we found the one.
I decided to share my (and of course, Cookie's) experience with the brands we tried, as well as some other vegan dog food brands I encountered that receive high marks from dogs, owners, and veterinarians, alike.
But first, let's address the question on everyone's minds:
Is a vegan diet healthy for dogs?
After speaking with both of Cookie's vets, I was honestly surprised to hear both of them say, 'yes!' One vet, in particular, said that it was only a matter of time for the mainstream to catch up in realizing that plant-based diets are equally as healthy for dogs as they are for humans. In fact, it's actually very common for dogs to have intolerances and allergies to meat and other animal products, like dairy. Contrary to much popular belief, dogs are omnivores (not carnivores), which means they can digest nutrients from either plant or animal sources.
So, once I had the green light from Cookie's vets, I delved into my research.
Earlier this year, The Guardian published a study finding that "vegan diets are healthier and safer for dogs than conventional meat-based diets." Here's the TL;DR:
The study followed the health of 2,500 dogs over the course of a year, assessing various indicators such as numbers of vet visits and 22 common dog illnesses. In a nutshell, the researchers determined that almost half of the meat-fed dogs needed 'non-routine' medication, while only one-third of vegan dogs needed meds. The study leader, Professor Andrew Knight of University of Winchester, stated that his study clearly "revealed that the healthiest and least hazardous dietary choices for dogs are nutritionally sound vegan diets."
The sad reality is that most conventional dog food ingredients come from slaughterhouse waste and byproducts of very unhealthy livestock, in addition to various contamination risks and disease that is prevalent in these facilities. The industry has been in major need of a shake-up, because our dogs (and all pets) deserve better. At the end of the day, a dog's diet is one of the greatest contributing factors to an adult dog's health, lifespan and quality of life.
With that, I'll share the top-rated vegan dog food brands I've found, including the current vegan kibble we feed to our veggie lover, Cookie girl!
5 Best Vegan Dog Food Brands to Try in 2022
Now without further delay, let's dive into our first pick for the best plant-based dog food brand on the market (and what Cookie's currently enjoying in her bowl as I write this).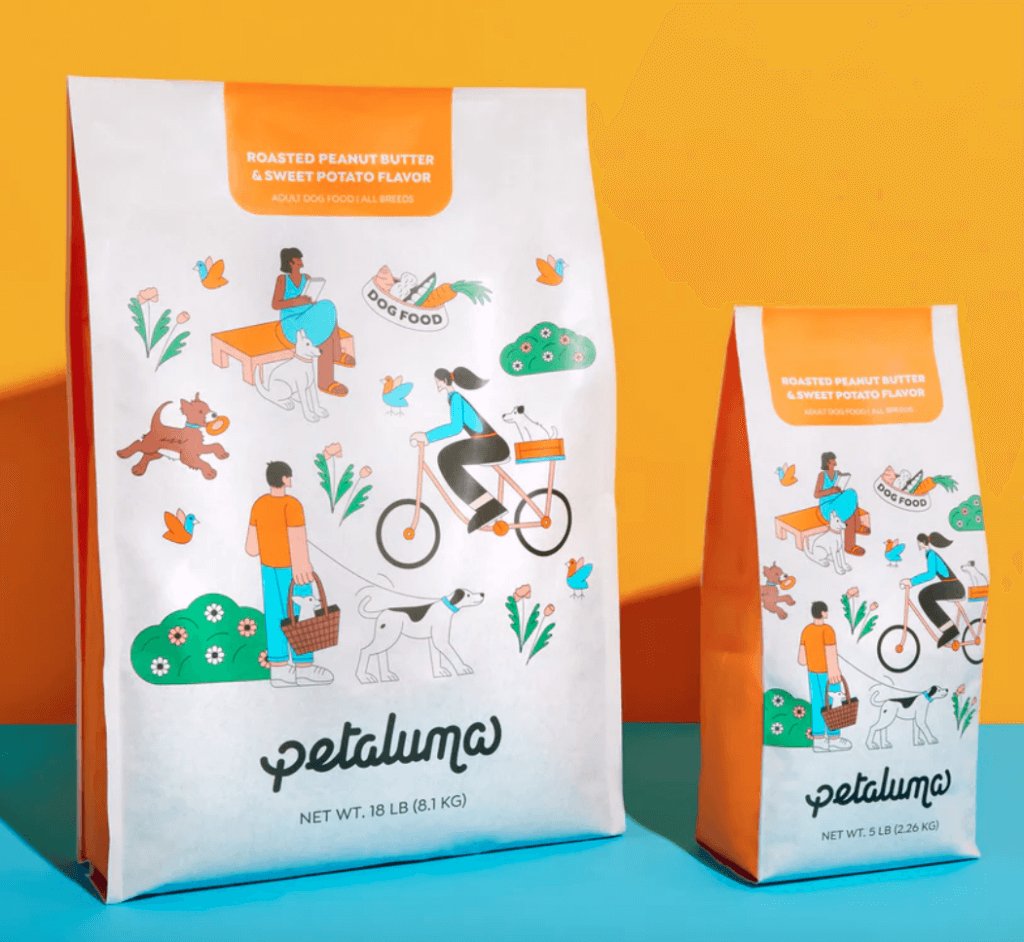 Our Top Pick for Vegan Dog Food in 2022:
1. Petaluma: $84 (18-lb Bag)
This vegan dog food brand quite literally ticks all of our boxes for quality standards and Cookie's needs. Here's why I'm very proud to be a customer of Petaluma and highly, highly recommend their kibble and treats:
Nutritional profile: Petaluma dog food meets AAFCO standards and was developed by veterinarians, and the majority of the grains and vegetables in their recipe are organic – a huge plus. Some of the main ingredients include organic chickpeas, potato protein, organic oats, organic barley, organic peanut butter, and organic sweet potato. The nutrient profile is also high in protein (31% crude protein, to be exact), plus healthy fats and complete amino acid profiles. The food is also packed with essential vitamins and minerals and has ingredients that help support healthy skin and strong muscles. The last and very important requirement for us was gut-friendly dog food, and Petaluma gets incredibly high marks for doggy digestion support. The change in Cookie's digestion was something we noticed almost immediately – her #2s were just…better! That, and her energy is fantastic – she can go for miles-long walks, even at nearly 10 years old. We've also noticed that her coat is also extra soft and shiny now, which is a huge plus.
Taste: Petaluma did extensive taste testing with dogs, who "consistently preferred" their dog food over conventional meat brands. Cookie can now be counted among those pups, as she absolutely loves this kibble. It actually smells incredible, too. Their sweet potato vegan dog treats are also amazing, we highly recommend!
Sustainability: Petaluma is a Certified B Corp and they offset 100% of their greenhouse emissions, in addition to participating in 1% For the Planet, so they're really walking the walk when it comes to sustainability efforts. LeafScore has also named them the 'Best Eco-Friendly Dog Food.'
Cost: $93.95 for a single 18-lb. bag of kibble, or $84 (10% off) with a subscription. You also get 30% off your first order! We have a subscription, and each bag lasts Cookie (a 26-lb. spaniel) about 6 weeks – so with tax, I end up spending about $60/month, which is only $15/week! They also sell 12 oz. bags of Sweet Potato Jerky for $17.99. And, they offer a free sample of their kibble, which I took full advantage of and hope that you and your pup do, as well! As an added bonus, Petaluma Feed's vegan dog food is also available on Amazon (in the U.S.) for fast, easy delivery.
UPDATE: Petaluma kindly sent us a sample of their new Senior Dog Formula for Cookie to sample and she wolfed it down! We'll be purchasing this formula moving forward as Cookie enters her golden years 🙂
The Runner Up: (Second) Best Vegan Dog Food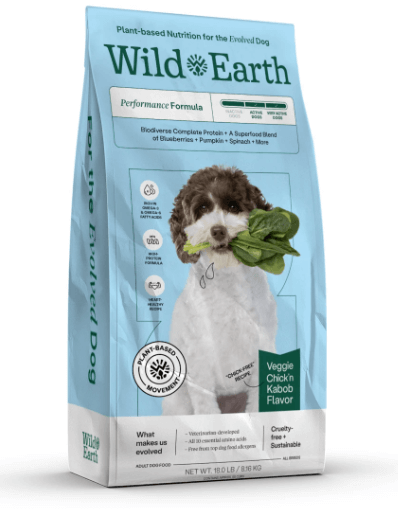 Wild Earth was actually the first vegan dog food we tried – they are an objectively great dog food brand, and Cookie very much enjoyed their dry food. Here's why they come in close second:
Nutritional profile: Wild Earth's dog food is developed by vets and food scientists and meets the AAFCO (Association of American Feed Control Officials) Dog Food Nutrient Profiles. Their kibble is packed with high-protein superfood ingredients like chickpeas, sweet potato, spinach (great for calcium and other essential nutrients), pumpkin, pea protein, flax, and oats, and each meal provides a complete spectrum of protein (and offers higher crude protein profiles than many traditional 'meat' dog foods).
Taste: During the times in which I fed Cookie Wild Earth (both their original Complete Protein formula and the updated Performance Formula, pictured above, as well as their Superfood Dog Treats with Koji), her digestion, coat, and energy levels were all great. That said, the only reason Wild Earth gets docked a couple of points for me is that they don't use organic ingredients, and that's something I personally like to prioritize in both my own and in Cookie's diet. That said, Cookie did enjoy their food and the ingredients are solid, so I still highly recommend them as a brand. And, they also offer doggy supplements!
Sustainability: Wild Earth is a very earth-conscious brand – its claim to fame is that its dog food requires 95% less water and emits 96% less CO2 than meat-based brands. Their ingredients are also sustainably sourced.
Cost: Your first 18-lb. bag of Performance Formula dog food will cost $69.30 (30% off), and $99.00 thereafter with a 5% discount on repeat deliveries. Each bag will last a medium-sized dog about 6-8 weeks on average.
*Note that Wild Earth's Performance Formula was PR gifted, but I personally purchased their earlier formula and treats.
Top Contenders + Other Vegan Dog Foods We'd Try:
While we haven't gotten to try these vegan dog food brands with Cookie (yet), here are the top three contenders we're keeping an eye on right now.
3. V-Dog: $71.99 (30-lb Bag)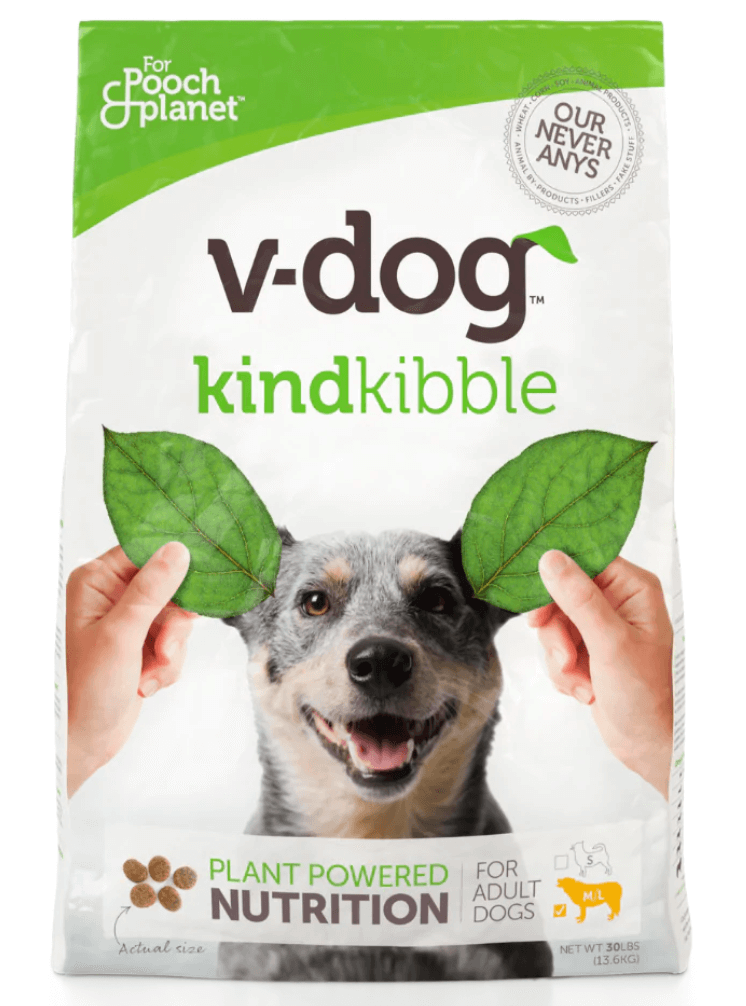 I have to give this brand major props for being the first vegan dog food company in the U.S. I know a couple of people who feed their dogs this kibble and they (and the pups) love it.
Nutritional profile: V-dog's Kind Kibble is AAFCO-certified and packed with healthy, protein-rich ingredients like dried peas, pea protein, brown rice, oatmeal, lentils, and quinoa. It has 24% crude protein and other added vitamins and minerals like B12, vitamins A, E, D2, and more. They also have these great Breath Bones and Wiggle Biscuits that are equally as nutritious.
Taste: The reviews for V-Dog's kibble and treats are all very positive, with many people sharing on their website that the food is ideal for dogs with gut issues or food sensitivities.
Sustainability: V-Dog is proud to make "plant-powered [dog] food that's gentle on our earth's resources."
Cost: $71.99 for a 30-lb. bag, or $68.39 (5% savings) with a recurring subscription. You can get 20% off your first order with code SUBSCRIBE20.
4. Bramble: $220 (Est. 4-Week Supply)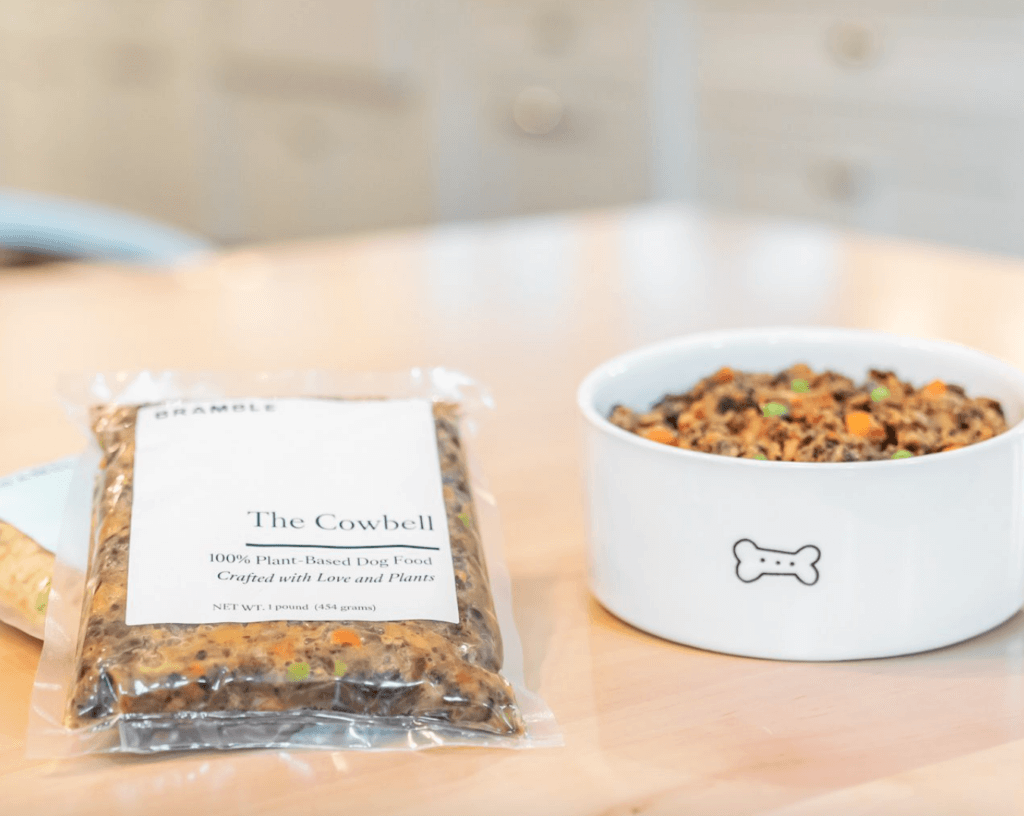 Ok, I remain very intrigued by Bramble because they're a non-processed, whole foods vegan dog food (i.e., no kibble)! Here's why I'd consider using them, though their high price point would make me inclined to just purchase their 'toppers', which can be added as an addition to a standard kibble meal and mixed in for added flavor and nutritional benefits:
Nutritional profile: Bramble's claim to fame is making 'human-grade' dog food that has no preservatives and is gently cooked to preserve nutritional value. It was also formulated by board-certified veterinary nutritionists and expert animal nutritionists, and meets the standard nutritional levels of AAFCO Dog Food Nutrient Profiles for Adult Maintenance.
Taste: While we haven't tried Bramble yet, it receives very positive customer reviews, and I could certainly see why dogs would love the food, given it's whole, human-grade nature.
Sustainability: In addition to fueling dogs with the most nutritionally-dense food possible, Bramble's founders are extremely motivated by how much better plant-based dog food is for the planet. In reading through their website, I learned that, "If the U.S. pet food industry was ranked as its own country for meat consumption, it would rank number 5 in the world – behind the U.S., China, Russia, and Brazil."
Cost: $220 for 4 weeks of their mixed plan, with 25% off your first order. You can also order Bramble's 'Toppers' only plan, which offers 6 weeks of their mixed plan for $160.
5. Halo: $79.99 (20-lb Bag)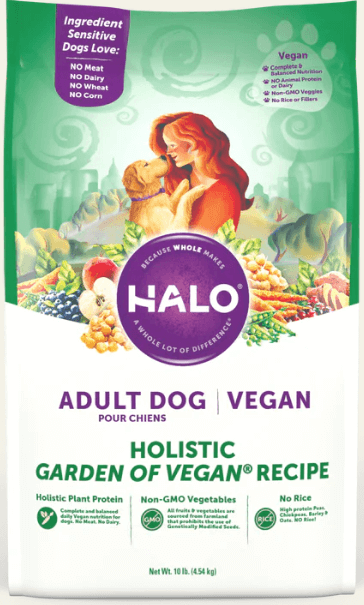 While Halo isn't a fully plant-based pet food brand, they offer a 'Garden of Vegan' line that includes kibble, wet food, and treats. I always want to commend and support more convention brands when they're making strides in offering vegan products, and Halo is one of those brands that's very deserving of that recognition.
Nutritional profile: Halo uses non-GMO ingredients like ground peas, chickpeas, pearled barley, oats, pea protein, flaxseed (a great source of healthy, high quality omega-3 and omega-6 fatty acids for dogs), beet pulp, sweet potato, and beyond, with a guaranteed crude protein analysis of 20%. Halo also offers a canned plant-based wet food which Cookie has tried and devoured – highly recommend it as a little add-in!
Taste: While Cookie can't personally vouch for the taste, I love that they offer a vet food option in addition to kibble – we'll definitely be giving that a try!
Sustainability: As a brand, Halo just isn't going to be as sustainable as a fully-vegan company is purely because of the high resource-and carbon intensity of animal-based food products. That being said, simply offering a plant-based option is a step in the right direction.
Cost: $79.99 for a 20-lb. bag of kibble, and $29.99 for a 12-case of their wet food.
Which of these Best Vegan Dog Food Brands Will You Try?
I know that was a lot of info – so if you're still trying to decide where to start in making the switch to plant-based dog food for your pup (whether you go with one of these top vegan dog food brands or opt to develop your own vegan recipe for kibble at home), please drop me a line and I'd be so happy to help.
And remember, taking your dog over to vegan pet food doesn't need to be about perfection if it's proving a challenge – strive to find a natural balance if your pup isn't adjusting well at first. Fear not though, your dog doesn't need animal protein in order to thrive. Plant-based protein sources will be just as enriching to your dog's diet in the long run, and you can have fun with adding some tasty vegan toppers to your dog's bowl.
In the meantime, be sure to check out my recent post on 101+ vegan grocery items, or read up on the best vegan food in Sonoma County!