101+ VEGAN GROCERY LIST ITEMS TO GET TODAY (SAMPLE FOR BEGINNERS)
Whether you're new to being vegan or shopping for that special vegan in your life, here are 101+ must-have vegan grocery list items to get you started down the right path to eating healthy, whole, nutritious (and delicious) plant-based foods from your local grocery store.
Now, without further adieu, let's get straight into the good stuff…
101+ Vegan Grocery List Items to Get Today
Let's dive in!
What Do Vegans Eat?
It may come as a surprise to some, but vegans eat very well today. Most vegan diets consist of a very wide range of nutritionally rich, tasty, and filling staples including fruits, vegetables, nuts, seeds, legumes, grains, plant-based vegan meat alternatives, dairy alternatives (like vegan cheeses and milks), pantry staples, breads, pastas, condiments, herbs and spices, beverages, snacks, and treats.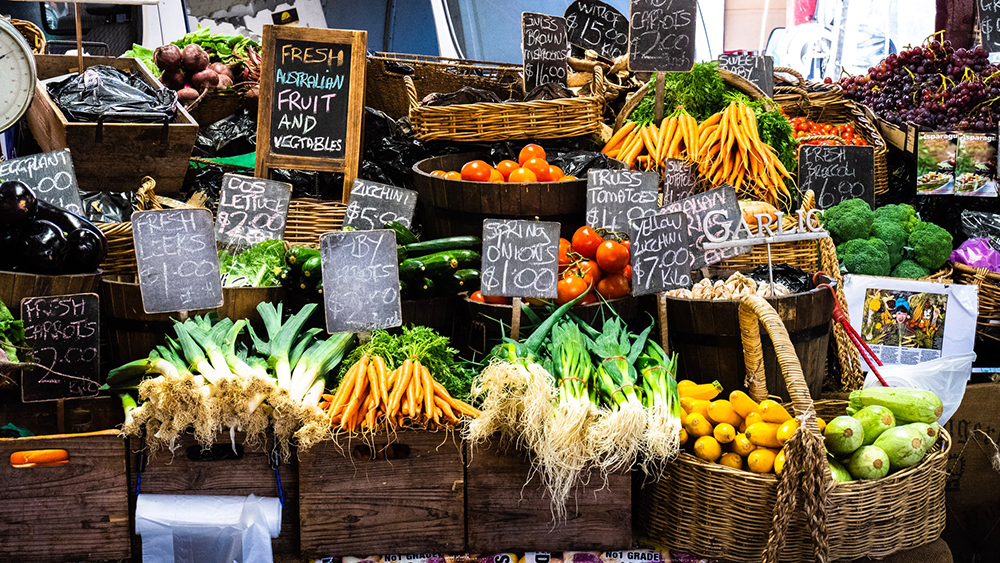 Far beyond just the fresh (organic, please!) produce you can get from a local farmer's market, vegans have more options at their disposal today than ever before—making it that much easier to go vegan, regardless of your reasons.
Which Foods Do Vegans NOT Eat?
Whether for personal reasons, health motivations, nutritional choices, environmental concerns, animal rights, or otherwise, people who identify as being fully vegan do not eat any animal products or consume products that are derived from a process that negatively impacts animals. That includes things like:
Meat (beef, pork, lamb, veal and other red meat)
Poultry (chicken, turkey, duck, quail, etc.)
Fish (all types of fish, anchovies, shrimp, scallops, calamari, mussels, crab, lobster, fish sauce, etc.)
Dairy (milk, yogurt, cheese, butter, ice cream, etc.)
Eggs (from chickens, quail, fish, etc.)
Mayonnaise (because it includes egg yolk as a main ingredient)
Honey (and other bee products like pollen)
Here's where things get a little trickier as a vegan—a shocking number of food products you'll find at your grocery store will have ingredients & components that include a product from one of the above categories. So, as you're doing your shopping, get used to carefully reading the nutrition labels before placing something in your basket.
How Do Vegans Get Enough Protein?
Believe it or not, vegans get a lot of natural, clean protein in their diets. First and foremost, though, let's define what a protein actually is. From the experts at Forks Over Knives, "Protein is one of three macronutrients our bodies use for energy (the other two macronutrients are carbohydrates and fat.) Protein is made up of 20 individual building blocks called amino acids. Amino acids are vital to our bodies—necessary for building and repairing cells, creating enzymes and antibodies, and performing other essential functions."
Have you ever heard of someone having a 'protein deficiency?' Probably not, right? That's because the vast majority of people get far more protein than they really need. Forks Over Knives also pointed to a study from the Journal of the Academy of Nutrition and Dietetics, which found that the average vegetarian and vegans get 70% more protein than they need every day, while omnivores get about 80% more protein than they need. The point being: the main nutritional concern people have with veganism surrounding a lack of protein is actually a non-issue.
In short, you can (and should) get all the protein you need simply by eating a whole-food, plant-based diet without putting any extra effort toward making sure you're getting enough protein.
The main foods that have high concentrations of protein in a vegan diet include:
Beans (including soybeans, tofu and tempeh)
Lentils (and other legumes)
Bulgur (commonly used in tabouleh)
Nuts and seeds
Beyond that, just about everything else in a plant-based (vegan) diet including grains and vegetables, with the exception of most fruit—will pack in a meaningful amount of protein, too.
How to Create a Vegan Grocery List (101+ Items)
Now, let's dive into a list of items you can pick and choose from for your grocery shopping today. I primarily shop at my local farmer's market, Whole Foods, Trader Joe's and Thrive Market, but there's also great vegan food to be found at Sprouts, Costco, Vons/Safeway/Pavillions, Gelson's, Ralph's, Target, Walmart, and Amazon.
Fruits (Fresh, Frozen and Dried)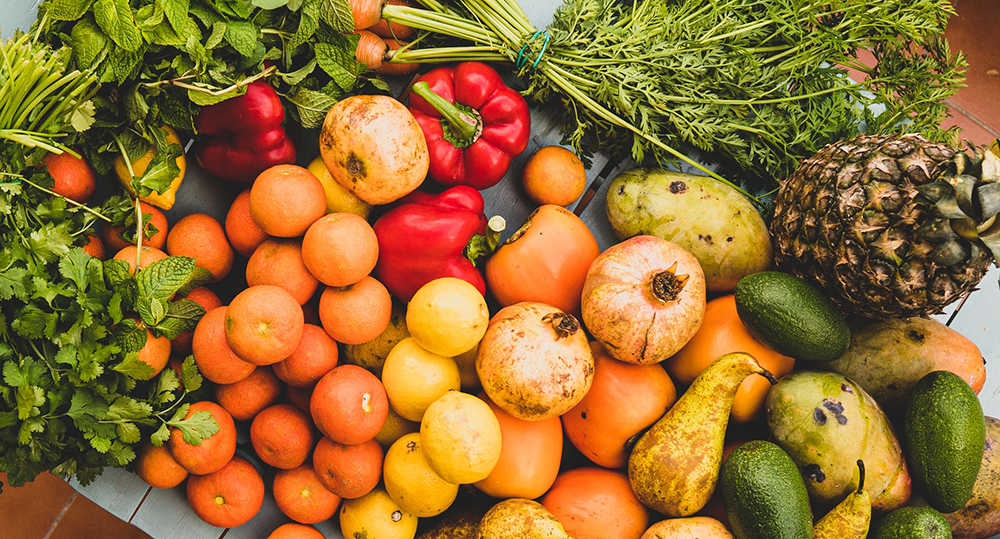 Fresh fruits to add to any essential vegan shopping list include:
Bananas
Strawberries
Blueberries
Raspberries
Blackberries
Apples
Oranges
Lemons
Limes
Clementines
Peaches
Nectarines
Apricots
Plums
Pears
Mangos
Papaya
Coconut
Pineapple
Medjool dates
Homemade smoothies or bowls are a great way to get a ton of fruit into your diet. I make a smoothie almost every morning with a plant-based protein powder (my personal favorite is the Organic Plant Protein (Vanilla) from Thrive Market), leaving me sated and satisfied as I start my day.
I like to keep a handful of frozen fruits on hand for smoothies (though fresh is great, too). Add these frozen fruits to your vegan shopping list and you'll be smoothie ready today:
Frozen strawberries
Frozen blueberries
Frozen mango chunks
Frozen raspberries
Frozen peaches
Frozen pineapple
Frozen pitaya
Frozen açaí packets (opt for pure açaí for the cleanest smoothies or bowls)
Bonus: Some stores (like Whole Foods and Trader Joes) carry a great frozen berry blend
As a bit of a sweet tooth myself, I'll often reach for dried fruits in-between meals because they pack a lot of natural sugars that satisfy my cravings—and they're a great source of essential vitamins & minerals (and they can be great for digestion, too). There's also a lot of innovation going on in the dried fruit space right now, with brands like The Ugly Company striving to help prevent food waste by upcycling "ugly" fruit and transforming them into healthy dried fruit snacks.
Here are a few essential dried fruits to add to your vegan grocery list today:
Dried mangos

Dried peaches
Dried nectarines
Dried apricots
Dried cranberries
Dried cherries
Dried goji berries
Dried strawberries
Dried coconut
Dried banana chips
Vegetables (Fresh, Frozen and Canned)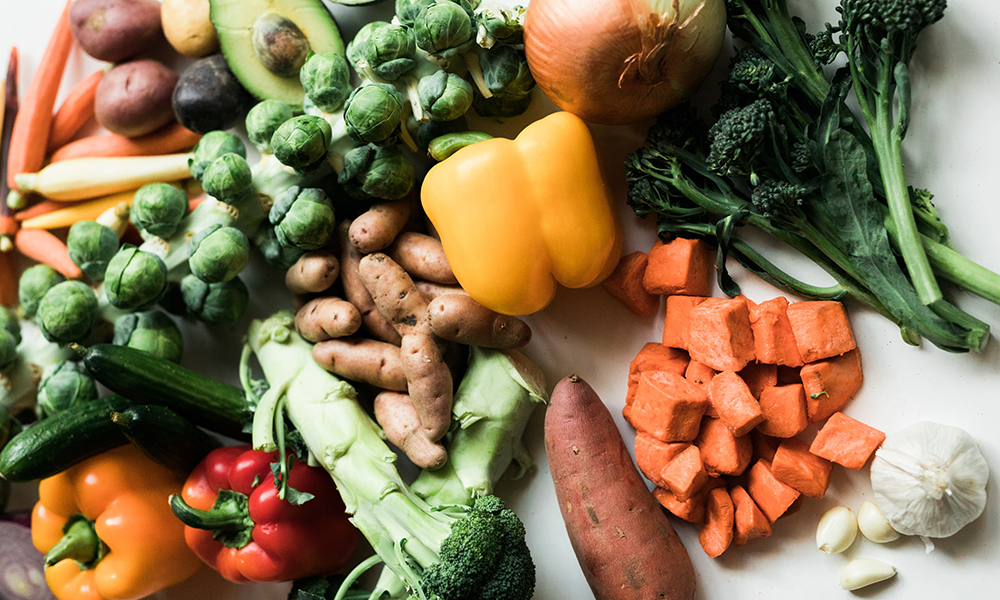 Essential vegetables to add to any well-rounded vegan grocery list include:
Spinach
Kale
Romaine
Chard
Arugula
Butter lettuce
Tomatoes
Carrots
Cucumbers
Celery
Zucchini
Bell peppers
Broccoli
Cauliflower
Cabbage
Brussels sprouts
Radishes
Beets
Potatoes
Sweet Potatoes
Yams
Plantains
While this is by no means an exhaustive list of every nutritious vegetable to consider adding to your vegan-friendly grocery list, these staples will get you started down the right path.
Nuts and Seeds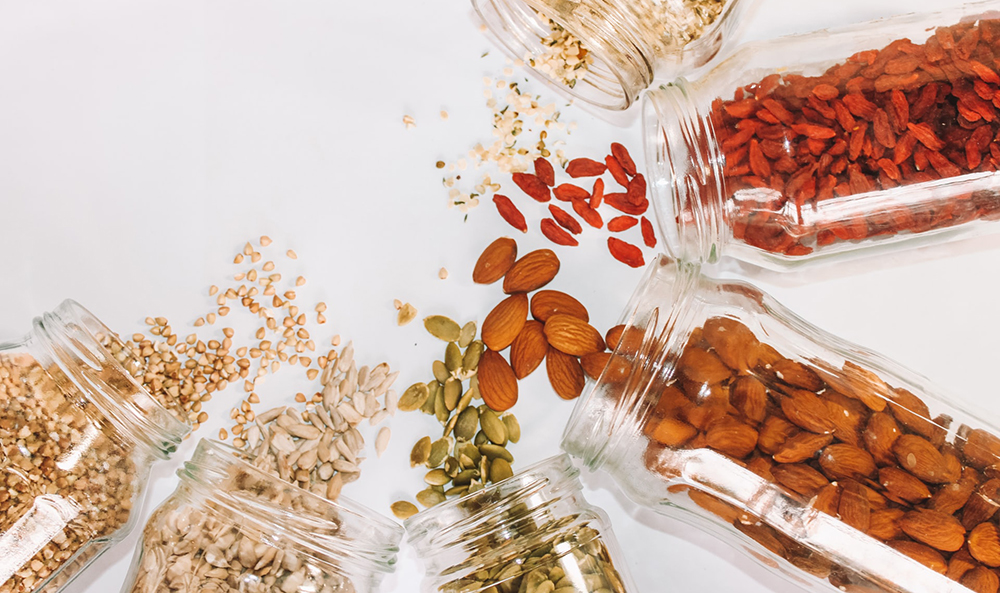 Nuts and seeds are so nutritious (hello, protein!) and add a ton of complexity, texture, and flavor to any meal. A few of my go-to's:
Sunflower seeds
Hemp seeds
Chia seeds
Flax seeds
Pistachios
Almonds
Cashews
Walnuts
Macadamia nuts
Brazil nuts
Pine nuts
Almond butter (Whole Foods organic or Trader Joe's organic)
Peanut butter (Whole Foods organic or Trader Joe's organic)
Cashew butter (Whole Foods organic or Trader Joe's organic)
A few of my personal must-haves that I eat almost every day: hemp seeds for smoothies, pistachios for salads and avocado toast, and blanched/Marcona almonds for salads.
Legumes (Dried and Canned)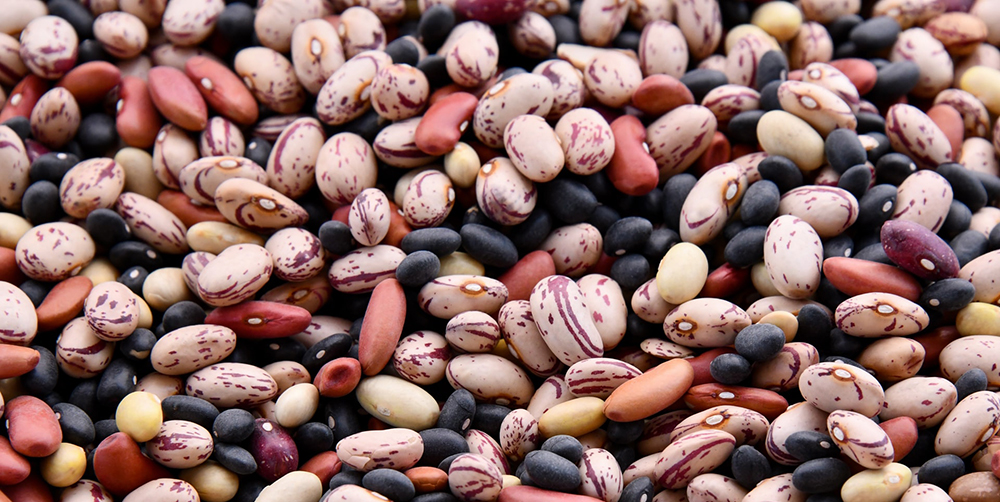 Legumes are an amazing plant-based food group that offers high levels of protein and versatility. They store well – whether canned, dried, fresh, or frozen – and are a staple in diets around the world for good reason. They're inexpensive, filling, and so good for you. I always keep several of the below legumes on hand, and highly recommend adding a few of these to your vegan shopping list, as well:
Green peas
Black-eyed peas
Garbanzo beans (chickpeas)
Black beans
Kidney beans
Cannellini beans
Navy beans
Lima beans
Fava beans
Yellow and red lentils
Green lentils
French lentils
Beluga or black lentils
Pro-tip: if you're short on time, grab a few packs of the pre-cooked lentils from Trader Joe's or Whole Foods. I love tossing these in salads for texture and added protein.
Grains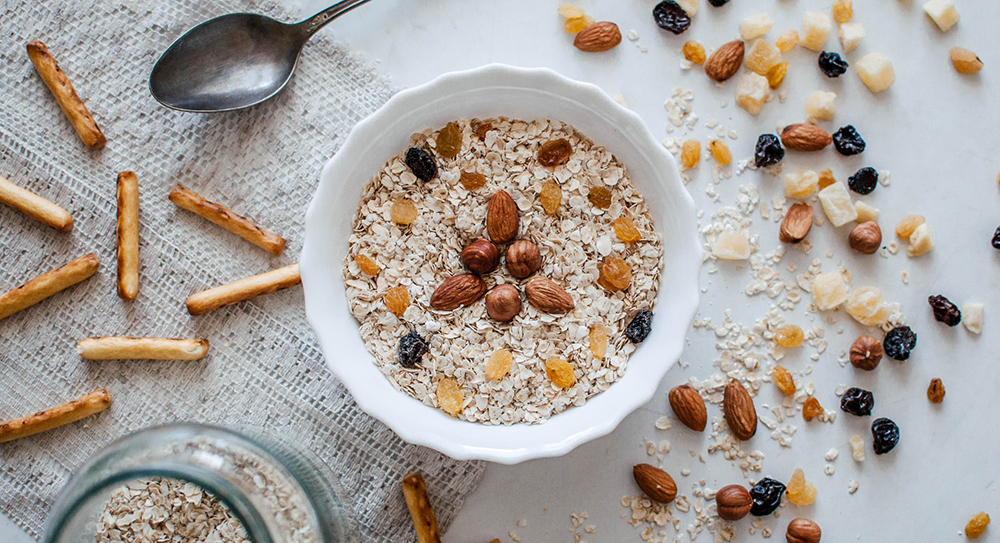 We've all heard that whole grains are crucial for heart health and digestion, but many low-carb fad diets have many people putting them in the "bad" category. But, here's your friendly reminder that grains are your friend – in fact, they're an essential part of a healthy diet and a huge source of energy that your body needs to thrive. Now, as for gluten: I try to follow the 80/20 rule with it, because my body tends to feel better with less gluten intake, but do what works for you! I include mostly gluten-free options below, but here are a list of my favorite grains to keep on hand:
Quinoa
Short grain brown rice
Jasmine rice
Basmati rice
Gluten-free flour
Buckwheat flour
Teff flour
Spelt flour
Rolled outs
Barley
I'll say it once, and I'll say it again (and again, and again): quinoa is a perfect food. I make a big batch of quinoa on Mondays that I'll continue to use throughout the week. I add it to salads, as a base in tacos, for grain bowls, and much more. Oh, and quinoa is a complete protein, is gluten-free, and leaves your body feeling super energized and satisfied while not weighing you down.
Plant-Based Vegan Meat and Egg Alternatives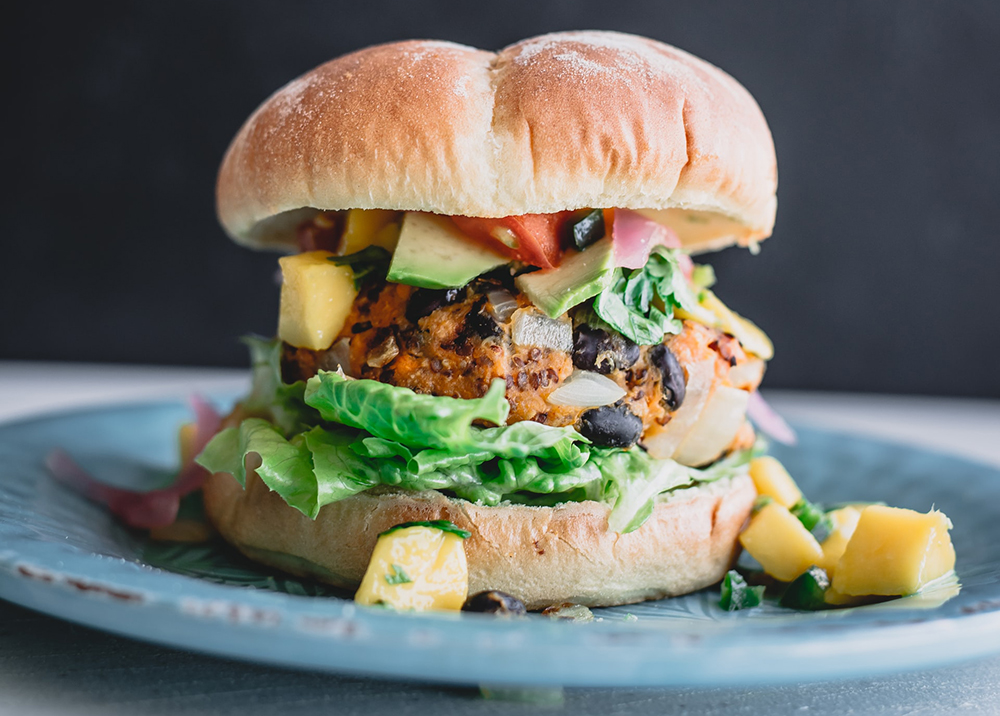 Here's my take on plant-based meats: even as an omnivore, you wouldn't eat a beef burger every day – right? For me, I take the same approach with alternative proteins; I think they're a delicious treat and a fantastic bridge food for those who may be aiming to cut down on animal meats or dip their toes into a vegan diet. But, seeing as I aim to follow the 80/20 rule with more processed, "fun foods," I'm not eating these items every day. Everything in moderation, as they say! But, that being said, I 1000% encourage people to enjoy these plant-based meats, and firmly believe that they are still far healthier for humans (and planet) than animal products.
Beyond Beef (patties or ground)
Beyond Sausage
Impossible (beef patties/grounds, sausage, meatballs, and chicken nuggets)
Lightlife (patties or sausage)
Hilary's Spicy Veggie Meatless Sausage
Just Egg
Bob's Red Mill Egg Replacer
These are just a small glimpse of the incredible plant-based meat and egg options on the market now, and it's really exciting to see so many new products being released every day.
Soy Products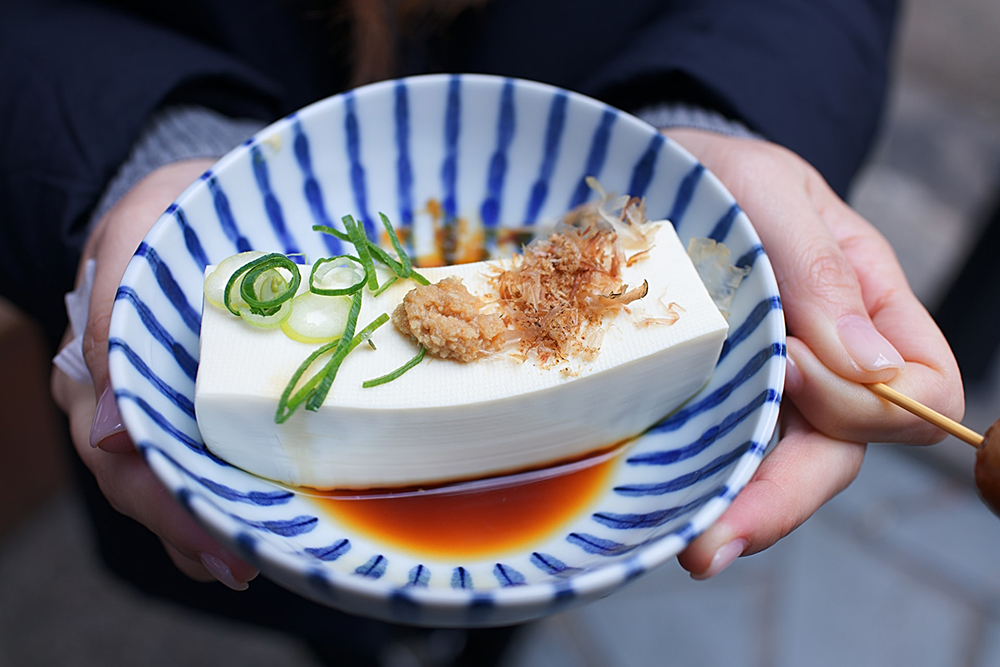 Soybeans are technically a member of the legume family, but they take on so many forms that I thought it would be worth carving out a separate category. A few soy powerhouse foods I like to keep on heavy rotation that you may want to add to your vegan shopping list:
Edamame beans
Tofu
Soyrizo
Miso paste
Soy sauce or tamari
Tempeh
P.S. – tofu and edamame beans are also complete proteins, folks!
Dairy Alternatives (Vegan Cheeses and Milks)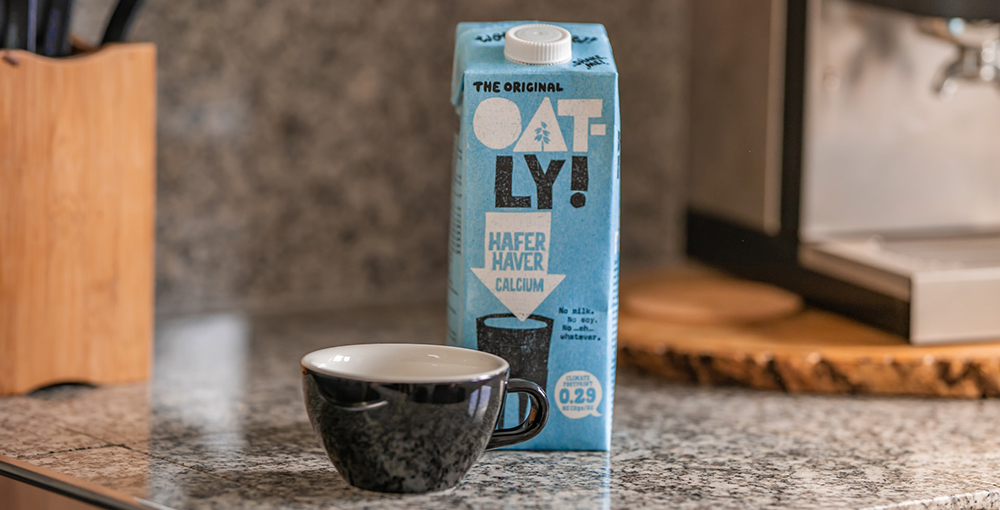 I've been on the dairy-free train for a few years because dairy just never sat well with my stomach, even before I went vegan. And there continue to be incredible vegan milk and cheese options that are coming out just about every day (we love to see it)! A few of my go-to dairy-free products to add to your vegan shopping list:
Oat milk
Almond milk
Soy milk
Macadamia milk
Coconut milk
Vegan butter (I love Miyoko's)
Cashew-based cheese
Plant-based cream cheese and sour cream
Some of my all-time favorites: Miyoko's garlic and herb cheese wheels, Whole Foods plant-based gouda slices, and Oatly's barista blend for coffee.
Breads and Pastas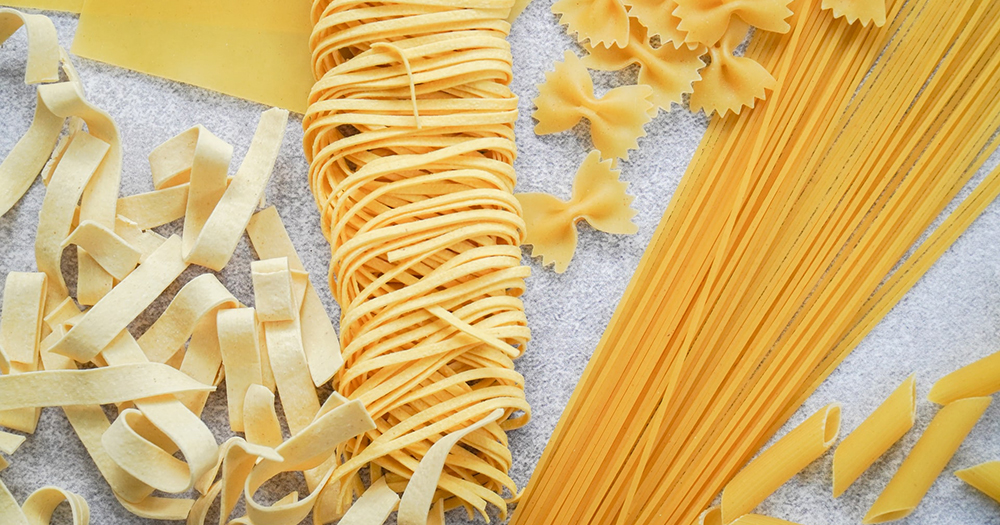 I'm a big bread and pasta girl, but as mentioned, I try to opt for gluten-free when possible. Below are a handful of my go-to's that I always grab at the store, as well as some of my favorite brands:
Gluten-free fusilli (Trader Joe's)
Gluten-free spaghetti (Jovial is a favorite for all gluten-free pastas)
Gluten-free penne
Gluten-free farfalle
Gluten-free sourdough (Cook's)
Gluten-free bagels (Canyon Bakehouse)
Gluten-free buger buns (Unbun)
Gluten-free wraps (Udi's)
There are SO many incredible vegan bread and pasta brands out there, so have fun experimenting with them! Pastas are always easy, inexpensive meals for busy weeknights, too – and remember that they don't have to be heavy and indulgent if you don't want them to be. I love a veggie-heavy pasta dish with sauteed zucchini, artichokes and onions – just add a light lemon and garlic sauce or a marinara and you'll have a healthy meal ready in 20 minutes.
Condiments & Dips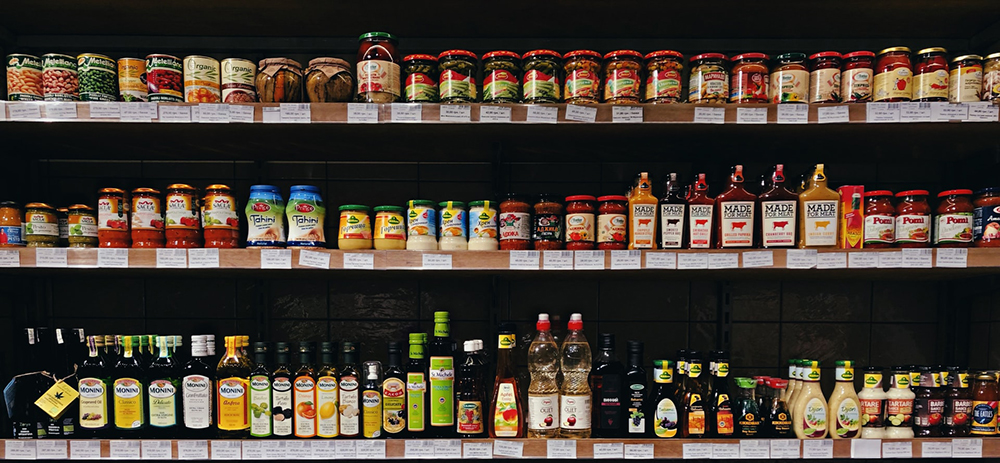 I always have a lot of condiments and sauce ingredients on hand so I can quickly whip up a tangy, flavorful marinade or dressing in a pinch. A few of the essential condiments to add to your vegan grocery list:
Plant-based mayo (Primal Foods or Follow Your Heart are amazing)
Dijon mustard (a must – for dressings, burgers, sauces, and more)
Ketchup (I like Primal Foods for lower sugar – I promise, you won't miss it)
Pickles
Balsamic vinegar
White wine vinegar
Rice vinegar
Red wine vinegar
Bitchin' Sauce (I use this in everything, truly – and the Chipotle flavor remains my favorite)
Hummus
Garlic dip (I love Majestic brand, which you can get at Whole Foods and Erewhon)
Olive tapenade (Trader Joe's version is great)
I'm known for loving vinegary flavors (acid is an essential part of the flavor profile, right?) so I make sure I have pretty much every type of vinegar in my pantry at all times. This is of course extracurricular, but I also love sherry vinegar and champagne vinegar, too – they're just so great for dressings.
Herbs and Spices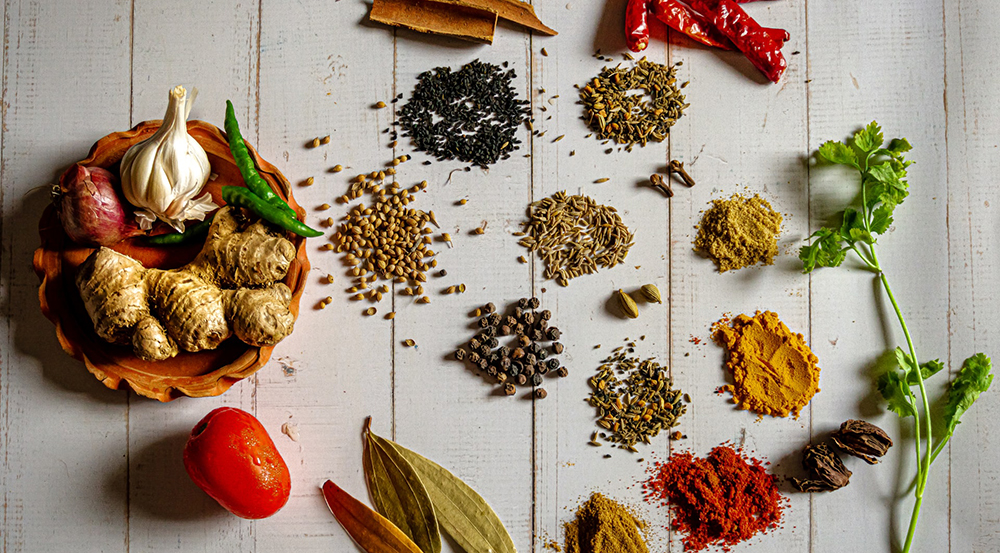 Like all cooking, herbs and spices are crucial elements in creating delicious flavor profiles, and with great spice pairings you can often cut down on salt quantities. A few of my must-have spices and seasonings:
Garlic powder
Onion powder
Cumin powder
Paprika (I'm partial to smoked paprika these days)
Chili powder
Curry powder
Dried orgegano
Dried basil
Cayenne pepper
Ground cinnamon
Ground cloves
Ground ginger
Ground turmeric
Bay leaf
Black peppercorns
Sea salt
Umami seasoning (I love Mushroom & Company from Trader Joe's)
Everything But the Bagel (Trader Joe's, obviously)
If you're looking to get a little fancy, perhaps pick up some cardamom, sage, thyme, dill weed, or coriander, as well!
Oils
The 'salt, fat, acid, heat' formula applies to vegan food, too! Adding even a small amount of oil when cooking enables food to reach the perfect texture and flavor profile, and it's important to include healthy fats in your diet for brain function, satiety, and beyond. Here are some vegan cooking oils that I always keep handy:
Extra virgin olive oil
Infused olive oil (garlic, truffle, etc.)
Avocado oil
Sesame oil (you can also make this at home in just a few minutes – check out Wandercook's quick toasted sesame oil recipe)
Coconut oil
Grapeseed oil
Vegetable oil
Sunflower oil
Flaxseed oil
Beverages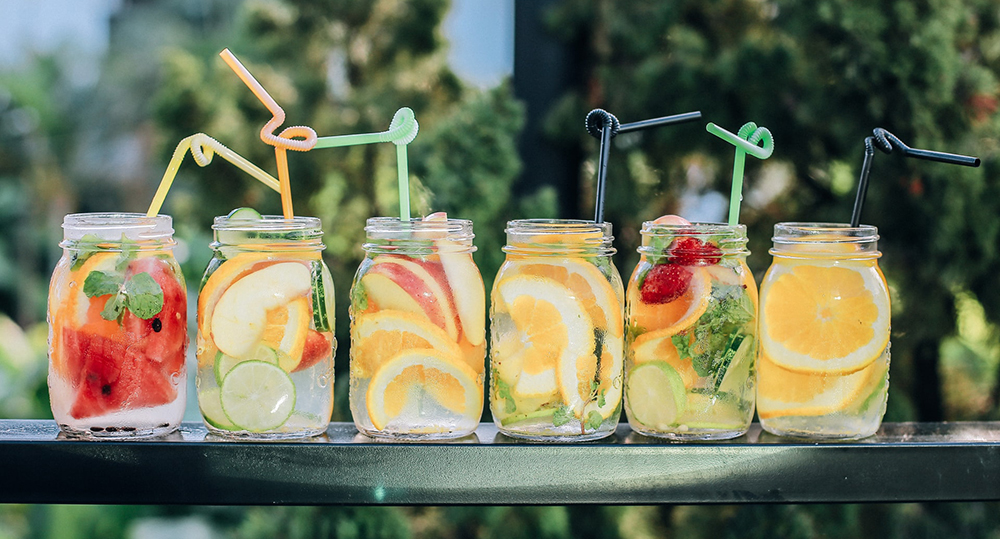 To be honest, I tend to be a bit boring when it comes to my beverages; most days I'll sip on coffee in the morning and water throughout the day (sometimes green tea post-lunch). But, there are some super tasty vegan beverages I'll pop open when I'm in the mood. If you're a big beverage person, I recommend adding a couple of these to your vegan grocery list:
Kombucha
New-school, healthy sodas like Ollipop
Green tea or matcha
Black tea
Chai tea
Cold-pressed fruit and veggie juices
Sparkling and infused waters
Particularly in the summer, I like to have more cold drinks on hand – some of my favorites this summer were strawberry Waterloo and blood orange Pellegrino.
Snacks and Treats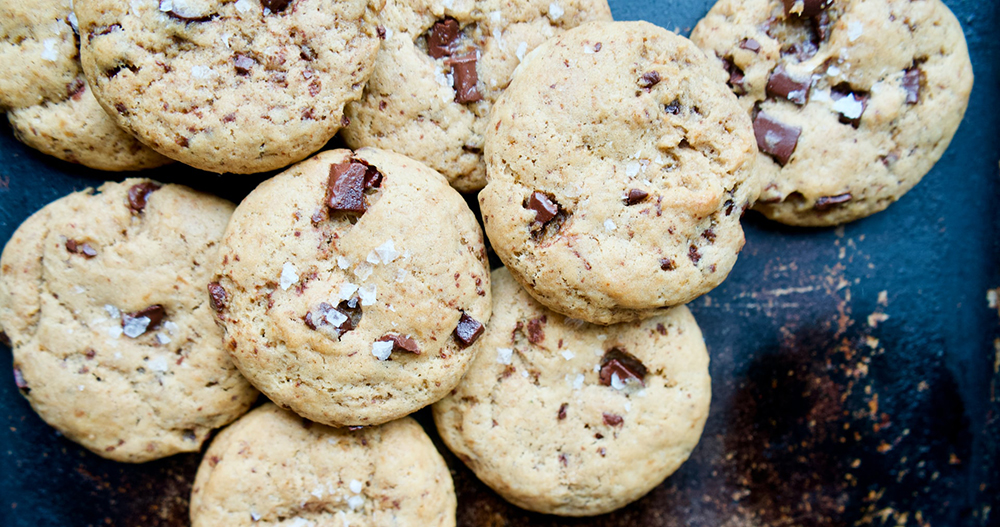 While I try my best to not keep a ton of processed snacks on hand, there are a few cleaner options that are more lightly processed while still hitting the spot when you're craving something salty or sweet. A few of my favorite plant-based snacks to add to your vegan grocery list:
Simple Mills Almond Flour Crackers (the Rosemary & Sea Salt are superb)
Lundberg Farms Rice Chips (Fiesta Lime, Santa Fe Barbequie, and Honey Dijon)
Late July Multigrain Chips (the Jalapeno Lime flavor tastes like Doritos)!
Thrive Grain-Free Puffs (Barbeque and Nacho are incredible)
Lesser Evil Veggie Sticks (Ranch flavor)!
Cybele's Free to Eat Cookies (I love the Birthday Cake flavor)
Partake Chocolate Chip Cookies
Smart Sweets 'Sweet Fish' (a low-sugar, plant based swedish fish gummy)
Again, these are all cleaned-up packaged foods that are great to have around as a bridge snack or whenever you need a little pick-me-up. I'm personally in need of a snack most days to hold me over until dinner, and I'll often have the Simple Mills crackers with some hummus or Bitchin' sauce.
Vegan Food Shopping Pointers (Tips for Your Trip to the Grocery Store)
When I go to the grocery store, I like to start in the produce section. Doing this has helped me re-frame my meals so that they're built around vegetables and fruits; everything else is an addition or vehicle to amplify whatever produce the meal is centered on.
When you're reviewing nutrition labels, a general rule of thumb for vegans is to look for the bold, often all-caps font just below the ingredient list. That's where you can quickly determine if there are any dairy, eggs, or other animal products present.
In that vein – when buying packaged foods, the fewer ingredients, the better. Simple Mills is a brand that really takes home the 'W' for minimal ingredients, and they're always a safe bet for extremely clean, plant-based snacks.
Happy shopping!
At this point, you should be very well-briefed for your vegan grocery shopping trip. I'd love to hear how you fared or if you found any cool items that weren't on this list, please let me know in the comments below! I'm constantly expanding my repository of pantry staples and would love to hear about any of your new discoveries.