THE BEST VEGAN FOOD I ATE IN MONTEREY COUNTY (10 BEST RESTAURANTS IN PACIFIC GROVE, CARMEL, & MONTEREY)
As I drove through the cypress-lined streets of Monterey imagining myself as a cast member of Big Little Lies, I couldn't help but revel in the beauty of this special little corner of California. I hadn't spent much time in the area until last year, with a friend's wedding in Carmel last fall, plus my mom's fantastic decision to rent an apartment in Pacific Grove – and it's been such a treat to get to know the area in recent months. Pacific Grove a uniquely special town that boasts what are arguably some of the most beautiful beaches in the world, contrasted by a quaint Old Town and neighborhoods with Victorian-lined streets. Enter: my guide to all the best vegan food in Monterey County—broken down by city.
The stunning coastlines aren't the only magical part of this area, either; the peninsula also boasts a surprisingly great vegan food scene, and I spent just as much time walking along the water as I did eating truly fabulous meals. And I, of course, have to share the best vegan food in Monterey County with you all.
Let's get into it!
The Best Vegan Food in Monterey County (10 Top Vegan Restaurants)
If you're headed to the area, it's likely you'll be doing lots of walking around the ocean trails and charming downtown areas – and you'll definitely need to hit some of the spots below which, after much sampling, I feel is pretty close to an exhaustive list of the best vegan food in Monterey County, specifically focusing on Monterey, Pacific Grove, and Carmel. All of the towns are super close in proximity to one another, so I highly suggest hopping around and experiencing all of the beauty, and delicious eats, that each has to offer.
Best Vegan Food in Monterey (My 4 Top Picks)
Monterey is probably the most popular of the central California towns, and for good reason; its scenic drives, hikes, and yes – fantastic food – are just a few reasons to consider it for your next long weekend trip. Check out some of the amazing restaurants I tried in Monterey: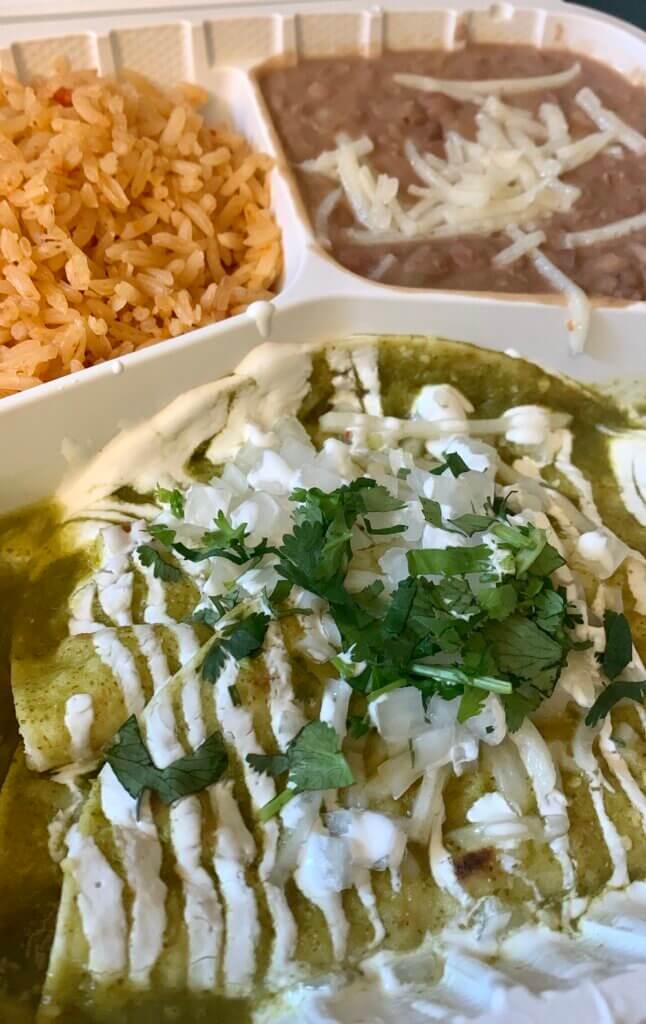 There's no shortage of great vegan Mexican options where I live in L.A.; but if I'm being completely honest, I feel we're lacking in really authentic vegan Mexican food here. Like, I want a healthy serving of refried beans with the melted cheese on top, Spanish rice, alongside some melty, gooey, enchiladas – and some fresh, crispy tortilla chips to scoop it all up with. And guess what: Monterey's got just the spot to satisfy my never-ending cravings for exactly that, at El Cantaro, a fully vegan Mexican restaurant. I ordered the enchilada combo plate (with green sauce, because that's my jam – but they also offer red) which was just perfect, and everything you want out of a combo plate. I also tried a crispy potato taco, which was delightful—and certainly worthy of El Cantaro topping my list of the best vegan food in Monterey County.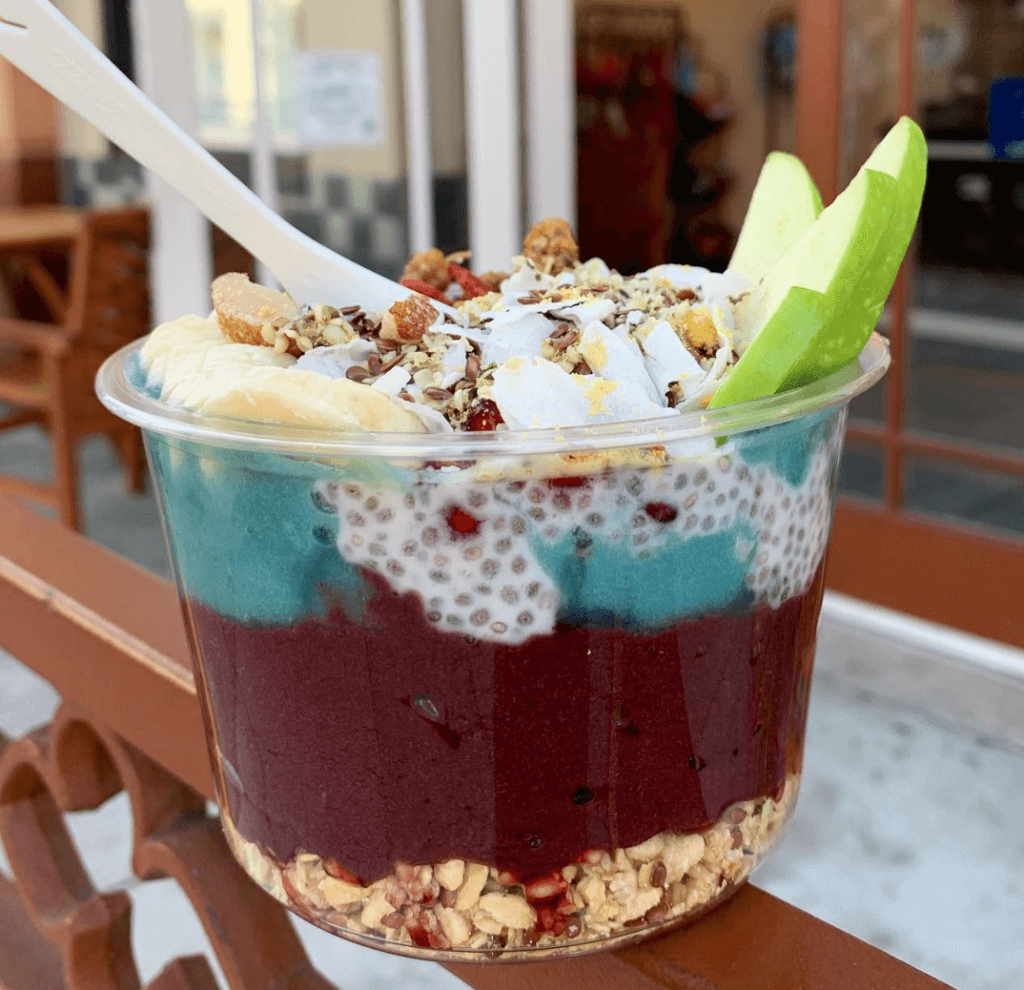 Terra is the place you go for the best vegan food in Monterey that's as clean and healthy as it is satisfying (perhaps the morning after your visit to El Cantaro, where you should aim for full indulgence). They specialize in bowls both savory and sweet, as well as tasty toasts and cold-pressed juices.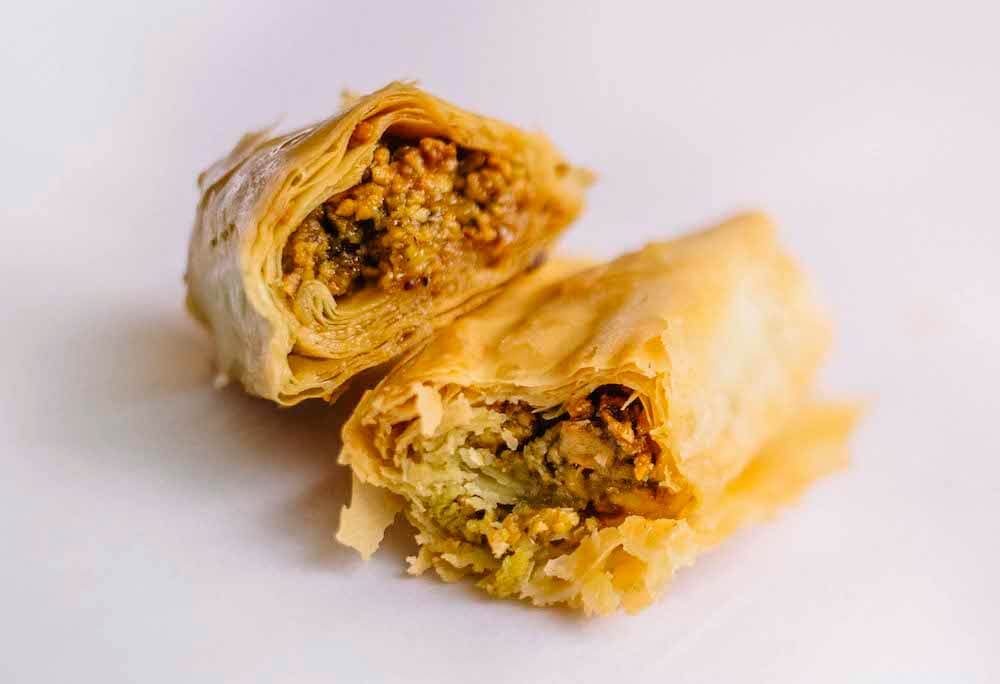 Say it with me: "Vegan. Baklava." You heard that right, my friends. Paprika Cafe makes pistachio, walnut, or cashew baklava that is entirely sans-animal products. Not only that, but they also offer a separate vegetarian menu that has loads of vegan Mediterranean dishes like foul moudamas (an amazing fava bean dish with garlic, lemon, and olive oil), falafel, and more.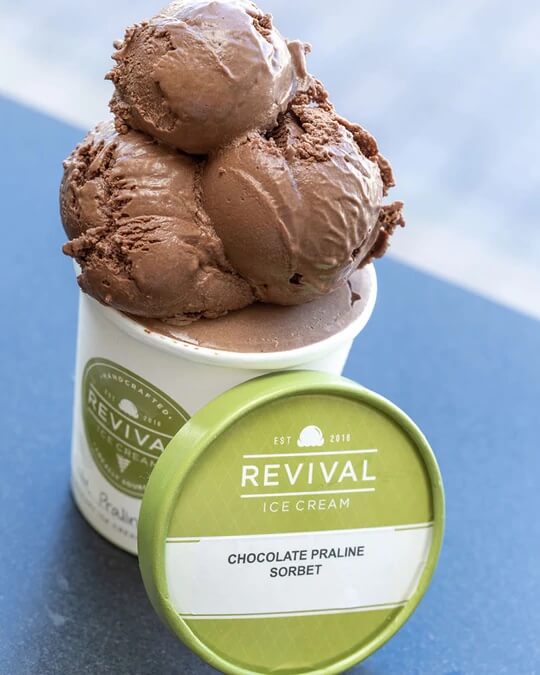 I'm kicking myself for not making it to Revival on either of my recent trips, because they're clearly so up my alley. While they're not fully vegan, they offer tons of dairy-free ice creams and cones: with flavors like chocolate hazelnut, cold brew, peanut butter chip, and pistachio, I find myself wondering, how soon is too soon to go back..?
Best Vegan Food in Pacific Grove (4 Incredible Restaurants)
Pacific Grove was my home base for this trip, which I couldn't be happier about. Though it's a tiny beach town with a population of about 15,000, it has a lot of great food – vegan, included.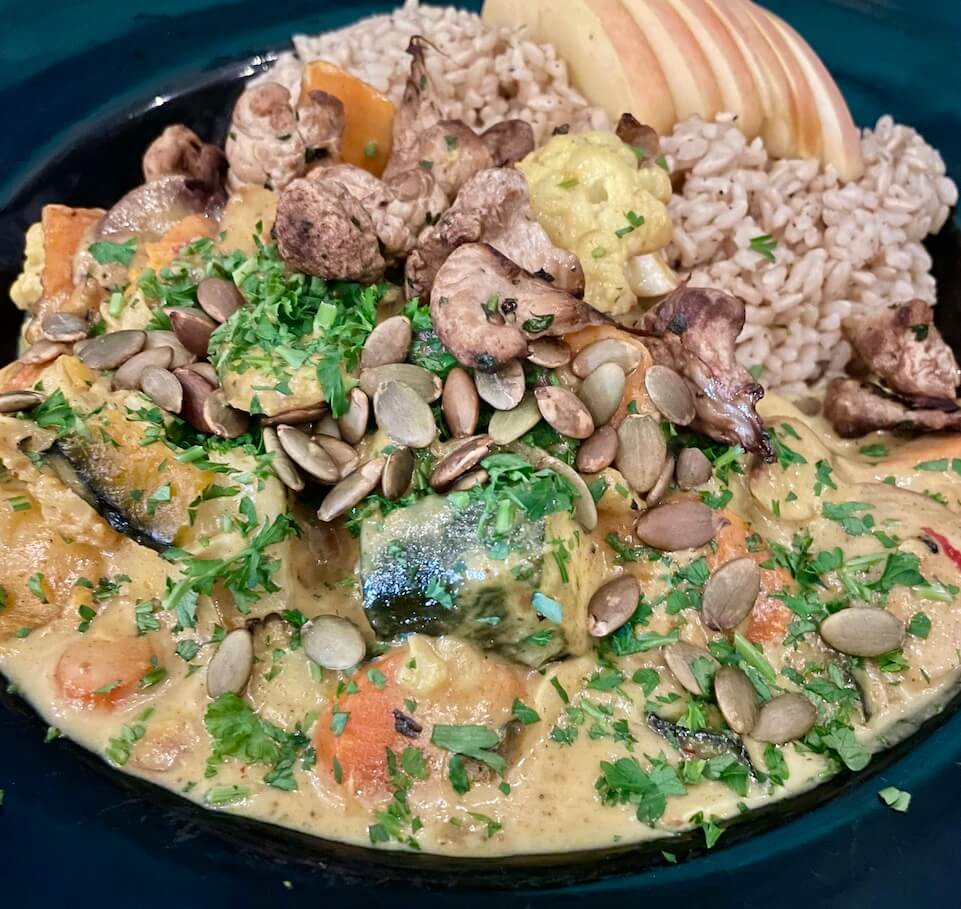 Julia's…where do I even begin? This spot is more than just a vegan restaurant – it's a mushroom haven, live music venue, and just an absolute trip – in the best way possible. Julia's is a fully vegetarian restaurant with vegan options for virtually all menu items. They specialize in locally-foraged mushrooms, and while you can enjoy some of the best lion's manes or chantarelles I've eaten, it appears you can also inquire about mushrooms of the, well, *magic* varietal here, as well. While I haven't dabbled in their special mushrooms, I'd be lying if I said I wasn't intrigued.
At any rate, I've eaten at Julia's three times now and have savored each bite of each of those meals. For dinner, you absolutely must order the yellow curry (above) – despite having dined at dozens of fantastic Thai restaurants, somehow, Julia's version comes in first place. And for dessert, please, please, I beg of you, order the brownie – warm, fresh, and topped with candy cap mushroom-infused coconut caramel sauce and vanilla ice cream. Other things I've ordered and loved: the vegan "fried egg" breakfast sandwich, the brunch bowl, the fried mushrooms, and the tamale pie. YUM. Julia's has hands down the best vegan food in Pacific Grove, so if you're stopping by (or driving through), you can't skip this gem.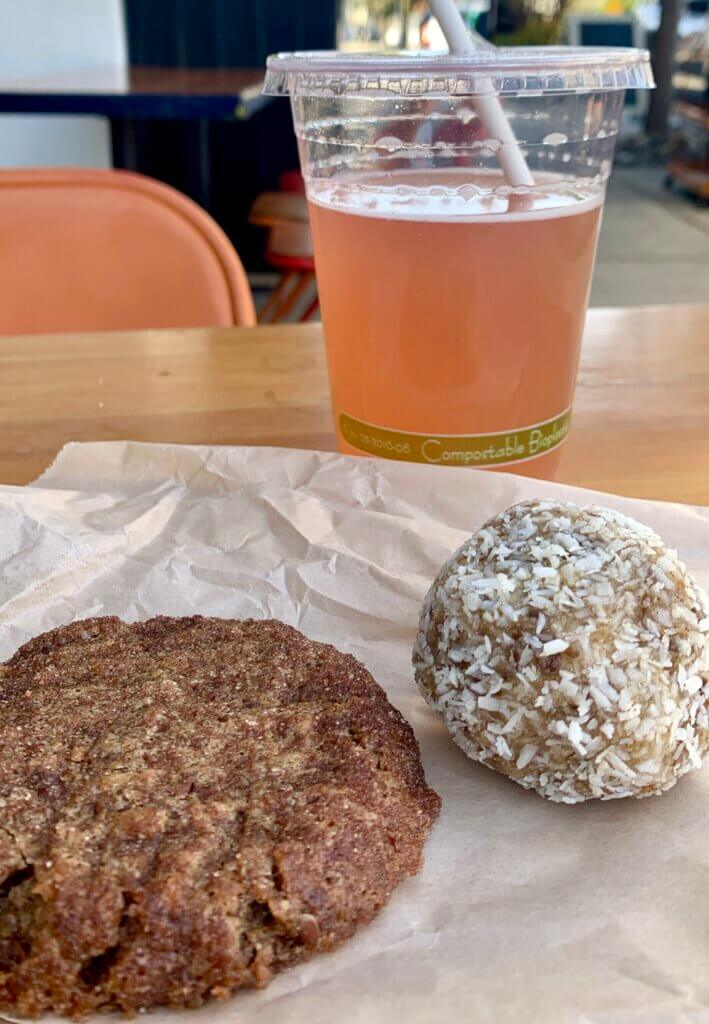 Another delightful vegetarian spot with a slew of vegan options is Happy Girl Kitchen Co., which I learned is somewhat of an acclaimed local cafe and gourmet food producer. While their brick-and-mortar is beloved by locals and offers delicious baked goods, salads, and homemade kombucha, their packaged goods are pretty fantastic, as well. They have a particular expertise in preserves and specialty jarred items like chutneys, jams, and marmalades, and their Pacific Grove shop sells all these glorious items; so be sure to grab yourself a breakfast or lunch here, plus a few jars to take home with you or as souvenirs. I stopped by Happy Girl for a dessert break one afternoon, which turned out to be a fantastic decision. The walnut date bliss ball and snickerdoodle really satisfied my sweet tooth, and I washed them down with a lovely house-made ginger berry kombucha.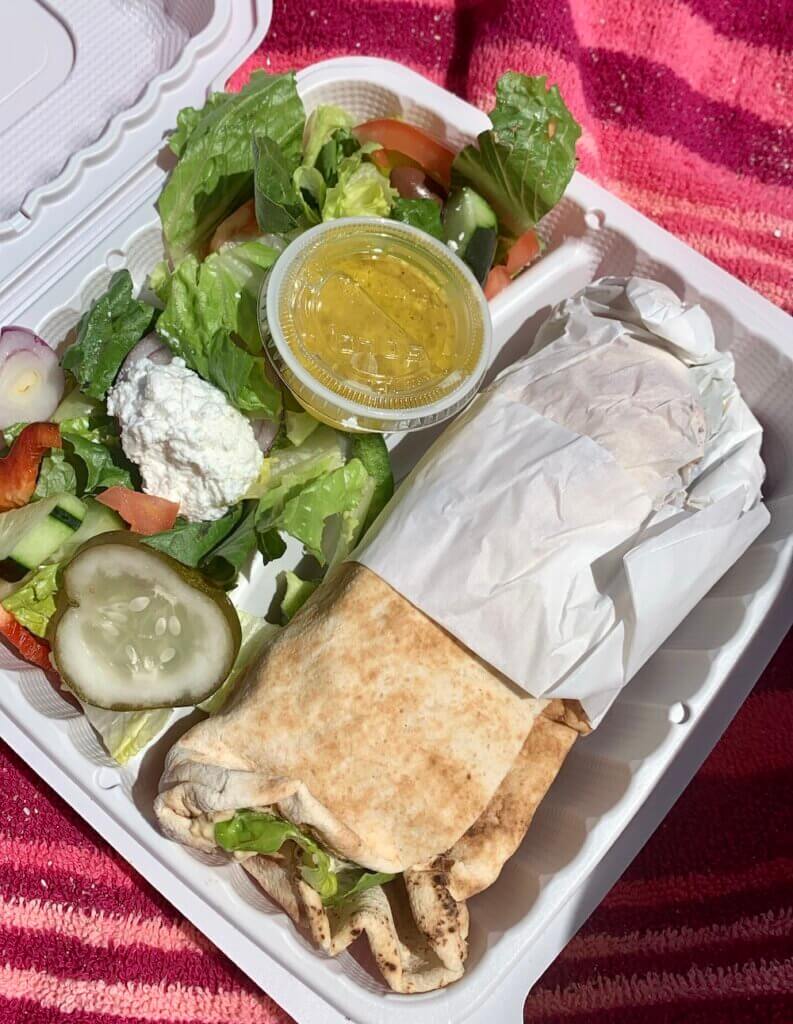 Petra's isn't a vegan or vegetarian restaurant by any means, but they do offer a killer vegan falafel complete with pickles, lettuce, tomatoes, and a garlic tahini sauce wrapped in fresh pita. Pro tip: get your falafel to go, and head down the hill to Lover's Point to enjoy this tasty lunch by the water (see above)!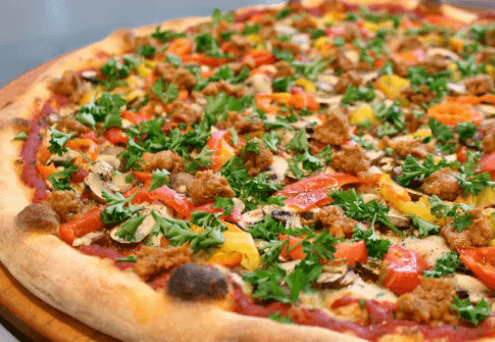 Did you know that Pizza My Heart now has a completely vegetarian/vegan menu?! Me neither, until I happened to drive by the Pacific Grove location. What's better, their pies feature my favorite Miyoko's vegan mozzarella, landing them as my top pick for pizza cravings if you're searching for vegan food in Pacific Grove. We love to see it!
Best Vegan Food in Carmel (2 Great Restaurants)
Now, let's talk about my favorite vegan restaurants in Carmel.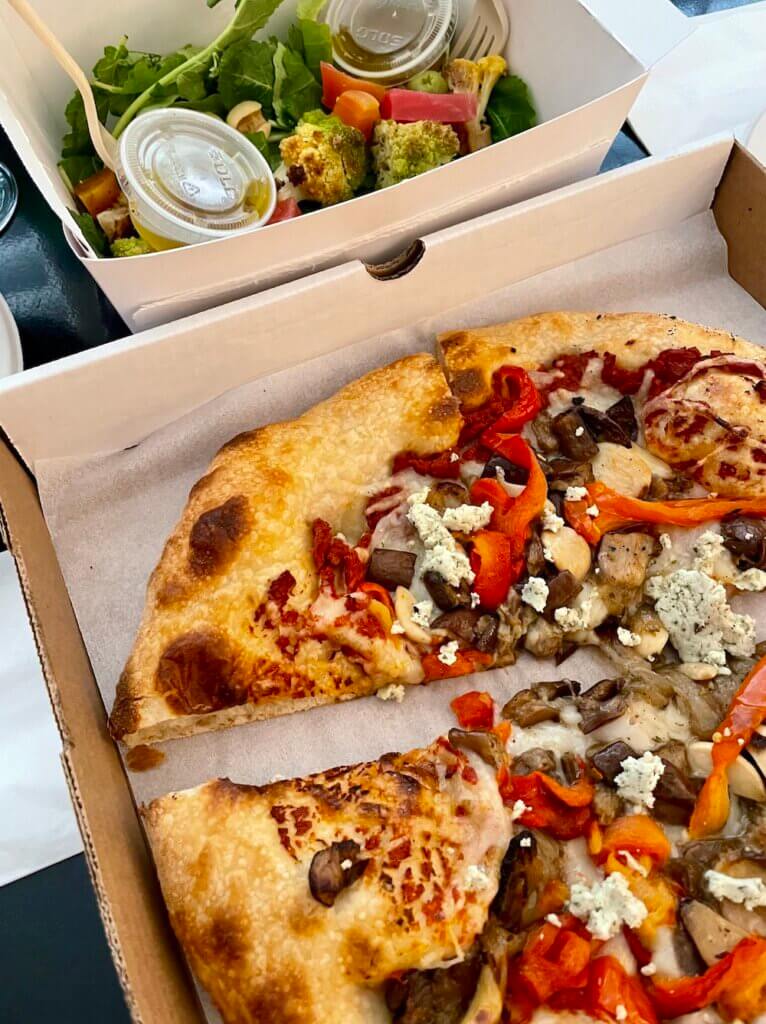 In continuing with Monterey's vegan pizza options, Carmel Belle has some of the best 'za I've ever had, truly. We had their Roman-style vegan pizza with roasted red peppers, artichoke, roasted garlic, and mushrooms, and it was exactly what was needed to fuel up before a wedding. We also got their fantastic Farmer's Market chopped salad with a vegan dressing, sans feta.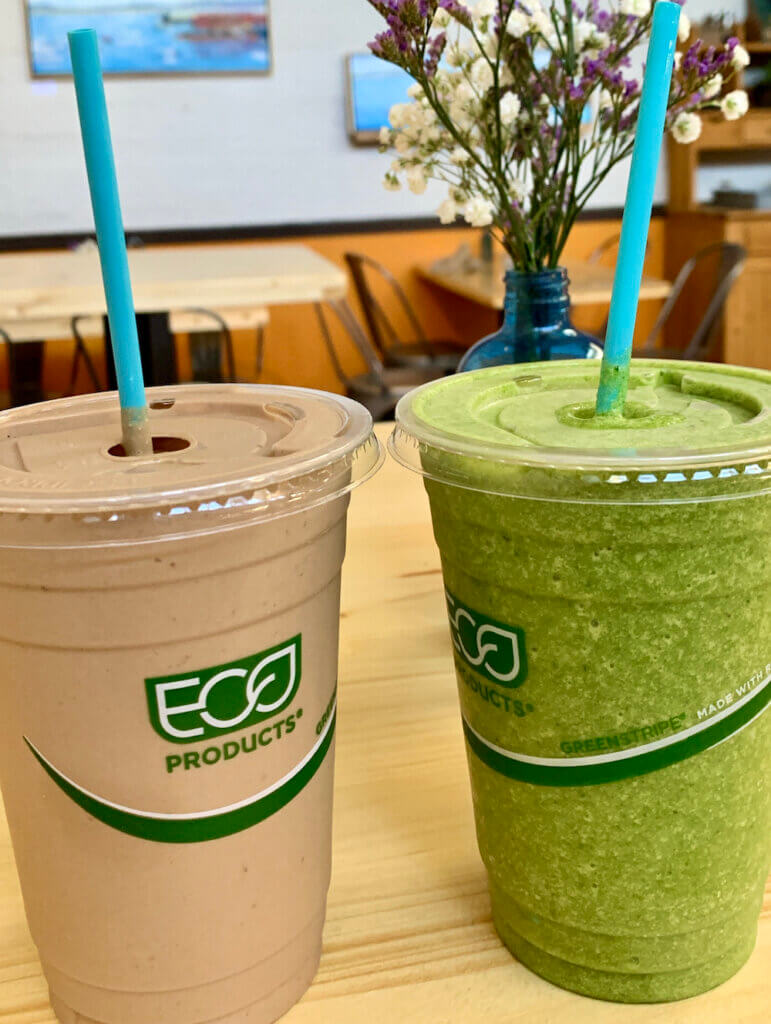 We stopped at Carmel Belle for coffee and smoothies, which was a lovely start to the day. After enjoying our beverages in front of the indoor fireplace among the other eateries in this quaint indoor market, I instantly made a mental note to come back and try the other vegan menu options, i.e.: a tofu scramble, breakfast burrito, plant-based vblt, and vegan 'belle bowl.'
Did I miss any of the best vegan food in Monterey?
As with all my vegan restaurant guides, these are living, breathing lists – so if I missed any great spots you've tried, please drop me a line in the comments section below!
If you haven't already, be sure to check out my Santa Barbara, Los Angeles, and Chicago vegan restaurant guides – with many more to come! And if you're looking for some inspiration for home cooking, check out my vegan grocery list, complete with over 101 produce and pantry staples.