7 BEST VEGAN BREAKFAST BURRITOS IN LA
As both a new Los Angeles resident and someone new to the vegan world, I quickly took it upon myself to find the best vegan breakfast burritos in LA, shortly after arriving on the scene last year. Unsurprisingly, I've naturally taken to deploying my child-like excitement to this project… and oh do I have fun results to share with you.
With classic favorites I'd already tried at neighborhood heavyweights like Great White, Cofax and Huckleberry over the years (before going vegan—or "B.V." as Anj has dubbed it), I've long known that the Los Angeles food scene has a special affinity for creative, hearty and often truly mind-blowing breakfast burritos.
Right off the bat, it became clear to me that the city of angels also packs a punch when it comes to incredible vegan breakfast burritos.
So, if you have a big appetite and a hankering for delicious plant-based breakfast burritos, then look no further. I've done all of the hard work for you (poor me) and tried the top vegan breakfast burritos you should add to your must-eat list this year. Here's my ranked list of where to go first.
7 Best Vegan Breakfast Burritos in Los Angeles
For those of you that like a Google Maps list as much as I do, here's my (ever-growing) map of where to find the best vegan breakfast burritos in Los Angeles, ready to navigate you in one click:
Now without further delay, let's get into the good stuff.
1. Bardonna's Vegan Breakfast Burrito
Location: Santa Monica (Montana Ave)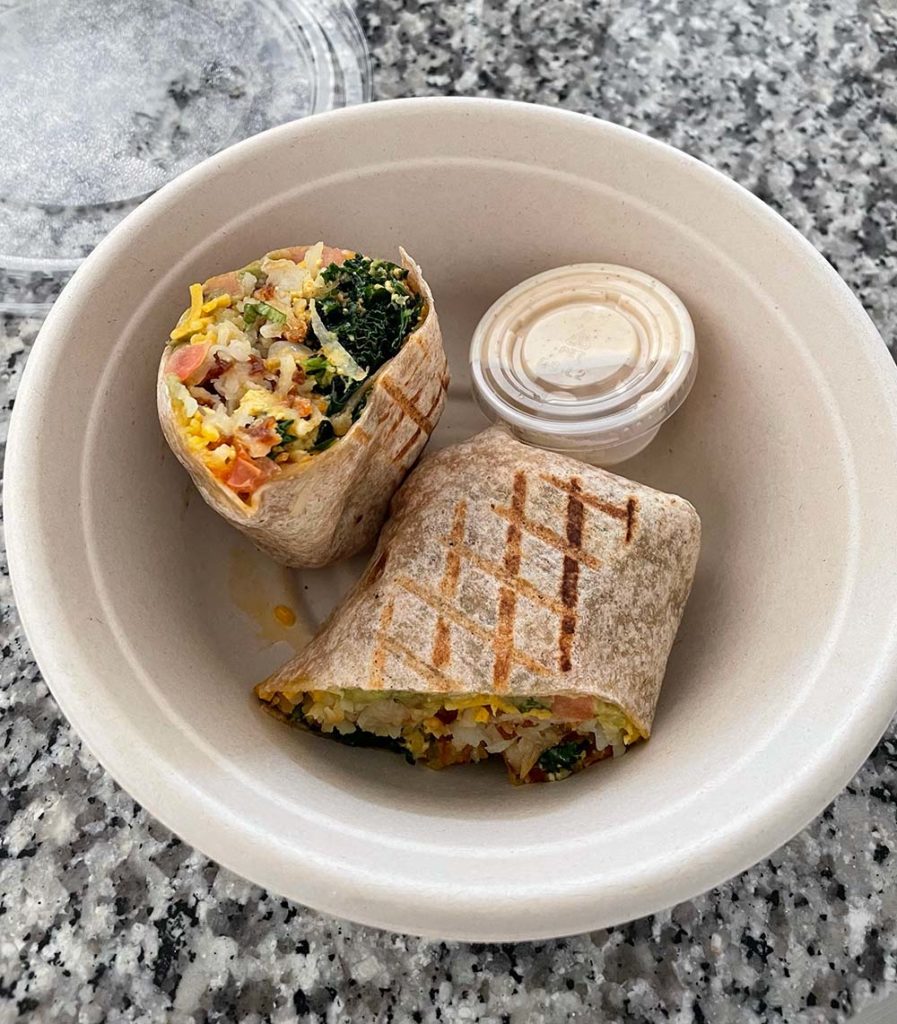 This vegan breakfast burrito holds a special place in my heart as the first (and still the best) I've had after moving to Santa Monica and making the transition into being fully vegan earlier this year. With my trustworthy neighborhood guide, Anjelica, to steer me towards all the best vegan eats & treats near my new stomping grounds, Bardonna was an obvious first stop… and they do not disappoint! Plus, it's one of the best brunch spots on Montana Ave in Santa Monica for vegans and omnivores alike.
What's in it? Tofu kale scramble, truffle guacamole, vegan cheese, shredded hashbrowns, pico de gallo, served with garlic aioli & fermented chili sauce. (Price: $14.50)
Bonus: Aside from hailing as the standalone vegan breakfast burrito champions in my book, another reason Bardonna sits squarely at the top spot of this list, is for their great coffee selection (be sure to try the vegan horchata cold brew) and deep menu of other fantastic plant-based brunch items like their vegan quesadilla, vegan scramble plate and vegan B.T.L.A amongst several other must-try dishes and donuts.
2. Erewhon's (Vegan) Plant-Based Breakfast Burrito
Locations: Mid-City, Silver Lake, Santa Monica, Venice, Pacific Palisades, Calabasas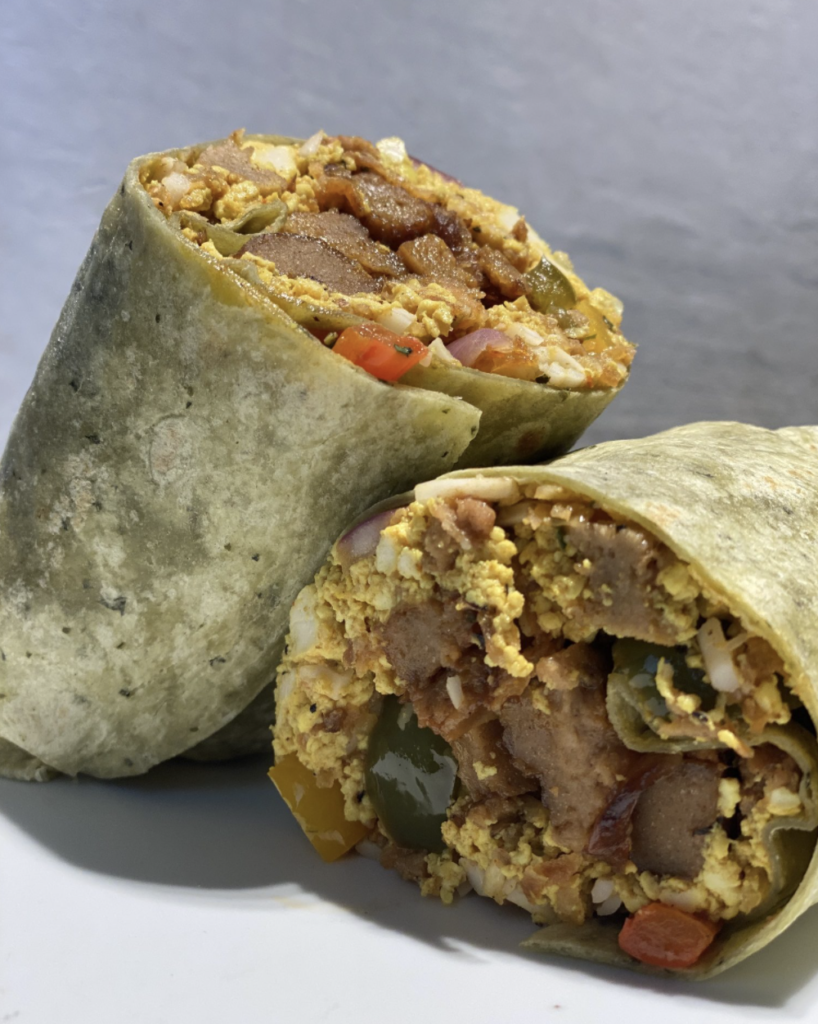 Don't sleep on this vegan breakfast burrito, just because it's from a grocery store. If you've ever set foot inside an Erewhon, then you know this place is… different, to say the least. Known around LA as the home of $18 mason jars of trail mix, cold pressed juice that can cost more than your monthly phone bill and other hilariously priced (yet amazing) health food & fare, Erewhon deserves special attention for their vegan breakfast burritos.
What's in it? Organic spinach tortilla, organic vegan meat (vegetable stock, vital wheat protein, whole wheat flour, coconut aminos, olive oil, garlic powder, lemon zest), organic turmeric curry tofu (soybean, turmeric, curry, chili flakes, paprika, olive oil, sea salt & pepper) organic bell peppers, organic red onion, vegan cheese (Good Planet), organic hash browns (potato, none GMO rice bran oil, sea salt, black pepper). (Price: $12.50)
3. Locali's Vegan Brekkie Burrito
Locations: Hollywood, Downtown LA, Redondo Beach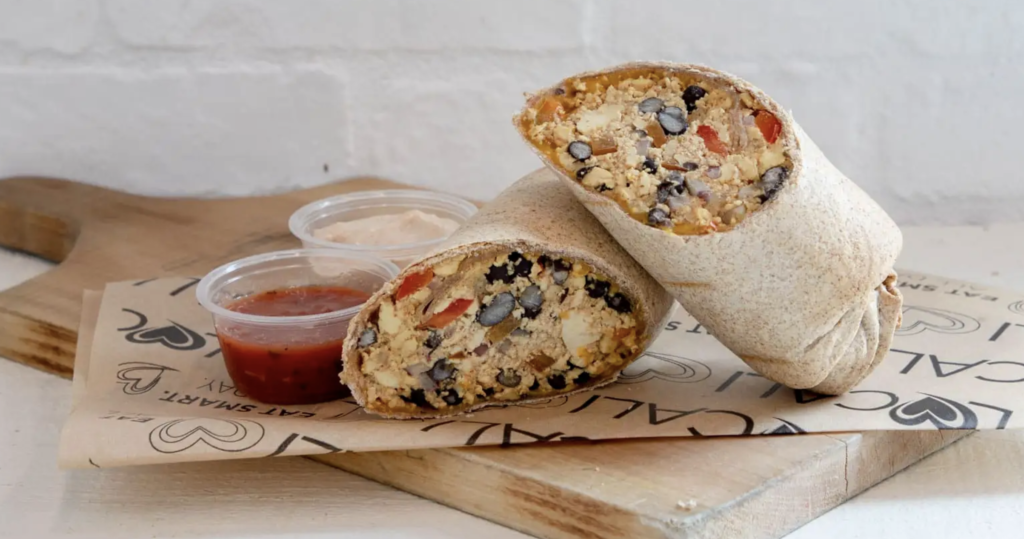 Named as one of LA's top five breakfast burritos (by CBS News), this dense and delicious vegan breakfast burrito punches far above its weight class with a healthy serving of black beans and diced bell peppers in a swirling sea of vegan cheddar cheese. Add avocado to really make this one special and don't be shy with that chipotle sauce, either.
What's in it? Scrambled sprouted tofu, vegan cheese, black beans, bell pepper and red onion stuffed in a sprouted multigrain tortilla with side of salsa and chipotle sauce. (Price: $12.00+)
Bonus: If you're a serious breakfast nut (like me), then you'll also want to try Locali's Baaadasss Breakfast Sandwich, which comes with a delicious vegan sausage patty, healthy slice of vegan cheddar, a slathering of vegan chipotle sauce and maple syrup on a sprouted multigrain English muffin.
Locations: Venice, Larchmont, Arts District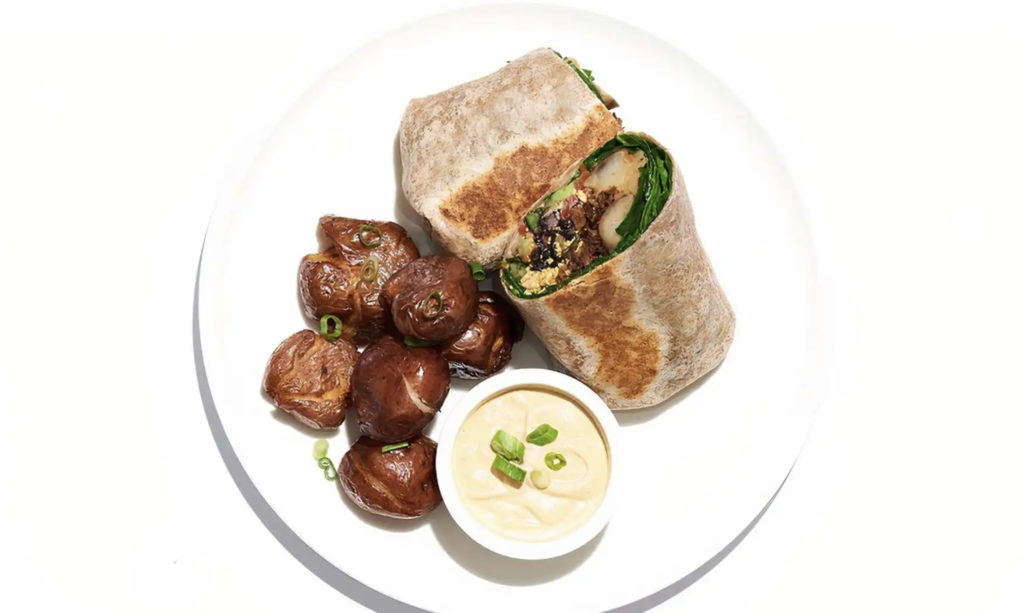 This vegan breakfast burrito is where my Irish heritage really comes out on full display. If you enjoy potatoes in all their glorious forms as much as I do, then the I Am Nourished breakfast wrap from Cafe Gratitude's brunch menu (served only from 9:00am to 12:30pm) will leave you feeling very pleased with your brunch plans. Beyond just the glorious potato party you're in for, this wrap also packs a healthy serving of greens and a mouthwatering mushroom carnitas to balance out the heavier elements.
What's in it? Tofu scramble, potato, spinach, mushroom carnitas, pico de gallo, black beans, spicy cashew aioli, avocado, pickled carrots and a choice of side salad or smashed potatoes… trust me, you'll want to get the smashed potatoes 😉 (Price: $13.00)
5. Dogtown Coffee's Vegan Munchies Breakfast Burrito
Locations: Santa Monica (Main Street and in The Fairmont Hotel)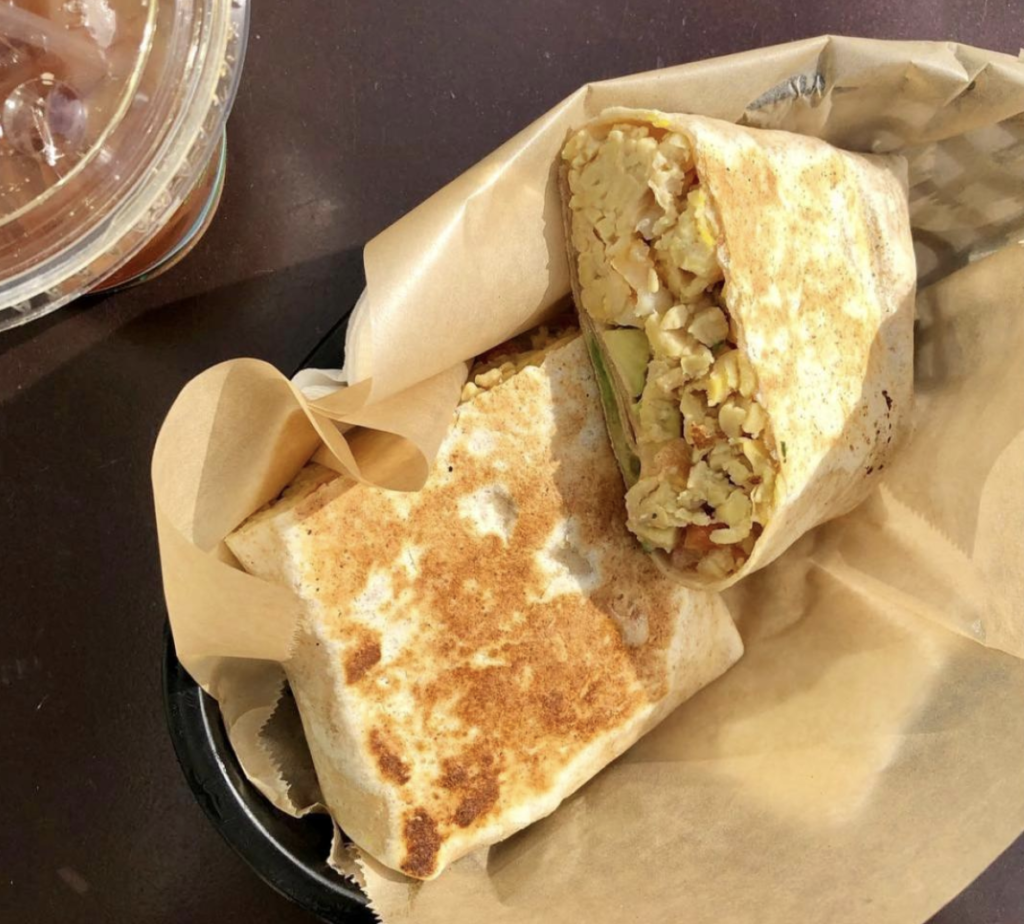 Of all the vegan breakfast burritos on this list, this is (surprisingly) the only one that utilizes tempeh as the main ingredient, as opposed to a tofu scramble like our other contenders. I really like this breakfast burrito for a couple of reasons—there's always something special to me about a grill-pressed anything, and this filling combination of seasoned tempeh with TATER TOTS gets high marks. Plus, the Dogtown kitchen is always generous with dishing out avocado in this burrito.
What's in it? Organic tempeh scramble, tater tots, avocado, pico de gallo, vegan DTC chipotle sauce in a whole wheat tortilla, but can be served gluten-free served as a bowl or between two gluten-free buns. (Price: $10.95)
Locations: West Hollywood, Pasadena, LAX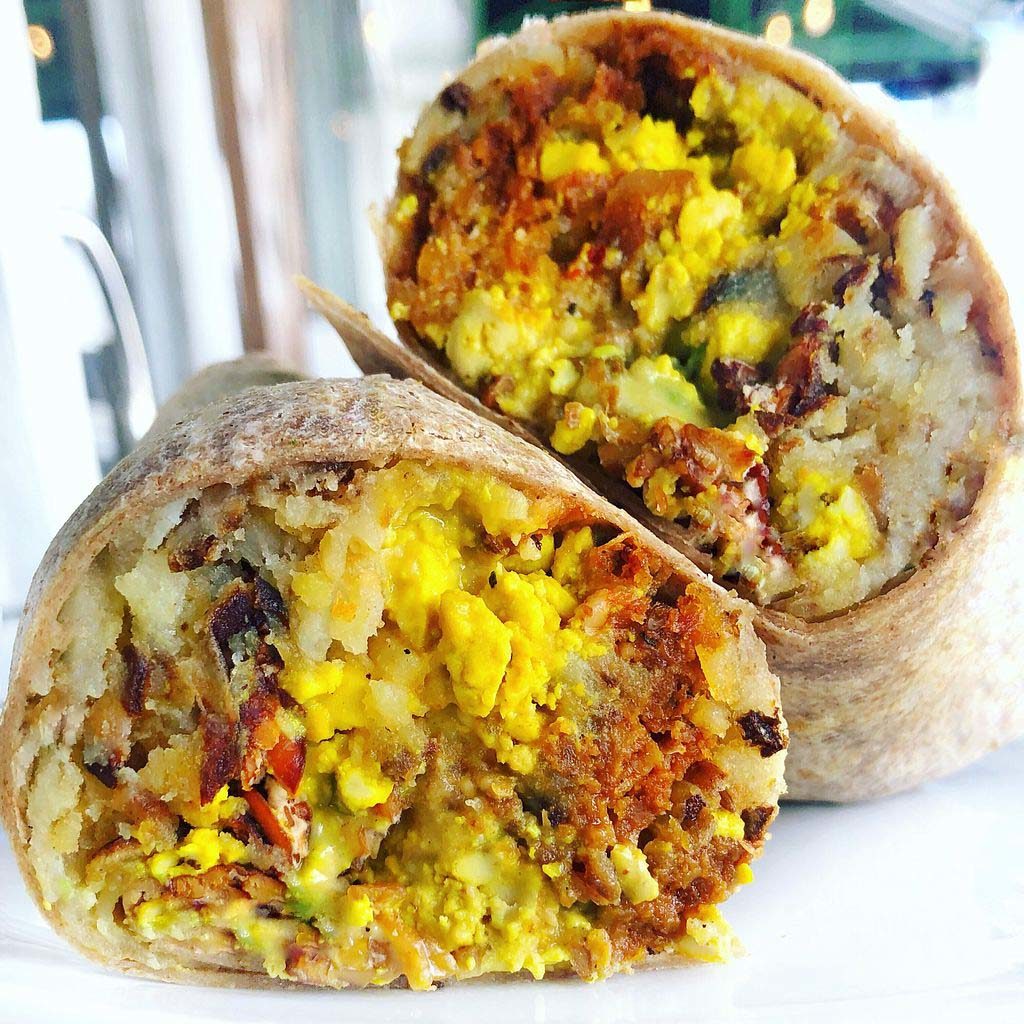 Hashbrowns, vegan chipotle sausage and tempeh bacon with guacamole?! Any self-respecting breakfast lover is guaranteed to revel in the collision of flavors that Real Food Daily's famous vegan breakfast burrito brings to the table. And fear not, this delectable dish comes with a generous side salad to make sure you're still getting your greens.
What's in it? Chipotle sausage, tempeh bacon, tofu scramble, hash browns, guacamole, cashew cheese in a whole wheat wrap. It also comes with a tasty ranchero sauce and a side salad. Can be gluten-free if served in a bowl. (Price: $15.00)
7. Berbere's Plant-Based Breakfast Burrito
Location: Santa Monica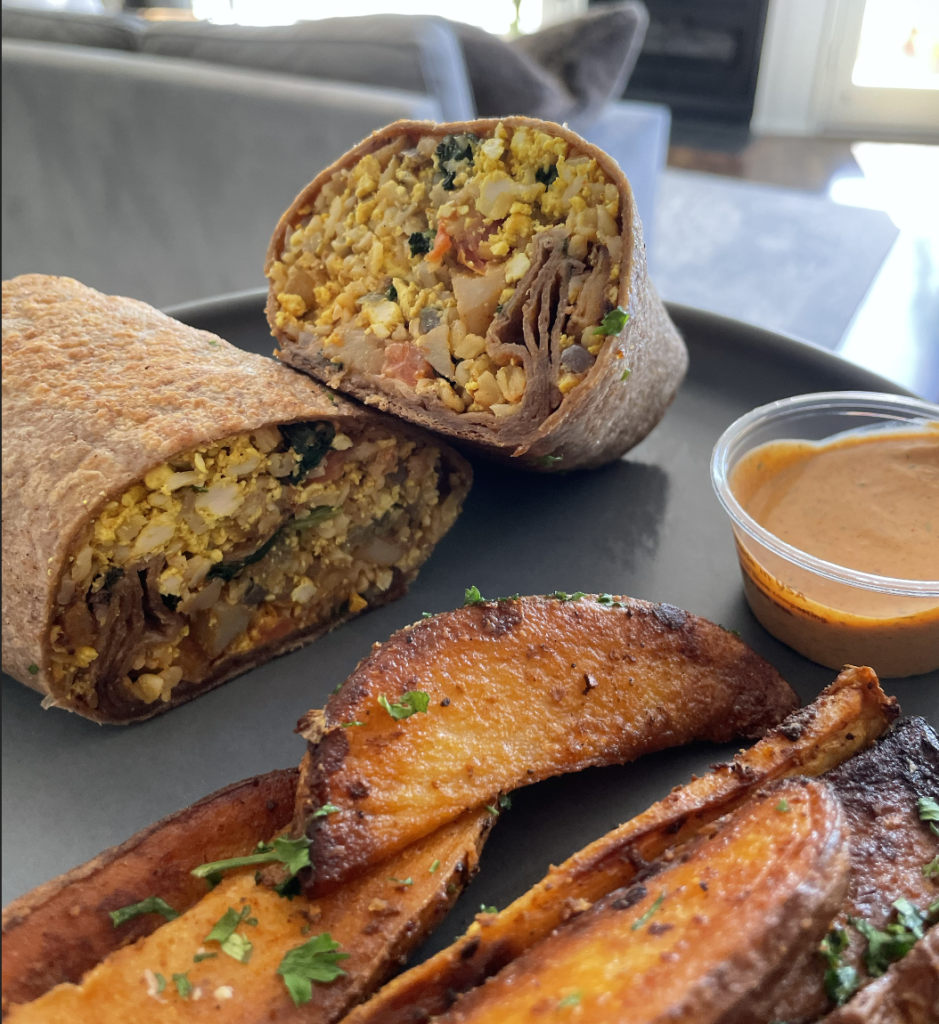 Berbere is a very special new addition to Santa Monica. This 100% plant-based restaurant makes our list of the best vegan food in Los Angeles by bringing some much-needed flavor and unique spices to their exciting take on Ethiopian-inspired dishes… including an absolutely incredible vegan breakfast burrito.
What's in it? This delicious burrito comes with scrambled tofu, Berbere roasted potatos, teff injera firfir, bulgar, whole wheat tortilla, cheese and tangfaye sauce. It's seriously amazing, plus… those breakfast potatoes! (Price: $18.00)
Did I Miss Any of Your Favorite Vegan Breakfast Burritos in Los Angeles?
If I missed any of your top picks, let me know in the comments below!
This list is constantly growing and ever-changing, so be sure to save the Google Maps list above and keep up-to-date on all things vegan breakfast burritos in LA ✌️
And if you're a fan of other LA staple restaurants, check out Anjelica's recent remix of Jon & Vinny's most popular pasta dish, vegan spicy fusilli recipe (Jon & Vinny's).