12 BEST VEGAN ICE CREAM PLACES IN LOS ANGELES (NON-DAIRY)
Throughout my life, I've always had a pretty insatiable sweet tooth, especially when it comes to ice cream. So naturally, when I began my vegan journey, I immediately sought out the best vegan ice cream places in LA, my home base.
One of the first things I realized, is that while it's been possible to find a handful of incredible fully vegan ice cream shops in Los Angeles, there are an impressive number of more traditional ice cream places that also offer a large number of vegan (and non-dairy) options. Because we're all about encouraging positive transformations here, I'm including both the 100% plant-based ice cream shops and my favorite places that offer a meaningful amount of vegan-friendly flavors in this list. Let's scoop in.
12 Best Vegan Ice Cream Places in Los Angeles (Non-Dairy in LA)
Here's a handy Google Maps list of all the top vegan ice cream places in LA right here:
Now let's get straight to our top pick with the best vegan ice cream in LA…
1. Yoga-urt (Santa Monica, Echo Park, Glendale)
After the opening of their newest location in Santa Monica (my neighborhood) this fall, Yoga-urt instantly became my favorite vegan ice cream place in LA. Taking a soft-serve approach to showcasing their beautiful creations, you'll definitely want to get your ice cream in one of their homemade waffle cones with a healthy serving of their house-madef toppings (the brownies and cake bites are my personal favorites).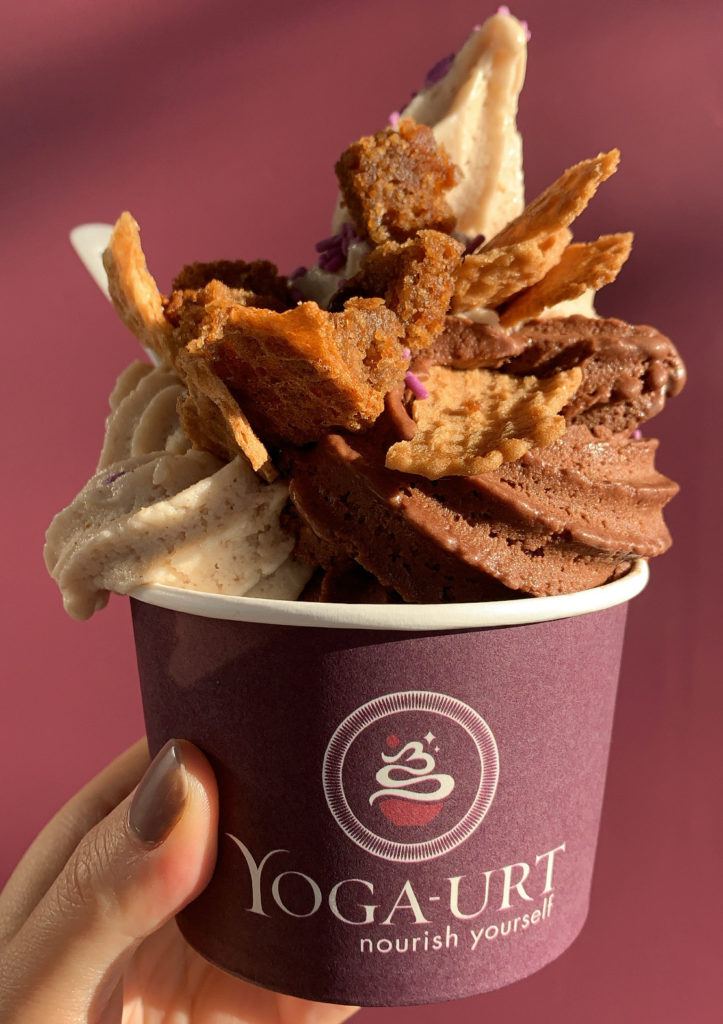 This 100% plant-based ice cream shop has three locations spread across the greater Los Angeles area and they all deliver with amazing flavors like chocolate, peanut butter, vanilla, strawberry, salted caramel, birthday cake, pecan praline, maple banana, pancake, green tea, macaroon, golden rose, and other seasonal varieties they think up. Did I mention they also make shakes, smoothies, and soft-serve pies?! Oh, and don't forget to grab a pint of your favorite flavor on your way out the door.
2. Magpies Softserve (Silver Lake, Tarzana, Highland Park)
Hailing as the OG home of soft-serve pies that'll completely blow your mind, about 90% of the Magpies menu is vegan, whether you're getting a soft-serve pie, a cup, or cone of vegan ice cream.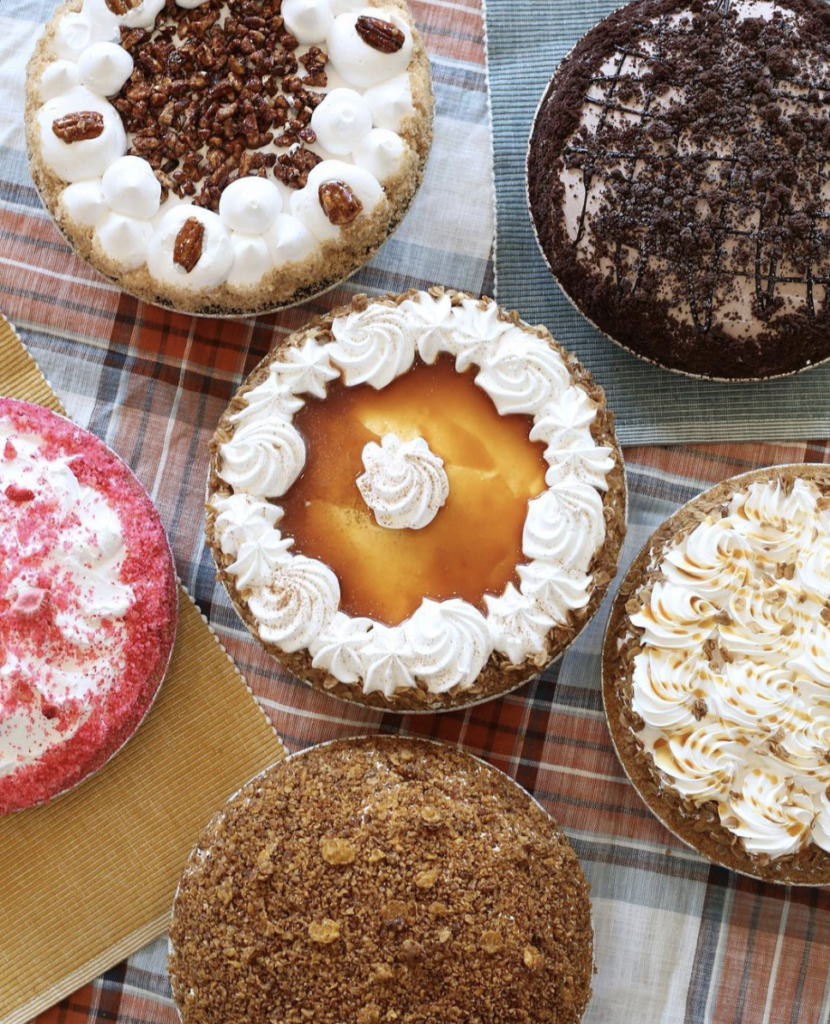 The classic soft-serve vegan ice cream flavors that are served up at their three Los Angeles locations all rock. You can expect unique staples like vanilla bean, brownie batter, strawberry rosewater, brown sugar vanilla, snickerdoodle, white coffee, and thin mint—alongside a rotating multitude of creative seasonal flavors.
Let's be honest though, the real reason you go to Magpies is for their life-changing soft-serve pies. My personal favorites are the birthday cake and Oreo pies, but honorable mentions go to the drumstick and grasshopper pies. No matter what you decide to try, you won't be disappointed by this famous vegan ice cream place in LA.
Formerly known as Cocobella, this fully plant-based ice cream shop has been serving up special vegan treats from the heart since 2017. Founders and friends Alice and Belinda launched their shop to serve up the kind of creamy vegan ice cream that they could never find in other stores—and they're committed to using only premium ingredients like oat milk and unrefined cane sugar.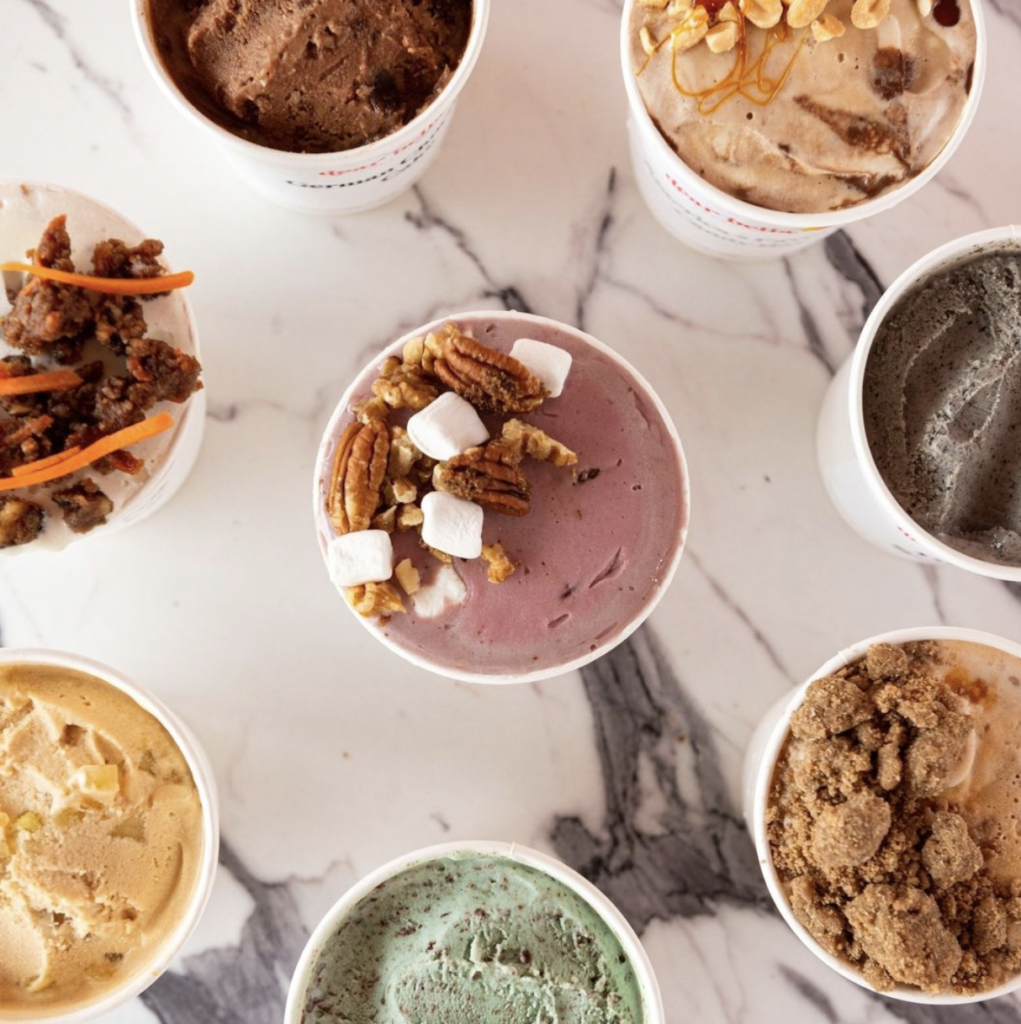 On their menu is a wide range of vegan ice cream flavors like cookie monsta, honeecomb, Taiwanese pineapple cake, lychee raspberry daiquiri, mango sticky rice, rocky road, NY cheesecake, strawberry fields, and sunflower butter cup. They also make incredible-looking shakes, pies, cakes, hand-dipped scoops, pints, sundaes, floats, and seasonal specialties like the buche de noel. As an added bonus, the Dear Bella Creamery team make all their vegan cookies, brownies, cakes, sauces, waffle cones, and toppings from scratch right in their shop.
Frozen Fruit Co is another one of our 100% vegan ice cream places in LA, located here in Santa Monica where they offer deliciously creative flavors like chocolate orange fudge, apple pie, PB&J, cinnamon caramel, chocolate peanut butter, gluten-free chocolate chip cookie dough, strawberry, cherry, and more.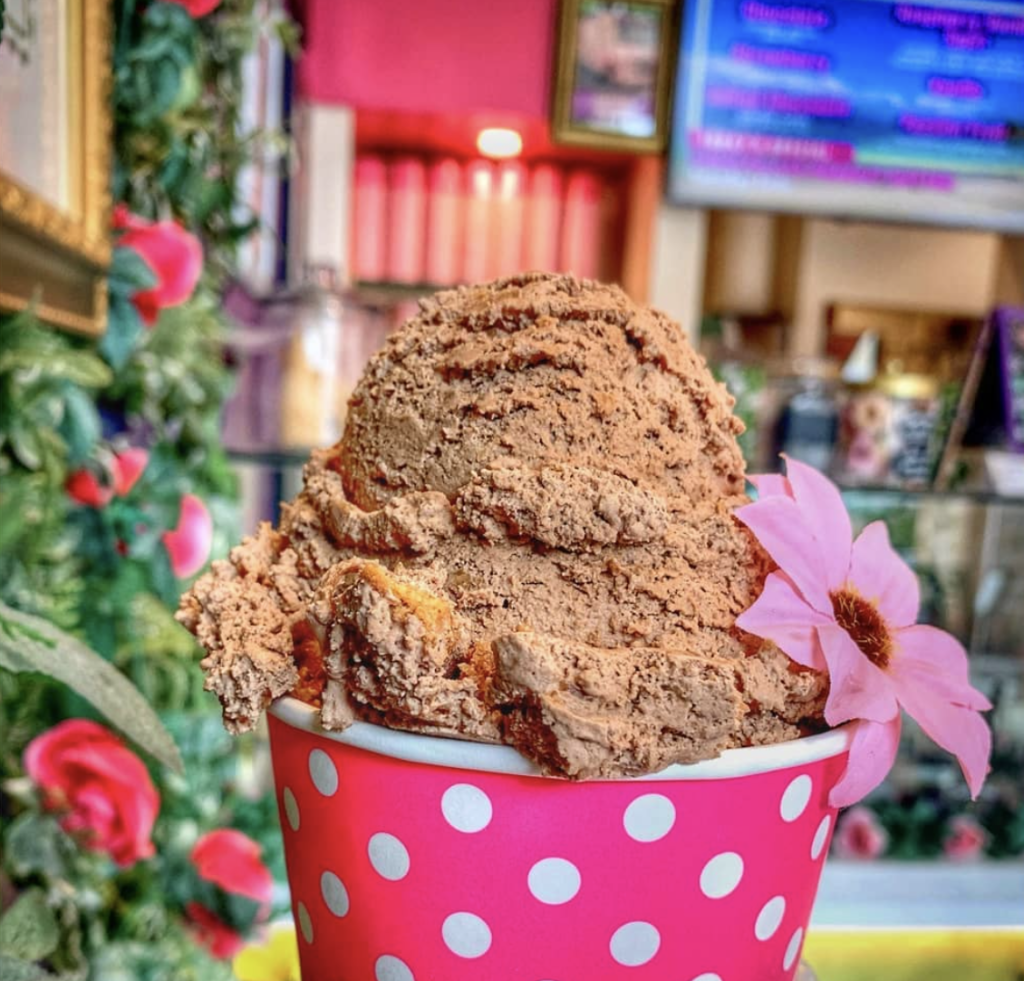 This special vegan ice cream shop in Santa Monica also makes brownies, cookies, ice cream sandwiches, and a slew of fantastic toppings that are all house-made. You can't go wrong once you step inside their doors, but I can promise you'll be coming back sooner than you think, to try something new.
5. Van Leeuwen Ice Cream (Culver City, Hollywood, Echo Park, Arts District, Studio City, El Segundo)
Originally launched out of a yellow food truck in New York City in 2008, this ice cream brand has exploded in popularity in recent years. With 16 scoop shops in New York, 6 in Los Angeles and a growing footprint that now includes New Jersey, Pennsylvania, and Texas, the Van Leeuwen team has gone to great lengths to incorporate delectable vegan ice cream flavors into all of their clean-ingredient focused product lines.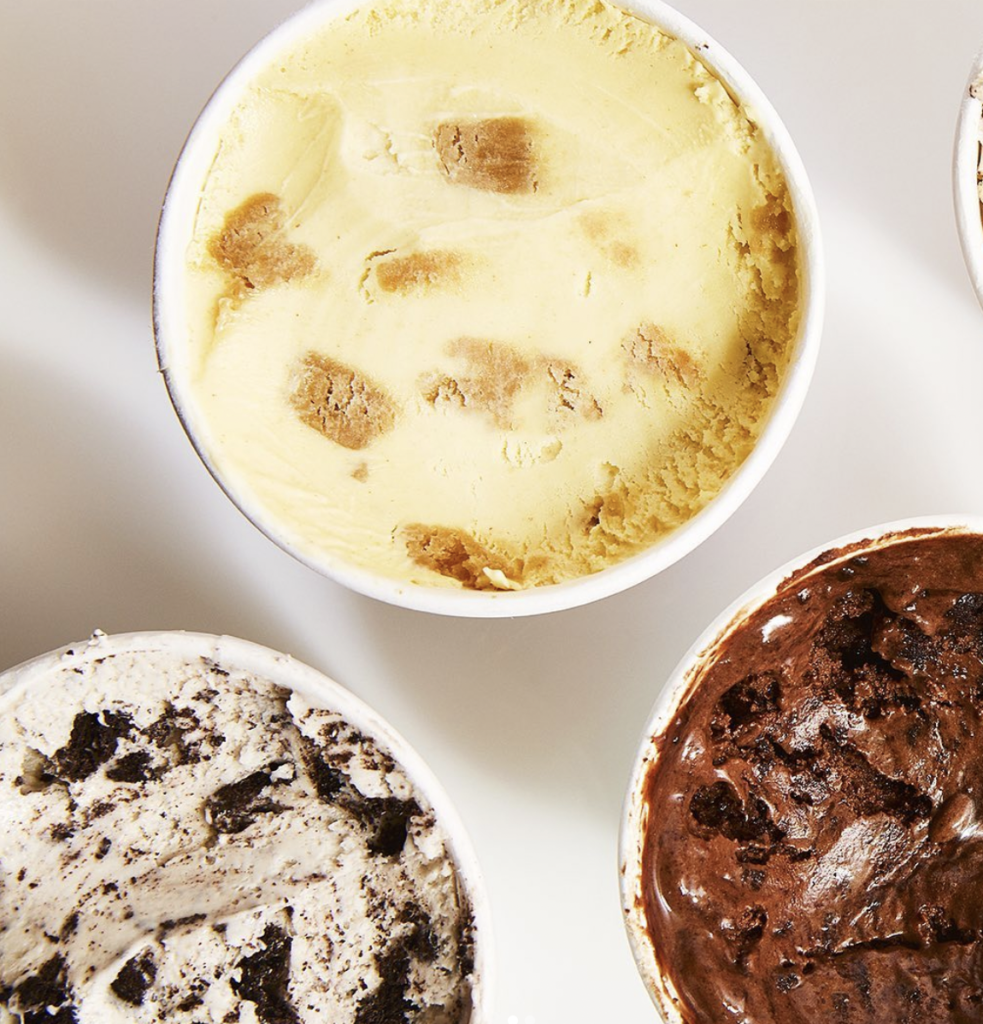 Whether you're buying by the scoop, cone, pint, or dipped bar, their vegan ice cream flavors include salted caramel, pumpkin cinnamon roll, bourbon vanilla apple crisp, chocolate chip cookie dough, chocolate fudge brownie, cookie crumble strawberry jam, cookies and cream caramel swirl, mint chip, and over a dozen more tasty options.
This popular artisanal ice cream shop, with two locations on opposite ends of LA, serves up a handful of well-regarded vegan ice cream flavors including birthday cake, brown sugar cinnamon pop-tart, chocolate honeycomb (no real honey), peanut butter cup, and faloodeh—a traditional Persian dessert made with rose water and rice noodles.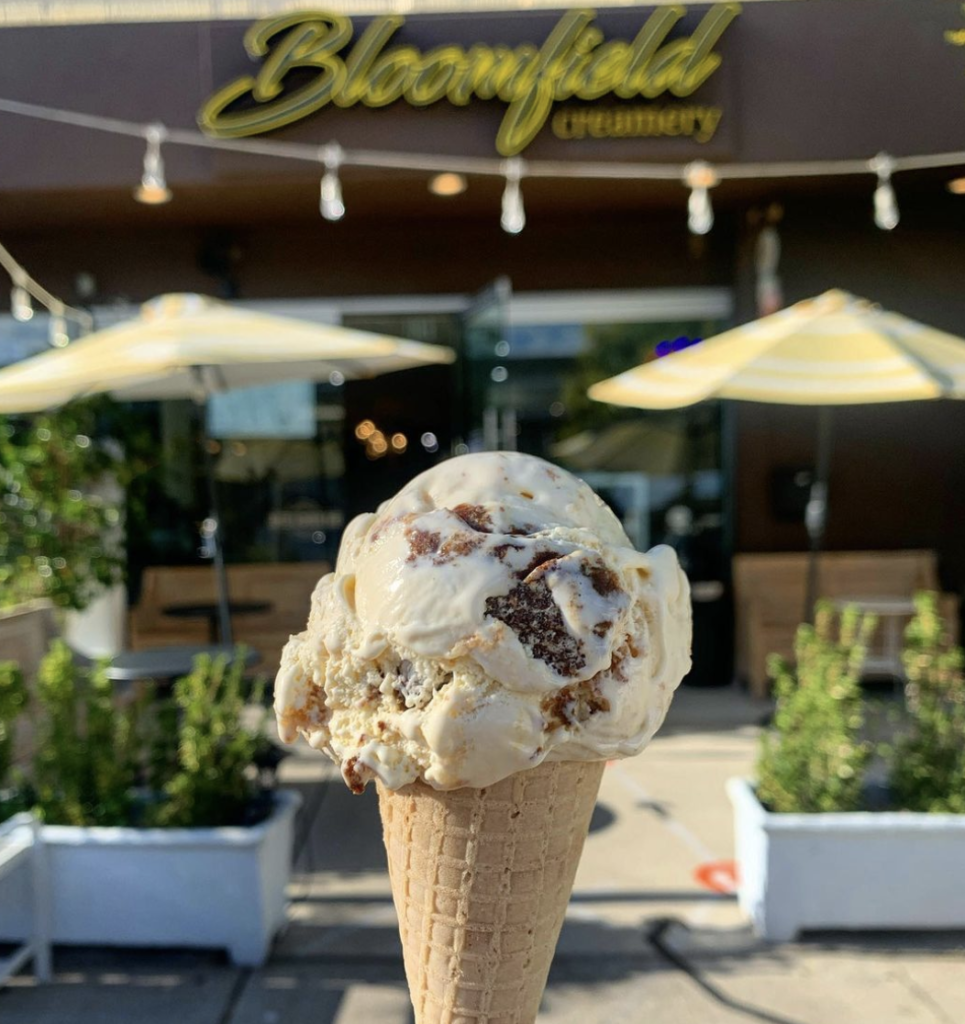 Beyond just their vegan ice cream flavors, this shop also makes their own cookie dough (with vegan options like brownie batter & cake batter), house-made cookies, milkshakes, ice cream sandwiches, pies, and yogurts.
With two locations on the west side of LA, Sweet Rose Creamery has carved out a well-deserved reputation as a local favorite. While not fully vegan, they've incorporated several exciting non-dairy ice cream flavors into their menu, including dairy-free dark chocolate, dairy-free Caffe Luxxe coffee, dairy-free German chocolate cake, and dairy-free yuzu sorbet.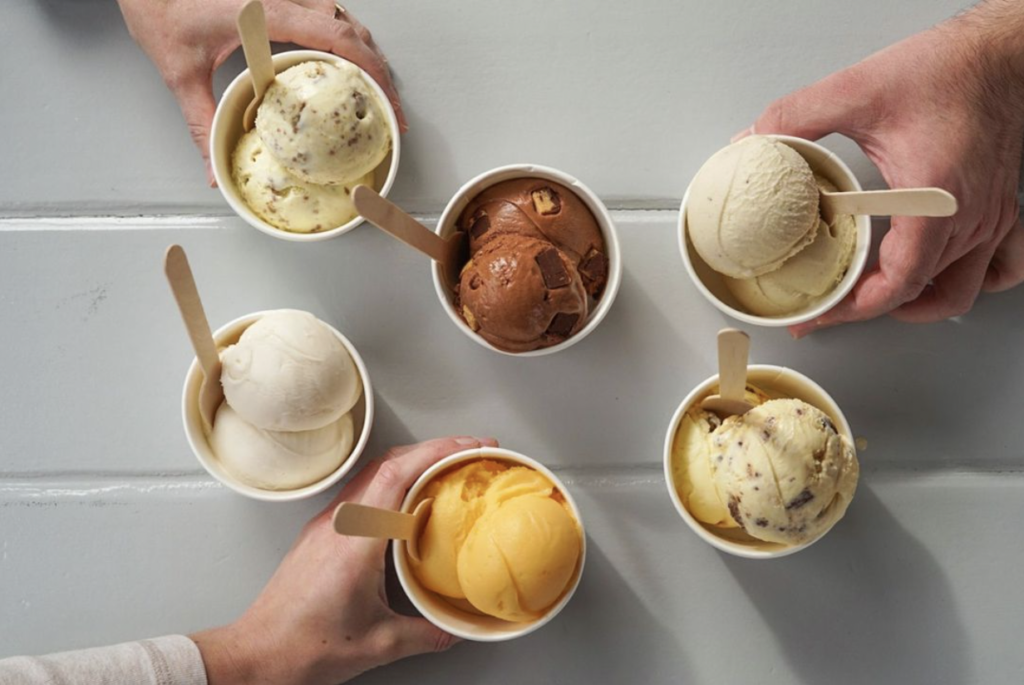 These ice cream shops also serve up a seasonal offering of dairy-free cookies, and sundaes. I have high hopes that they'll soon start making vegan ice cream cakes because their cookies & cream and sprinkles cakes both look out of this world.
8. Wanderlust Creamery (Venice, Fairfax, Atwater Village, Tarzana, Pasadena)
With 5 locations sprawling the greater Los Angeles area, Wanderlust Creamery has made a name for itself with inventive flavors (including a handful of vegan ice cream options) like sticky rice + mango, passion fruit cacao, and gianduja which is made of pure cacao and hazelnut.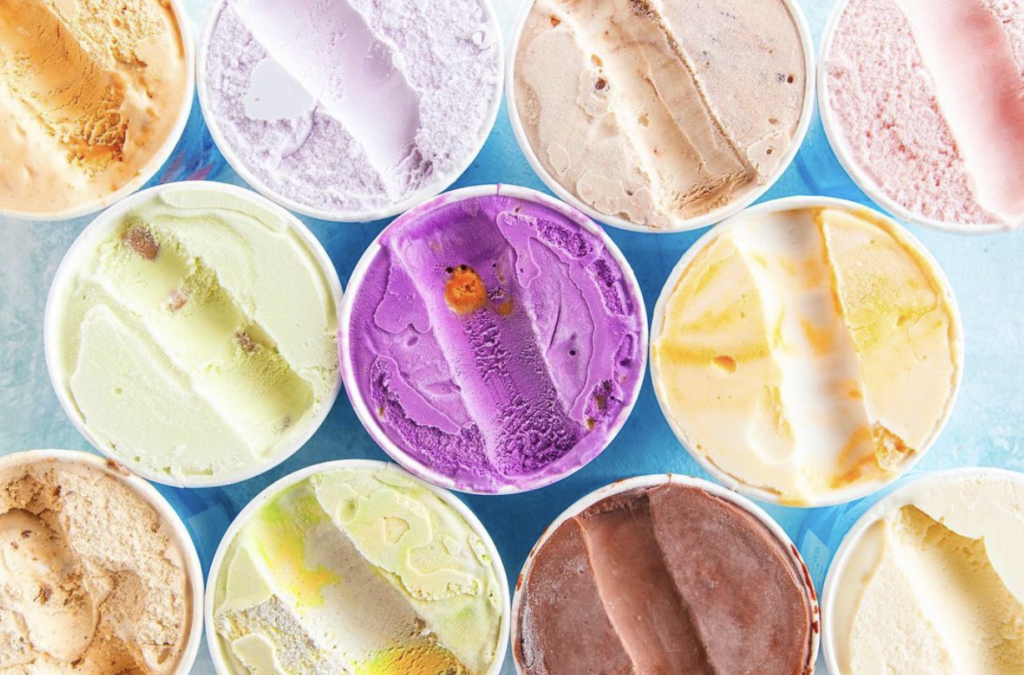 Be sure to keep an eye out for special seasonal flavors at the Wanderlust scoop shop near you, or pick up a pint from their online shop.
Founded in Brazil, this delightful gelato shop (located in the Century City mall) has made a name for itself in our house by serving up fresh vegan gelato flavors like cream of chocolate and hazelnut, chocolate, strawberry, Sicilian lemon, and passion fruit.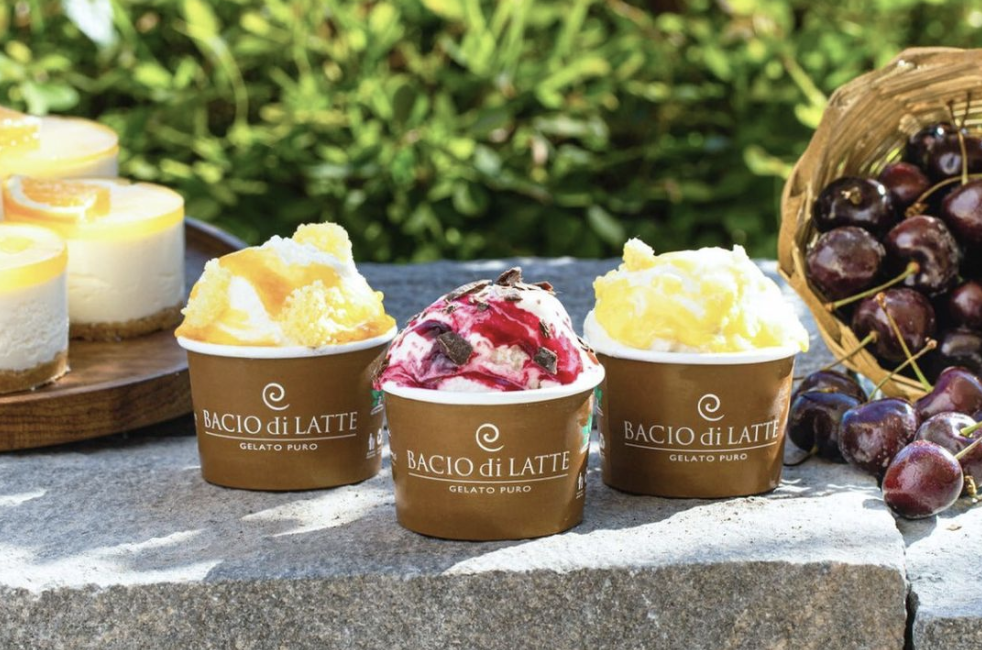 One of the things we like most about Bacio di Latte, is that their vegan gelatos are just the right amount of decadent while still packing a hard-to-beat freshness, which still leave you feeling great.
10. Salt & Straw (Venice, Arts District, Studio City, West Hollywood, Pasadena, Culver City, Larchmont)
Launched in Portland, Oregon in 2011, Salt & Straw has very quickly exploded in popularity across the west coast with a total of 25 locations already (they recently opened two locations in Miami too).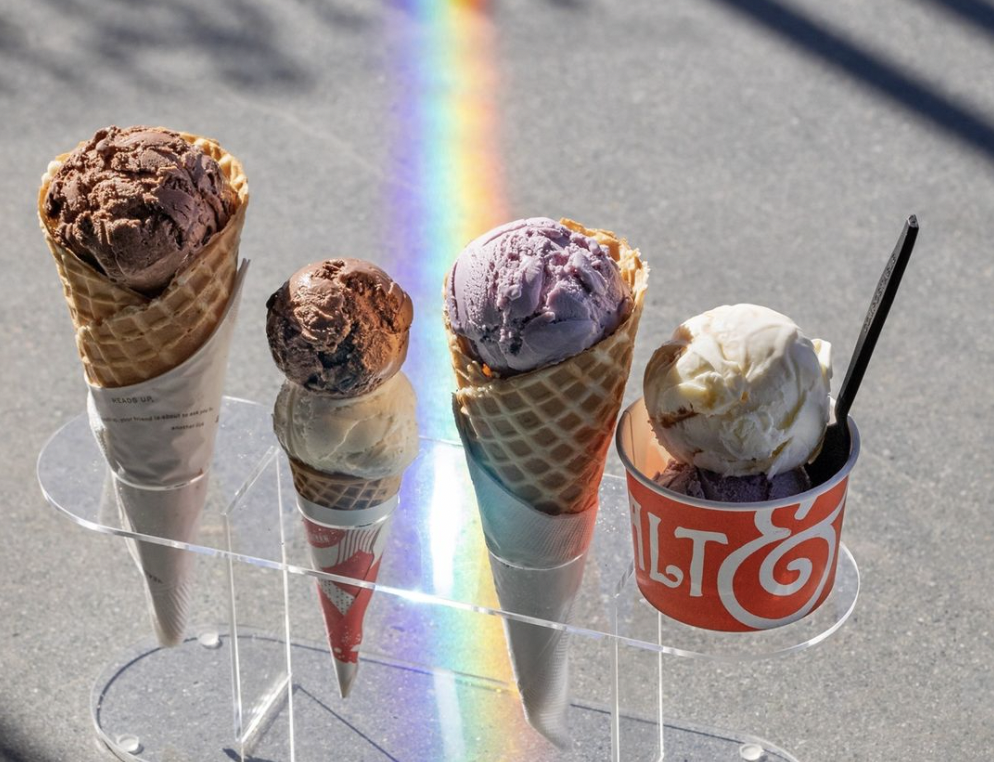 While Salt & Straw doesn't always offer a ton of options for us, they do have at least one or two vegan ice cream flavors on rotation in their Los Angeles scoop shops at all times, including creations like mint chip, strawberry & coconut water, or chocolate hazelnut cookies and cream.
11. Jeni's Splendid Ice Creams (Venice, Los Feliz, Larchmont, Calabasas, Playa Vista)
Jeni's is another new darling ice cream brand that's quickly generated a cult-like following for their deliciously indulgent flavors I used to have in my freezer at all times, like brambleberry crisp and blackout chocolate cake (sadly, neither of which are vegan).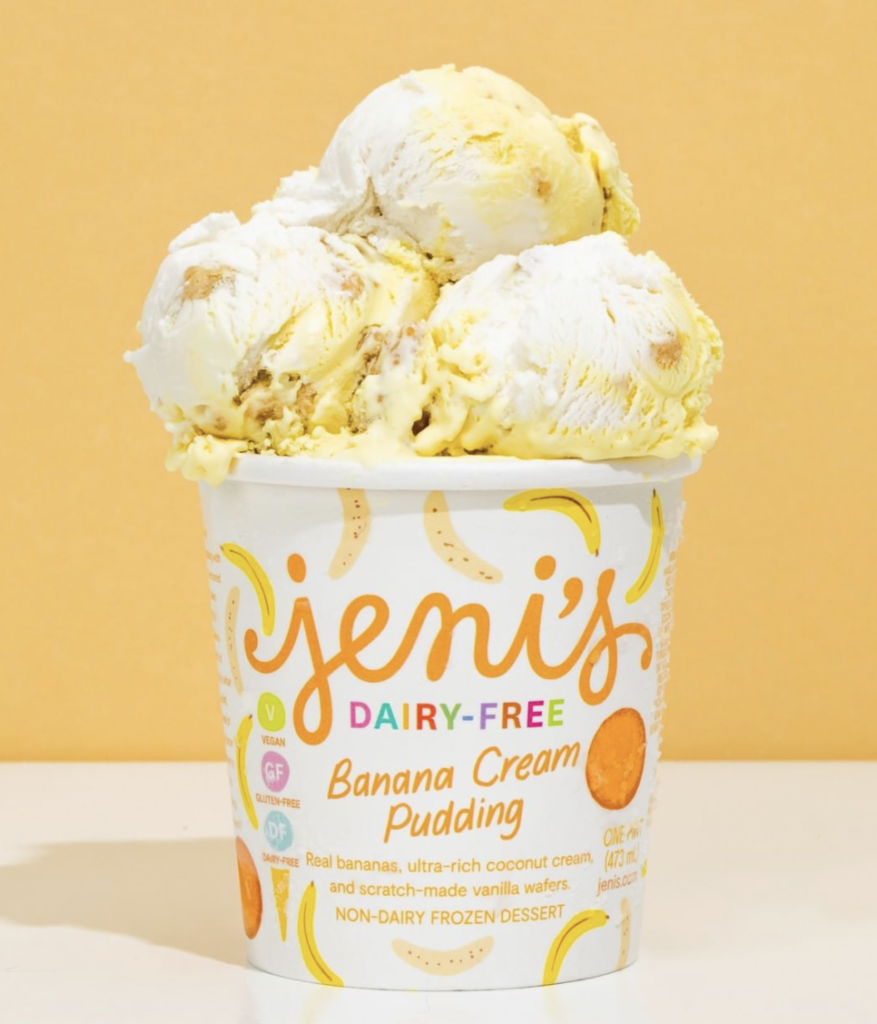 Now with 47 storefronts and nationwide retail distribution in Whole Foods, I'm expecting more vegan ice cream flavors to join their ranks alongside my current favorites like banana cream pudding, lemon bar, and frosé.
12. Ben & Jerry's (Ladera Heights, Venice, Beverly Hills, Hollywood, Ventura, Sherman Oaks, Universal City, Burbank)
Ah, good ol' Ben & Jerry's. When I think about long-lasting ice cream brands that have gone out of their way to take a stand for the causes they care about, this duo is at the forefront of my mind. It should come as no surprise then, that they've bolstered their ranks of non-dairy (vegan) flavors in a big way in recent years.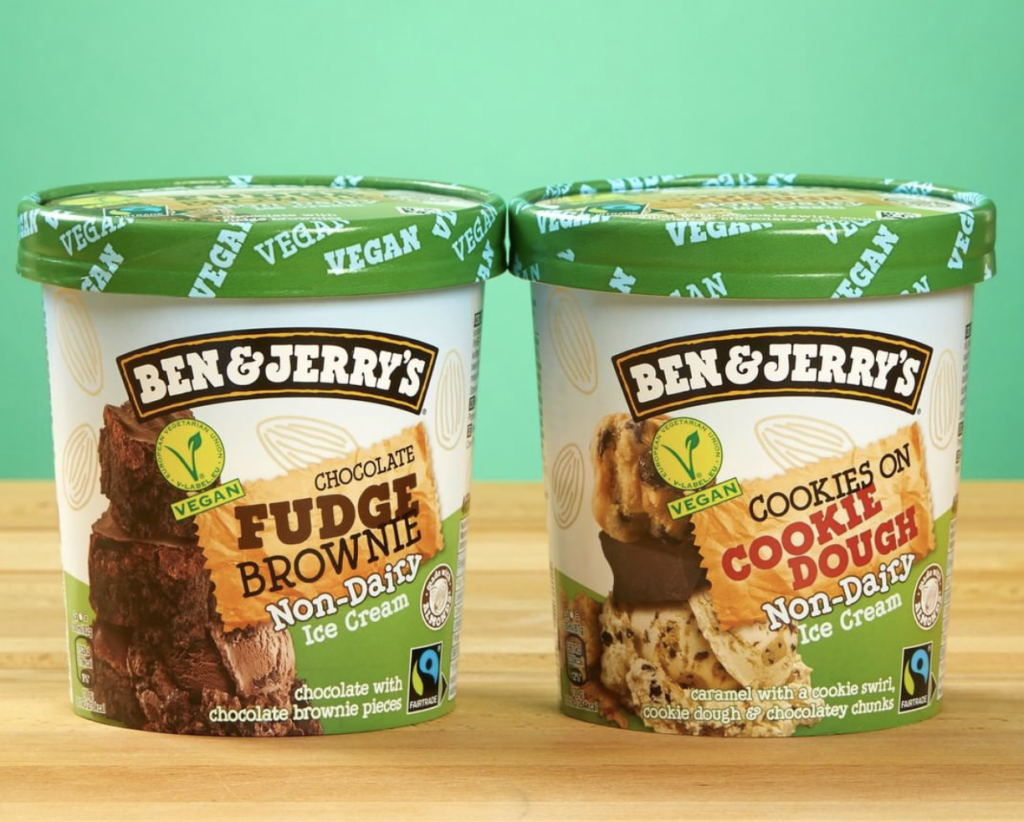 Drop by one of their eight scoop shops spread around the greater Los Angeles area for a sampling of their vegan ice cream flavors, including my three personal favorites—their non-dairy fudge brownie, non-dairy cookies on cookie dough, and Colin Kaepernick's change the whirled (which comes with caramel non-dairy ice cream, fudge chips, graham cracker swirls, and chocolate swirls).
Did I Miss Any of Your Favorite Vegan Ice Cream Places in LA?
If so, share with us below in the comments! I'll take any excuse to get out and "evaluate" the best vegan ice cream Los Angeles has to offer 🙂
And if you're looking for more than just an ice cream fix, check out Anjelica's roundup of the best vegan restaurants in Los Angeles to balance out all the sweetness.