20 BEST VEGAN RESTAURANTS IN LA (2021): A PLANT-BASED DINING GUIDE FOR LOS ANGELES
As much as I enjoy cooking at home, I do love dining out – and with all of the incredible eateries that this city has to offer, I had to take some time to compile a list of the best vegan restaurants in LA.
It should come as no surprise that Los Angeles has some of the top vegan culinary experiences that the world has to offer. Being a long-established mecca of wellness, it definitely tracks with Angelenos' reputations that so many people here are vegan or skew more plant-based – so the demand is high, and restauranteurs are following suit.
This list is far from exhaustive, and I still have plenty of spots to try in this massive town that has so many diverse options, with seemingly more vegan restaurants popping up every day. But, I think this guide is a fantastic place to start – whether you're in town for a quick visit, are newly plant-based, or are just down to try some amazing vegan food.
20 Best Vegan Restaurants in LA (Plant-Based Dining in Los Angeles)
Here's a quick Google Maps list you can use to head straight to one of our favorite vegan restaurants in LA:
Without further ado, let's get into my list of the 20 best vegan restaurants in LA!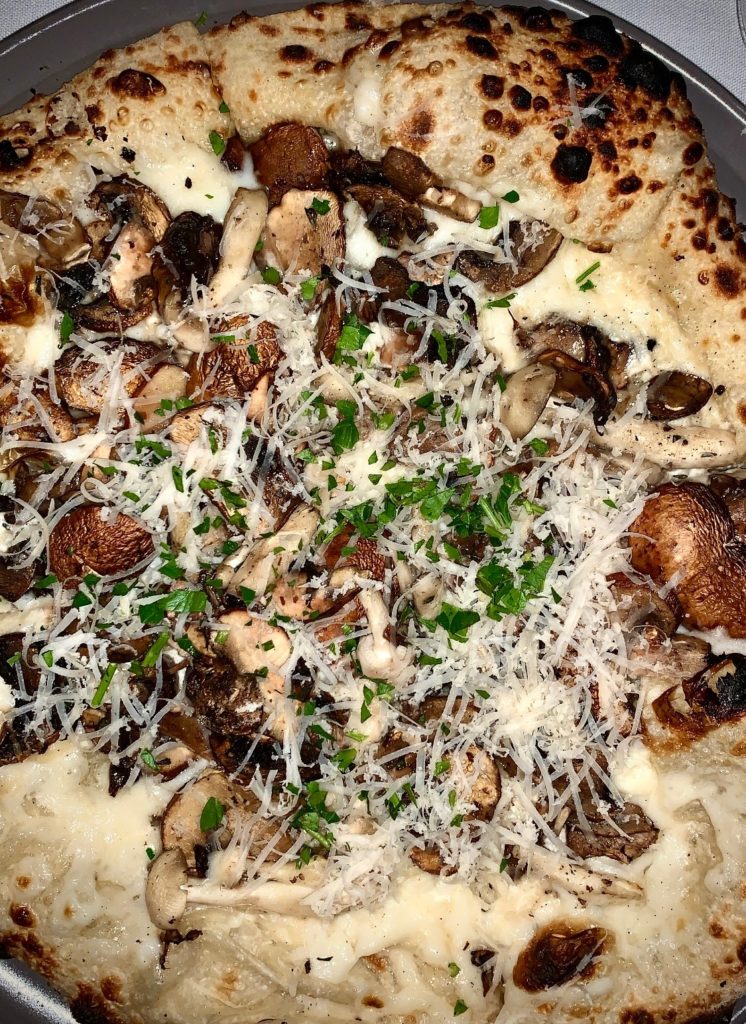 I walk into this restaurant and immediately feel transported into New York City. With warm, low lights coming from individual table lamps and beautiful tree-like fixtures hanging overhead, intimately arranged dark wood tables nestled into upholstered booths, and a truly killer bar, Crossroads is cozy and romantic and cool all at once, and that's just the aesthetic. The food is another story entirely.
The menu items at Crossroads are special – and the restaurant's dishes are up there with some of the best food I've ever had, period. Let alone earning them my top pick as the best vegan restaurant in Los Angeles.
To start, you must order their stuffed squash blossoms, a pillowy dream of soft cheese encapsulated in a crispy squash morsel and served with marinara on the side. I also highly recommend the grilled sourdough and warm herbed ricotta with apricot glaze as your second starter. And, why not throw in a Panzanella order because, well, who doesn't love a bread salad.
Now, for the main event. This is a restaurant where you truly can't go wrong with any one order, but I would be remiss not to make a case for the truffle mushroom pizza. The creamy garlic white sauce and gooey, melty cheese couches a magical slew of perfectly marinated mushrooms, truffle, and parmesan, all atop a fluffy dream of a crust. It's truly spectacular and what I would call a perfect pizza. Also highly recommended: the tagliatelle bolognese. And, the truffle parmesan potatoes are a mind-bending stack of goodness that leads you to the heavens (honestly, this is also a must-order – and who doesn't want their carbs with another side of carbs). To finish, the strawberry mille-feuille: layers of puff pastry, fresh strawberries, and cream make for a perfect sweet finale for what will surely be one of the better meals you've had in years.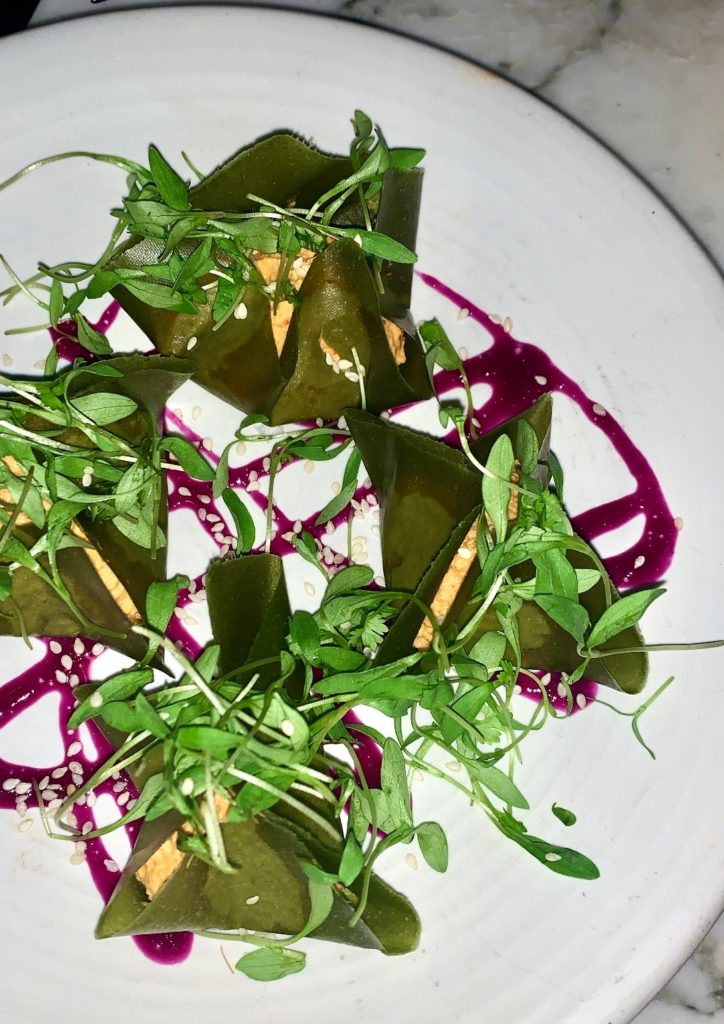 Plant Food + Wine is special – and honestly, it's tied for first with Crossroads in my book. The reason Crossroads nabbed the #1 spot amongst vegan restaurants in LA, however, is because of its universally crowd-pleasing quality. Plant Food + Wine, on the other hand, wins in creativity, hands down. Their string light-lit patio and white marble tables make for a gorgeous setting in which you will undoubtedly experience a remarkable meal. Plant Food + Wine is also in the Matthew Kenney family of restaurants (Matthew is the chef behind the FFI cooking course I'm taking) and I'm certainly partial to everything he does, with Plant Food + Wine being the shining star and inspiration for my endeavor into this vegan culinary journey.
Ok, now for the good stuff. The heavy hitters on Plant Food + Wine's menu that will surely blow your mind:
To start, get the kimchi dumplings, avocado tikka, and sourdough with whipped butter (it's truly the best butter you've ever had in your life and you'll want to smear it on everything you order). They have some seasonal dishes that rotate throughout the year, but I absolutely adore the casarecce with a citrusy saffron sauce, the charcoal fettuccine with truffle and sundried tomato butter, and the plant bowl. Now for the best part, dessert – the coconut and banana cream pie is unreal and…brace yourself…quite possibly the best dessert I've ever had. It's a deconstructed take on the dish with flambéed bananas, a buttery, crumbly crust, incredibly creamy center, and coconut ice cream…it's simply the best (and I get to learn how to make it in my FFI course)!
3. Pura Vita (West Hollywood)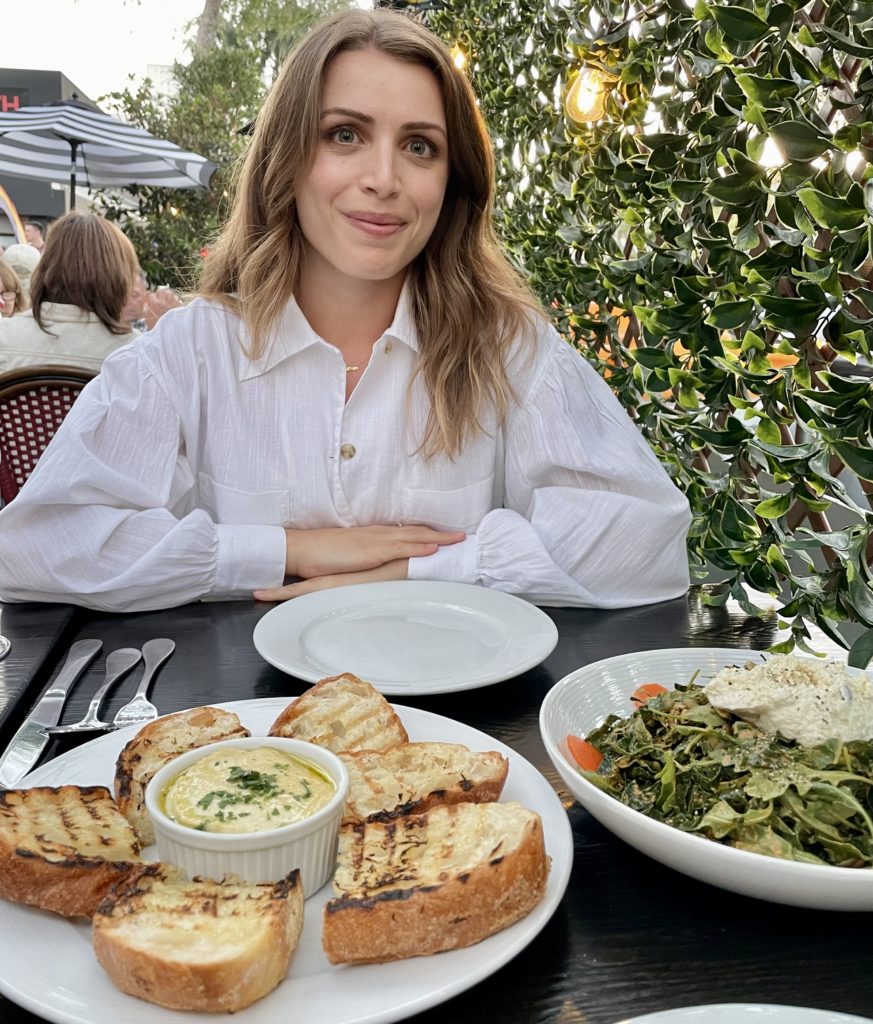 Pura Vita is the place you go for damn good Italian food. Not good *vegan* Italian food, because it's just excellent as a standalone restaurant; this place so authentic and sumptuous that the vegan part is really just an added benefit. So take your parents when they come to town, order a bottle of one of their organic wines, and enjoy this truly decadent food that is guaranteed to delight anyone you're dining with.
To order: the baked ricotta with grilled ciabatta is the essential starter on Pura Vita's menu. For the main course – you can't not order the carbonara – it's just sensational, and I'm currently trying not to drool as I sit next to my boyfriend writing this because…that's just not cute. But seriously, I would travel far and wide for Pura Vita's carbonara; with smoky and sweet shiitake bacon, creamy romano cheese, and their famous 'avocado egg,' it has the classic richness that you want out of a carb0nara without the inevitable heartburn that comes with its non-vegan counterparts. My other favorite menu items: the Pura Vita salad, lasagna pura (traditional lasagna), black magic lasagna (with pesto, mushroom, and black truffle cream – w0w), their capricciosa pizza, San Gennaro pizza, and Bianca diavolina pizza. Pura Vita is hands down the best vegan Italian restaurant in LA.
4. Thai Vegan (Santa Monica Main St. + Santa Monica Mid-City)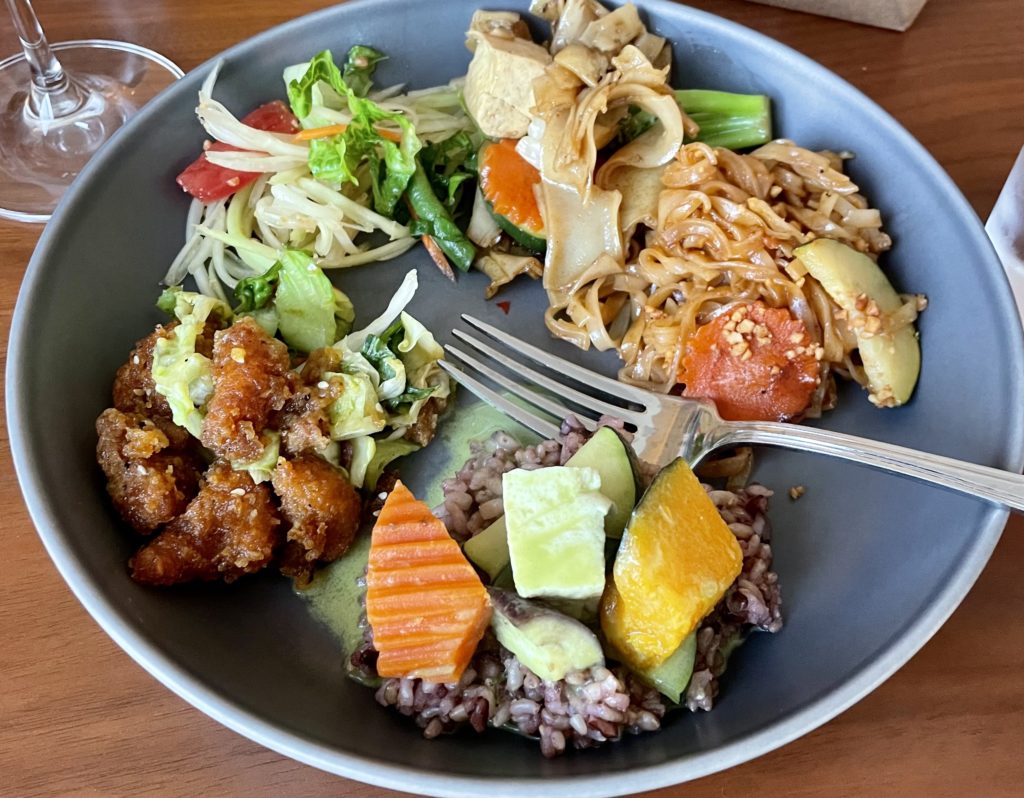 If I had to choose an easy, delicious, and healthy takeout spot to order takeout from every week, I would choose Thai Vegan over and over. I've been ordering from this place even B.V. (before vegan) and have come to love it (and eat it) even more since I made the transition to being fully vegan. It's a no-frills kind of place, but so incredibly consistent and satisfying.
And in terms of curries, they just don't get any better than Thai Vegan's: I oscillate between the green and Massaman curries but have been partial to the sweetness of the latter these days. As for noodles, their pad thai is phenomenal, with their soy sauce noodles coming in at a close second. Also, their vegan orange chicken is incredibly tasty, as are their spring rolls and tom yum soup (my go-to for when I'm feeling under the weather – it heals all). If you're craving Thai, then search no further for the best vegan Thai restaurant in LA.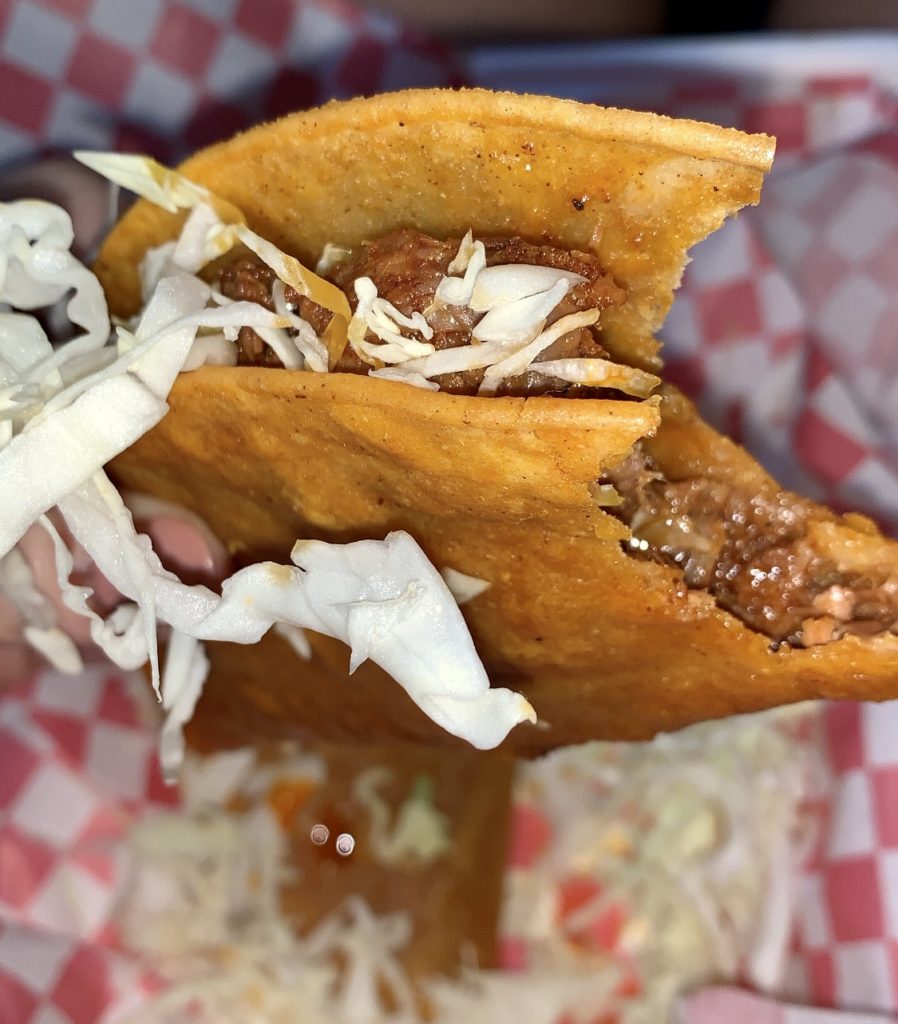 I'm writing this post the morning after trying El Cocinero, which was preceded by a period of intense anticipation and longing. The thing about vegan Mexican is that it often falls into the "fancy" category, at least here in LA. But El Cocinero has managed to carve out its niche as truly the best Mexican joint in the Valley, bar none, and even the biggest carnivores out there love this spot – because the flavors, textures, and fast-casual dining experience are just everything you want out of a traditional Mexican restaurant, irrespective of the meat component.
Their birria (pictured above) is the best I've ever had – and you have to order the three tacos dorados stuffed with this saucy, fresh, jackfruit-based filling. The super nachos with cheesy refried beans, cashew cheese, pico de gallo, chipotle crema, cashew crema, avocado crema, and pickled jalapeños are a must-order, too. We also tried their mulita with vegan chicken and quesadilla with asada – but you clearly can't go wrong with any order at El Cocinero, this place is a true gem. It certainly earns its title as my top vegan Mexican street food-style restaurant in LA.
6. Berbere (Santa Monica)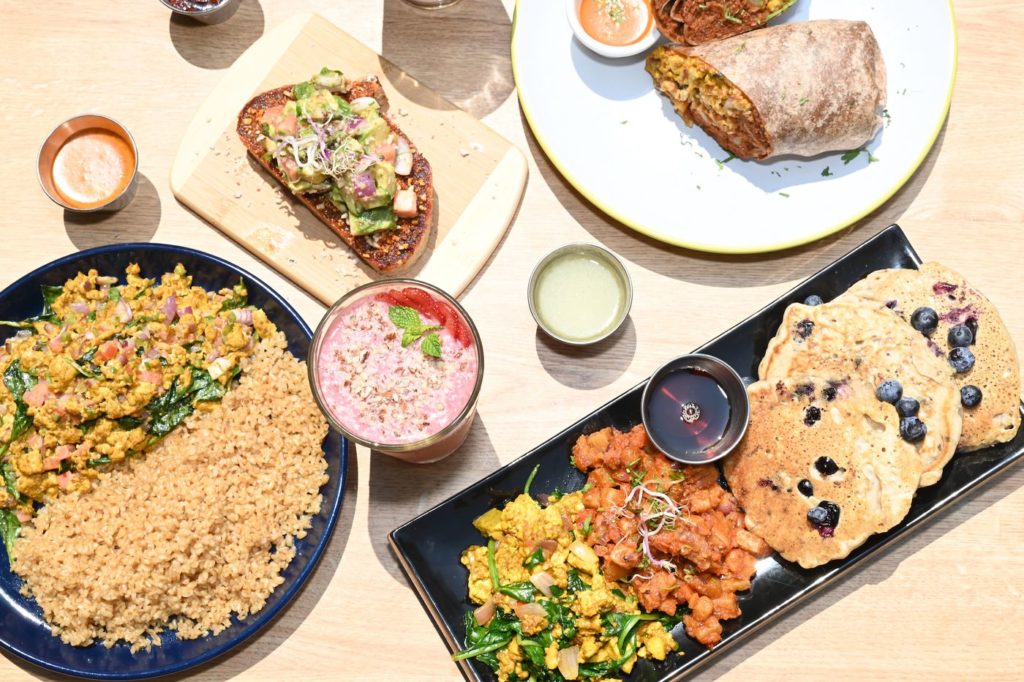 Berbere is a place with a lot of heart and excellent food. Ryan met the owners, a sweet couple behind the newly-opened vegan Ethiopian restaurant in downtown Santa Monica. And when you taste their food, you'll get why it's so high on this list. Of the items I've tried so far, their 'Eat the Rainbow' is one of my favorites – I savored every bite of this bowl of red lentils, turmeric garbanzo, sautéed greens, purple cabbage, and potato, with each component so perfectly seasoned with their distinct Ethiopian spices, all served with the authentic teff injera, a spongy soda bread that is so tangy and unique (use it as your spoon when scooping up all the delicious components of this dish)!
Their rosemary root salad, ET twist tacos, and plant burger are also phenomenal and I have to be honest with you, it's hard to choose between those four dishes I just mentioned, so I recommended ordering them all and saving any leftovers for the next day (if you have any, that is). And guess what: they also have a killer vegan brunch. Their brekkie burrito is a new addition to our list of the best vegan breakfast burritos in LA and comes with a side of incredible roasted potatoes (which comes with a side of their signature tangy, creamy Berbere sauce, which makes for truly some of the best taters I've had, like, ever). Their teff pancakes are also a tasty yet light take on a breakfast favorite, and the enkulal firfir is also so great, which is Berbere's take on a tofu scramble with onion, jalapeño, tomato, served with kinche (bulgar) and house-made flatbread.
7. Nic's on Beverly (Beverly Grove)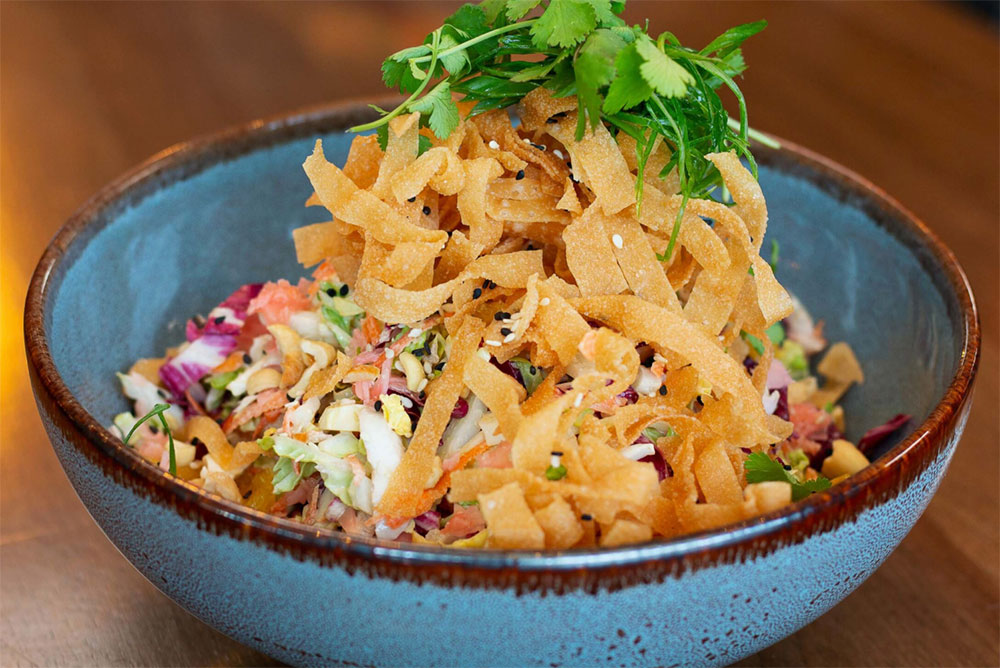 I've only eaten at Nic's once, but their food really made an impression. I absolutely loved the avocado crispy rice with ponzu, grapefruit, and cilantr0, a well-loved starter of theirs and for good reason. Their Chinois on Beverly Salad with yuzu sesame vinaigrette, wontons, pickled ginger, and cashews, is a fabulous take on the Chinese chicken salad. And, their Nic's Burger is also a fantastic vegan burg with an Impossible patty, American cheese, chef's special sauce, lettuce, pepperoncini, and of course, fries. I am particularly motivated to get back there not only for dinner, but their brunch also appears to be sensational (the breakfast sandwich with sausage, cheese, shallot potato cakes, folded vegan eggs, and red Fresno aioli looks out-of-this-world).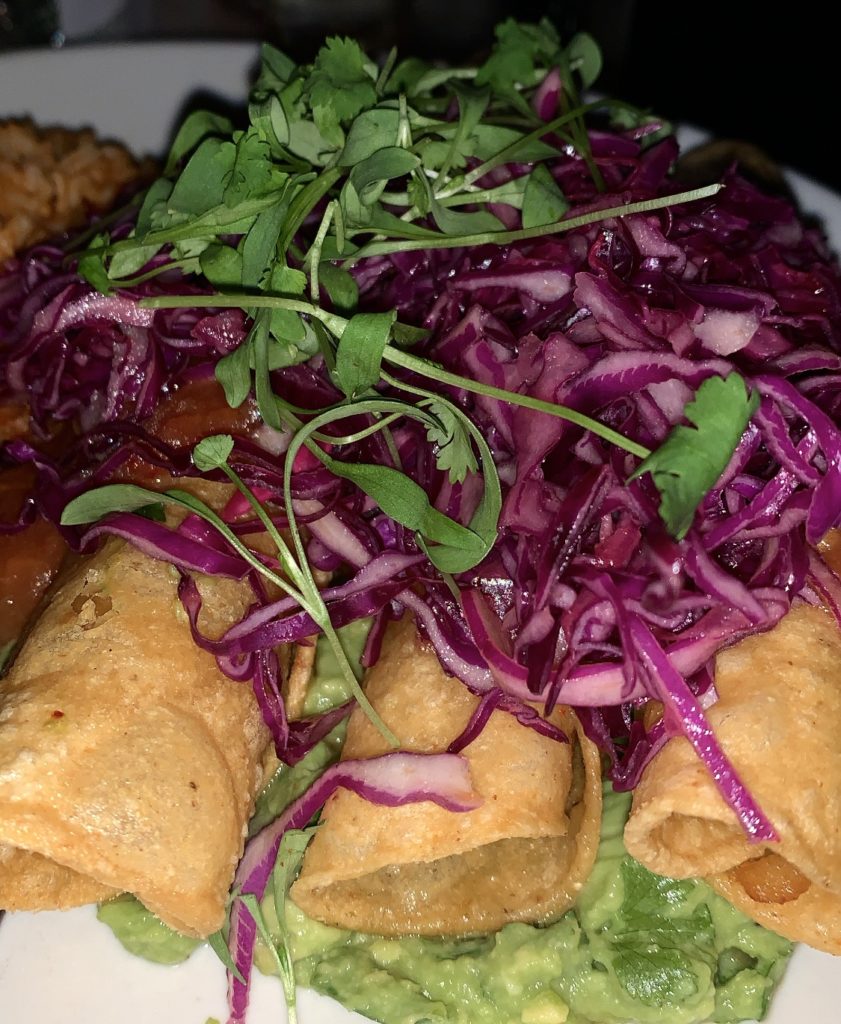 Gracias Madre is the ultimate *cool* vegan restaurant in LA, and I love them for it. They're always packed, and for good reason – their food is awesome, the vibes are great, and you're guaranteed to have a great experience (it's a great date spot, too). My favorite is their enchiladas verdes with soy chorizo, potato, tomatillo salsa, sautéed greens, and avocado. I also love their potato pimiento flautas (pictured above) and little gem salad.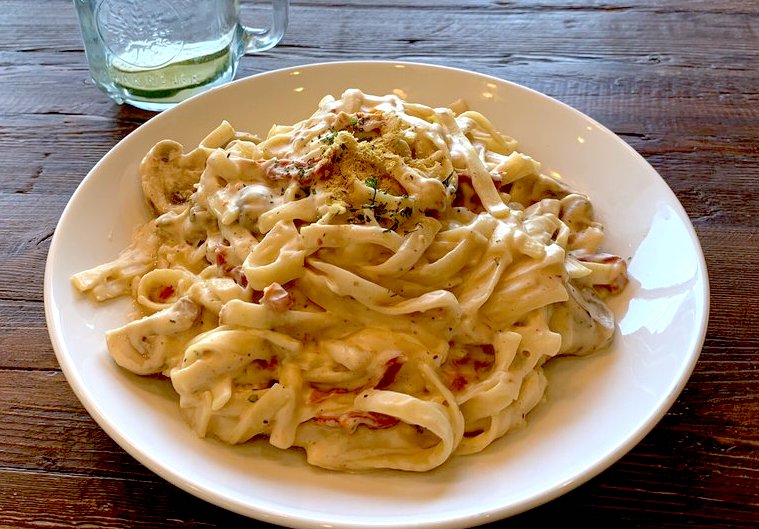 Julie Goes Green is a hidden gem in West LA and so deserving of a spot on this list of the best vegan restaurants in LA – it's a tucked-away spot in an unassuming strip mall, but who needs a fancy restaurant when your food is objectively this great. They have a small dining area but I tend to opt for takeout with this place, because it's kind of the best comfort food that you want to enjoy on your couch, in PJ's, while watching a movie.
If I had to choose a favorite menu item, it'd have to be the California Sunshine pizza with house pesto, cashew cream sauce, mozzarella, avocado, tomato, mixed greens, vegan bacon, and ranch drizzle. I also love their buffalo cauliflower, minestrone soup, Italian salad, and Feisty Buffalo pizza. I also hear that their pink sauce penne pasta with mushrooms is stellar.
10. Cafe Gratitude (Venice, Larchmont, Arts District)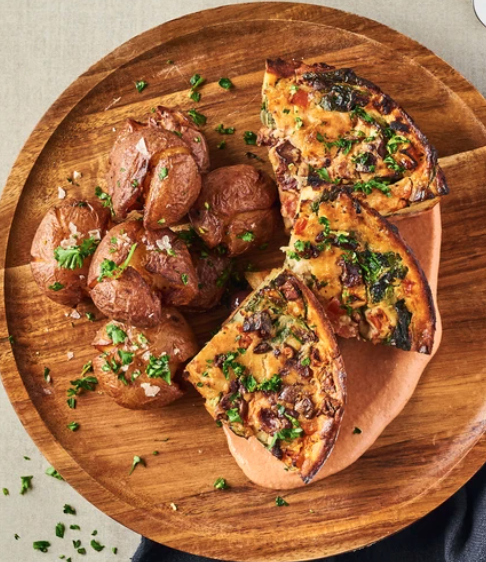 Cafe Gratitude gets major points for being one of the O.G. vegan restaurants in LA., and they pride themselves on working with local farms that use regenerative practices. They have fantastic bowls and salads (I love the 'Aware' with butter lettuce, endive, and Asian pears) and Ryan is a big fan of the 'Fuerte,' which is basically a super clean, vegan version of a crunch wrap. Their chickpea vegan quiche is also excellent (pictured above).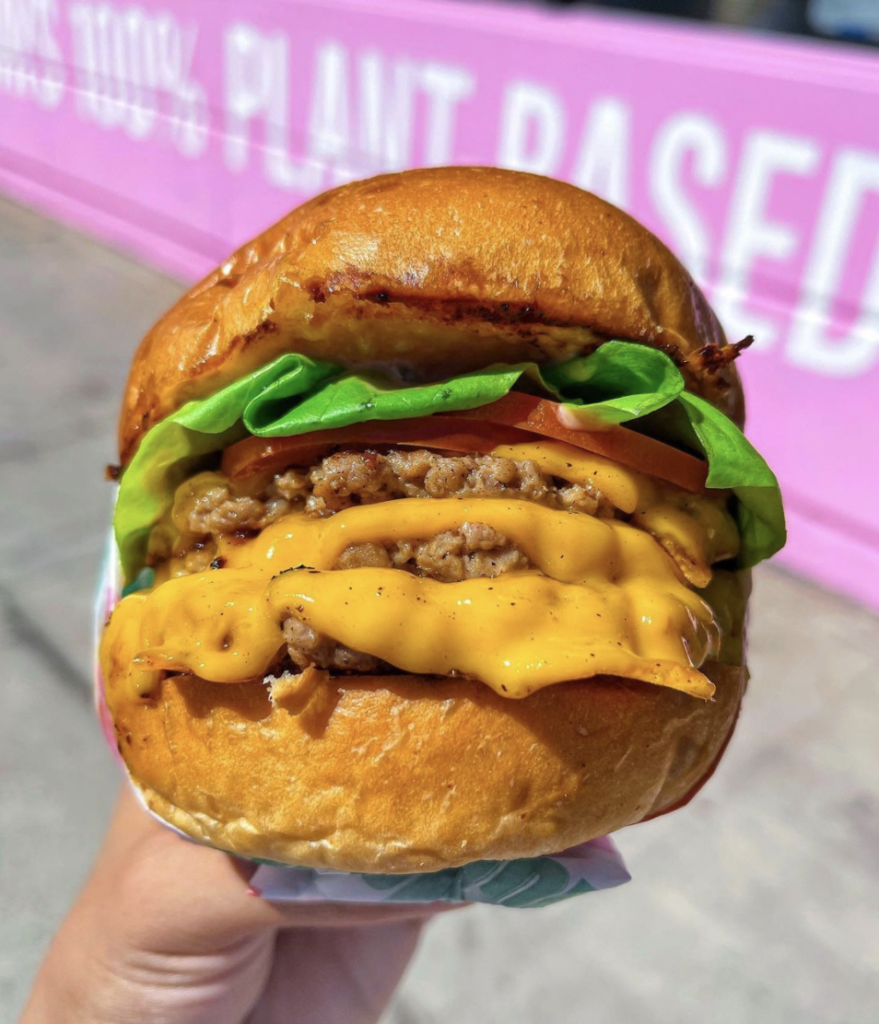 There are an insane number of vegan burger joints popping up around LA, so it's tough to choose the best one – but, Ryan and I did our "research" i.e. taste-testing, gave it ample time and consideration, and landed on NoMoo as our top burger pick (check out our list of the top 10 vegan burgers in L.A. to see who else made the list). Between their brioche bun, special Nomoo sauce, tender impossible patty, American cheese, and all the fixings you want on a delicious burger, plus a knockout selection of dips to drown their excellent fries in, NoMoo is simply delightful. Oh – and they donate 10% of their profits to local community organizations. Suffice it to say, it's a long list of reasons why they're on my list of the best vegan restaurants in LA; they've more than earned the praise.
12. Gokoku (Studio City)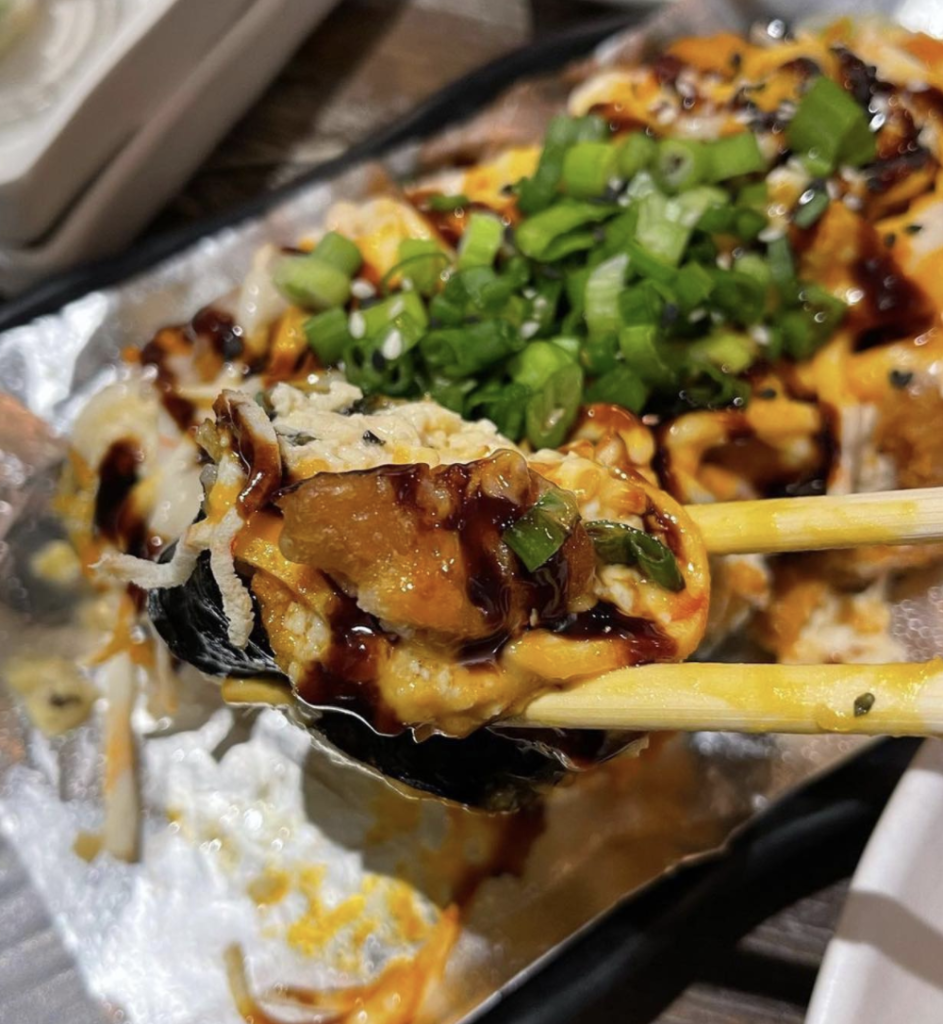 I had the pleasure of trying Gokoku last summer while I was passing through Studio City, and was in awe of their creative and downright delicious sushi and ramen. They're fully vegetarian and essentially everything can be made vegan. I ordered their crispy rice with spicy vegan tuna, garlic eggplant roll, and dynamite vegan crab meat roll – all were phenomenal. While I haven't tried their ramen yet, it gets rave reviews and I'm making a point of trying it this winter season.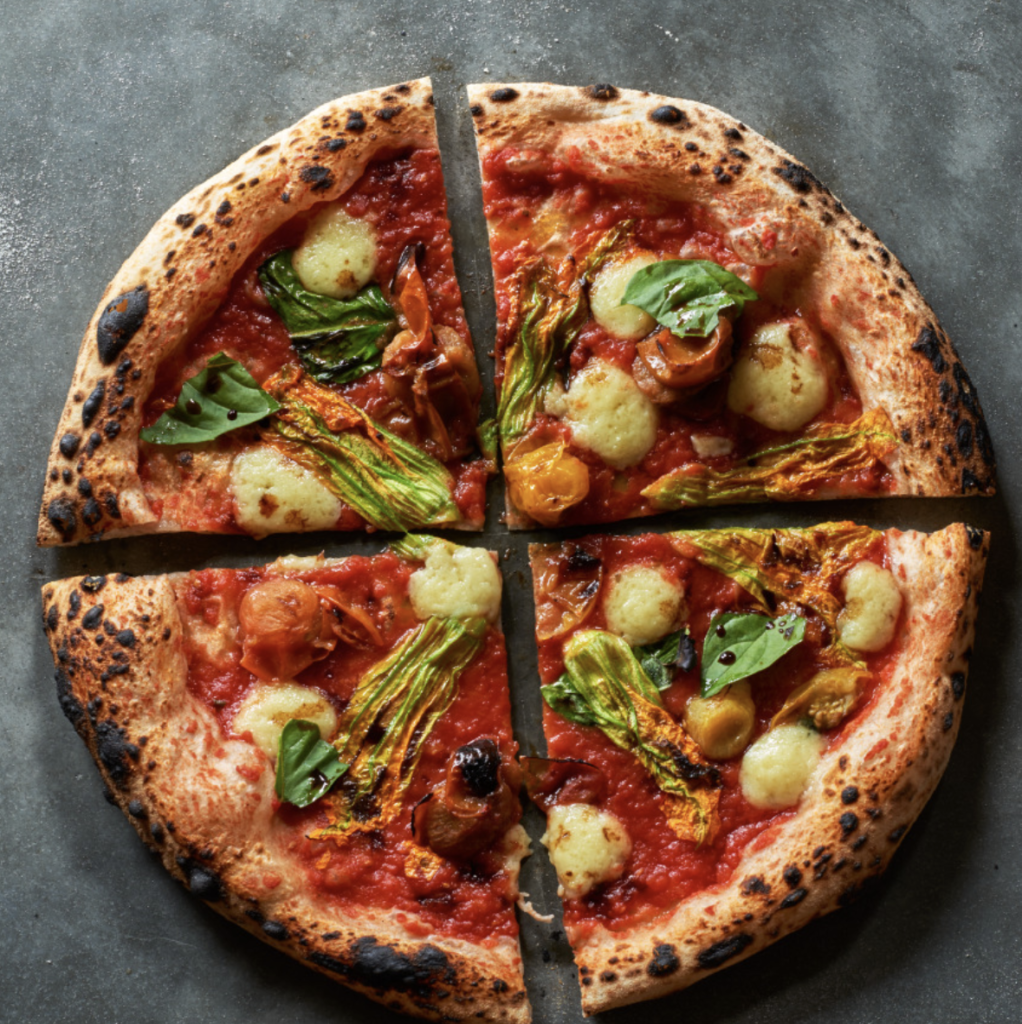 Yet another one of Matthew Kenney's vegan restaurants in LA, Double Zero is a fully plant-based pizza spot in Venice. Their pepperoni, squash blossom, and pesto pizzas are all fantastic, as is their sunflower caesar salad. Pro tip: dine-in at this place! The pizzas just taste better fresh, and it's a nice spot to meet friends for an easy bite with a few outdoor tables, as well.
14. Sage Plant-Based Bistro (Culver City, Echo Park, Agoura Hills, Pasadena)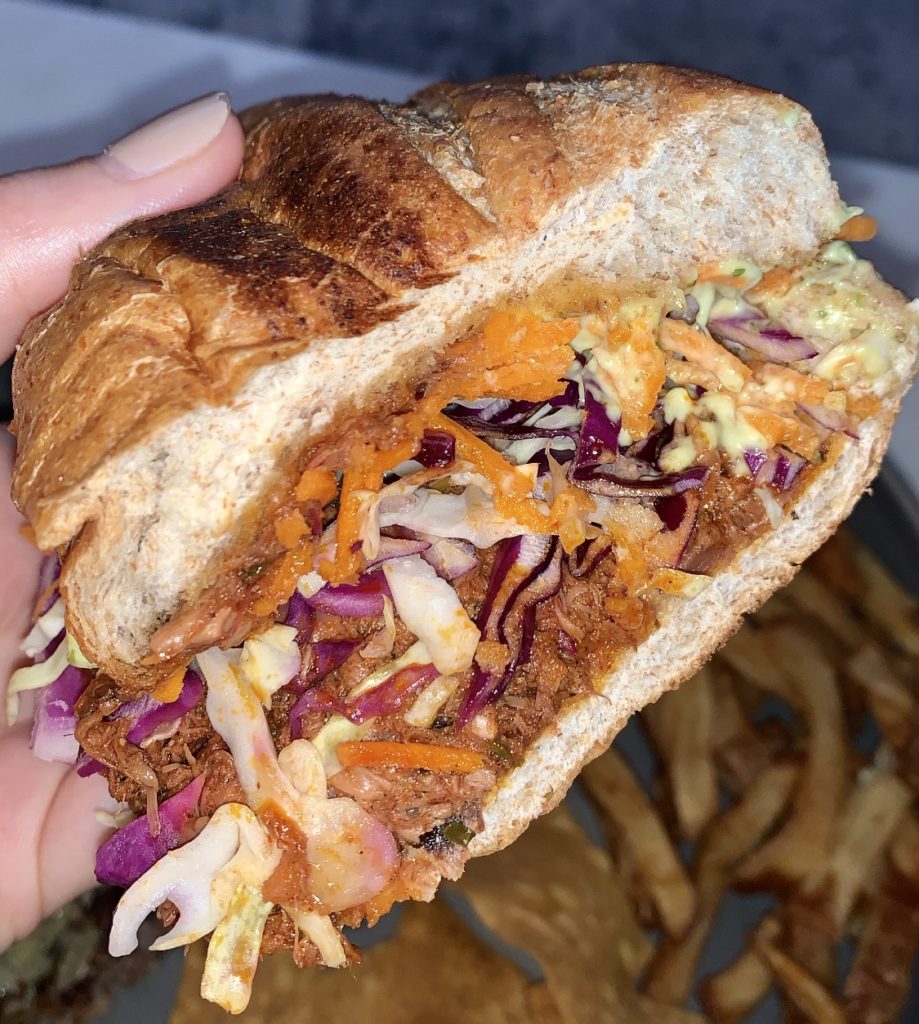 I've only ordered Sage's takeout once so far, but immediately found their food to be extremely high quality, nutritious, and flavorful, and they more than earned this their spot on this list of best vegan restaurants in LA after that sole experience I had. We had the BBQ pulled 'pork' (a.k.a. jackfruit) sandwich with avocado-lime dressing, coleslaw, and garlic aioli on a whole wheat baguette – very tasty. And the Brazilian burrito was a decadently loaded combination of plantains, mushrooms, leeks, chopped jalapeño, black beans, brown rice, avocado, garlic aioli, and habanero 'cream cheese' in a whole wheat tortilla wrap.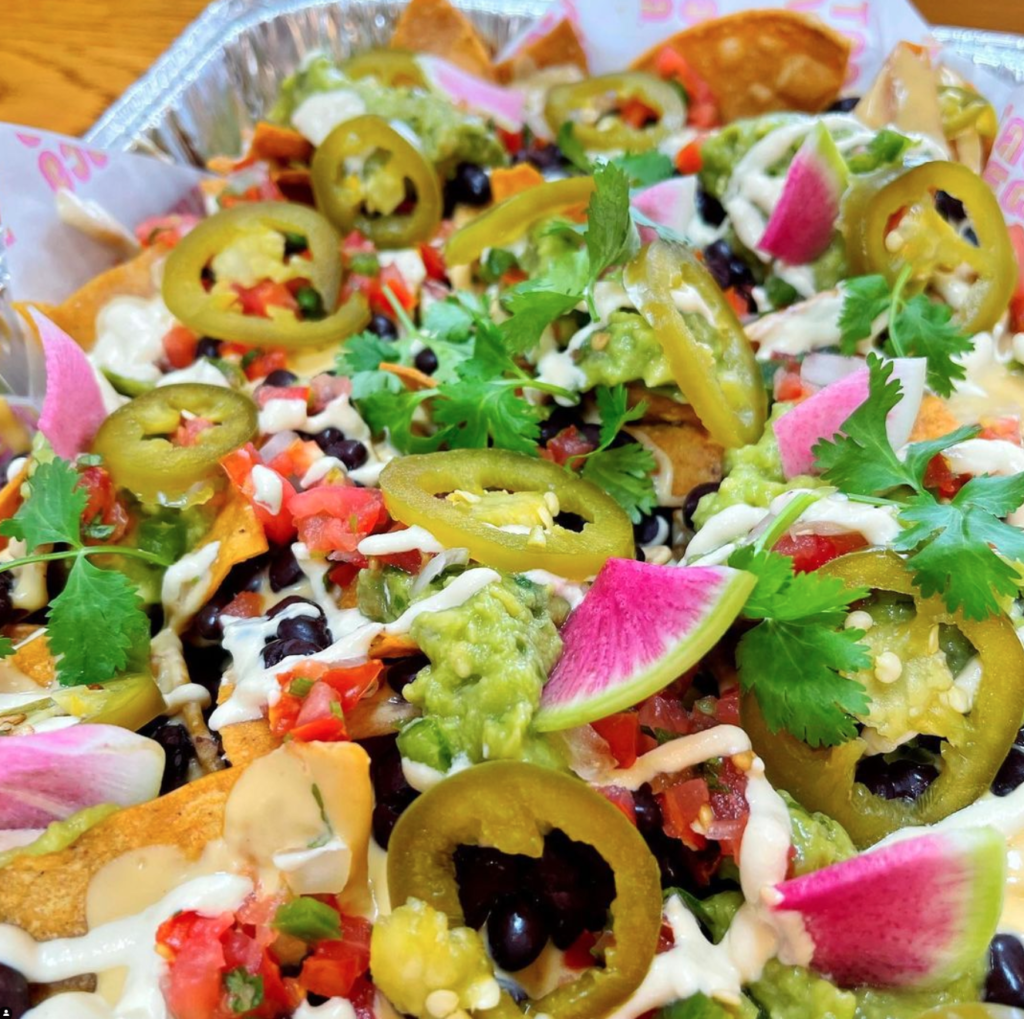 Taco Vega is another vegan Mexican spot that I admire greatly, and all of their ingredients are locally sourced, plus and they're 99% organic and gluten-free. Not only are they walking the walk with their values, but their food is also very, very good. The best menu item I've tried so far has to be the poblano taco, which is essentially a cheesy, roasted chile relleno in taco form. Their camote taco was also delicious, with roasted okinawan yams, farro chorizo, chipotle tahini crema, and toasted pumpkin seeds. I also had their 'Farifax' bowl with grilled oyster mushroom asada, spanish rice, refried pinto beans, avocado, roasted pineapple salsa, which was super filling and yummy.
16. Margo's (Santa Monica)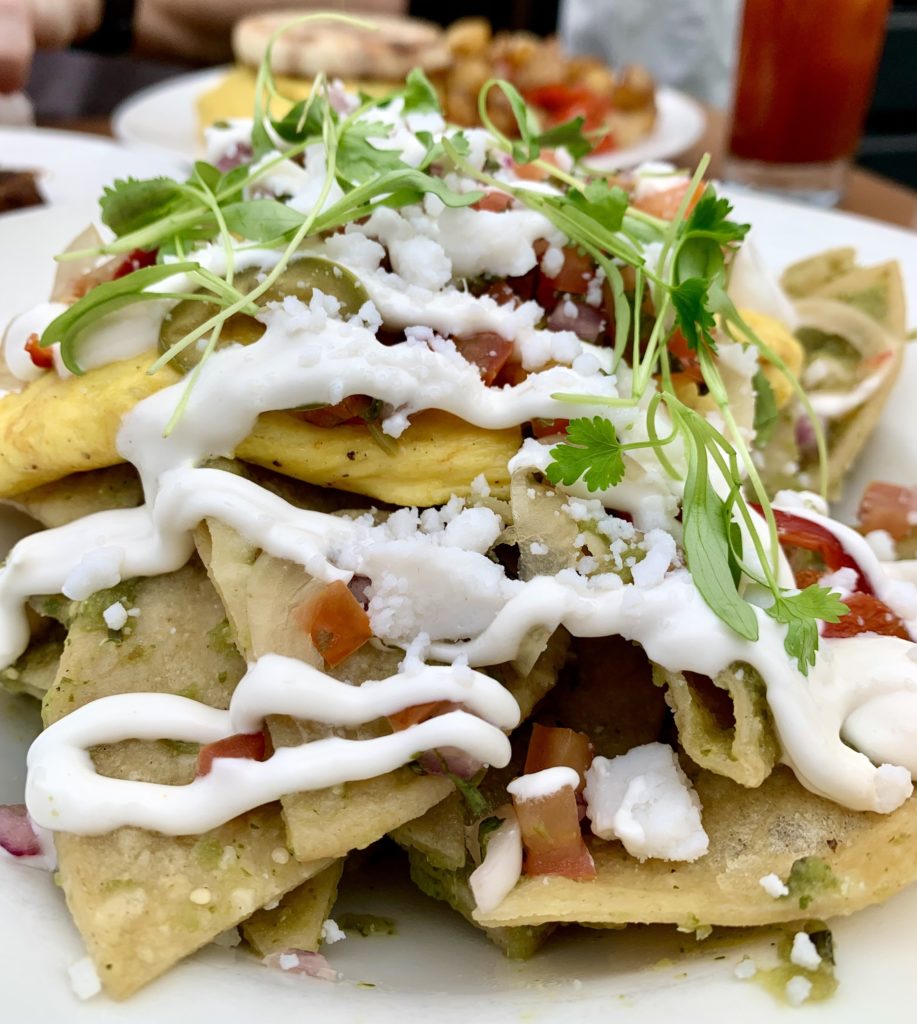 Margo's gets major props for shifting into this latest plant-based iteration of the restaurant, which formerly served an omnivorous menu. For them to make the 180° switch into being fully vegan is really commendable, and their food is also genuinely good, and I've already been for brunch and a few dinners in the few months they've been open.
My favorite so far, hands down, has to be their mushroom pizza (can you tell I love a mushroom pizza?) with mozzarella, caramelized onions, thyme, and a beautiful assortment of organic mushrooms topped with parmesan, it's just a great pie and has become a frequent takeout order for us. Their caesar salad is also excellent, as is the 1/4 pound cheeseburger with an impossible patty, American cheese, beefsteak tomato, red onion, sweet dill pickles, and their house sauce. For brunch, we love their bourbon banana french toast, chilaquiles, and breakfast sandwich.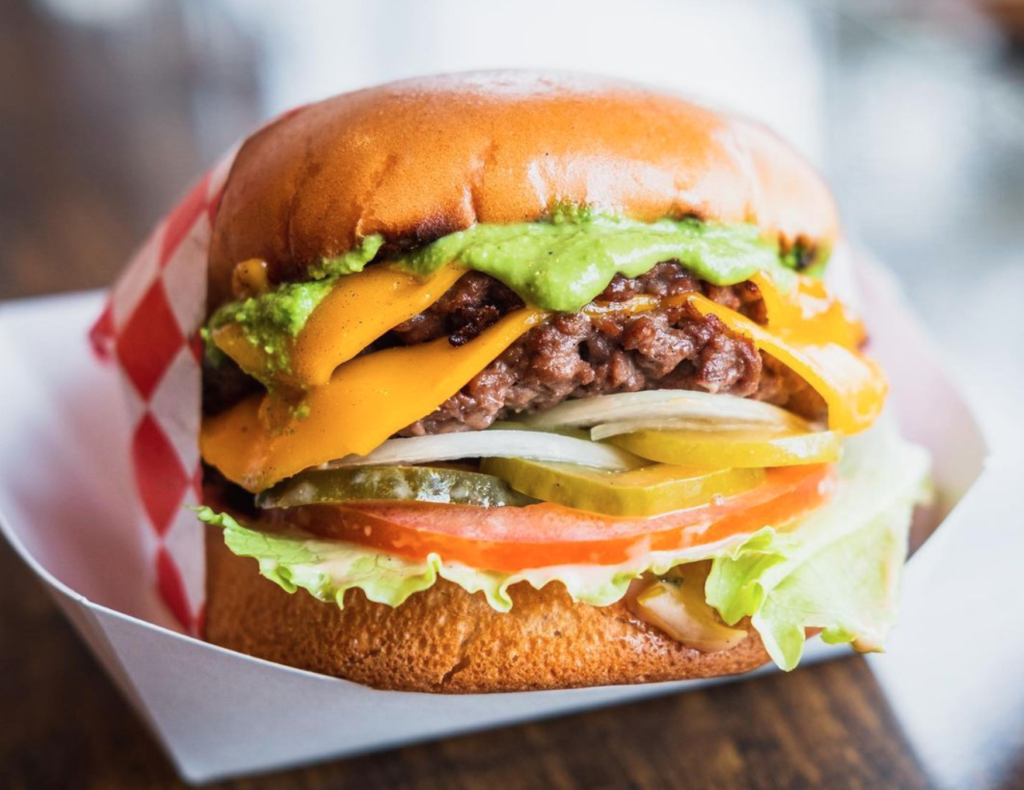 VOWburger also made it onto our best vegan burgers in LA list – and for me, I came for the burger, and stayed for the curly fries (I stand by my slightly unpopular opinion that curly fries are the best form of fry). I also hear, per Lizzo, that their breakfast burrito is something to write about, and I'll take whatever she's having. The shakes and vegan fried chicken sandwich also look amzing.
18. Shojin (Culver City, Downtown)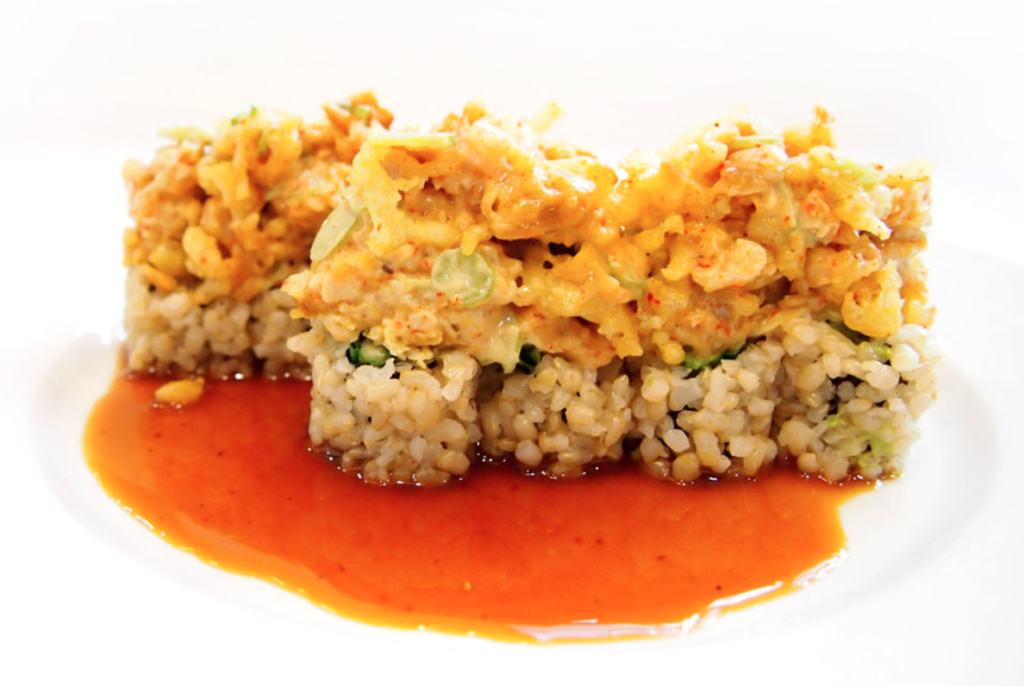 I've only had Shojin for takeout, and I am a full believer in having sushi when it's super fresh, even when it's vegan. That said, I don't think I've had the best version of Shojin that everyone raves about, and I'm really excited to try them again for a dine-in experience. But, they're a fully vegan, organic, macrobiotic, gluten-free, and refined sugar-free Japanese restaurant that very evidently cares about serving high-quality, plant-based fare. Their dynamite roll was great, with spicy tofu and avocado topped with torched spicy mayo and dynamite sauce, as was their baked "crab" hand roll. The "pirates of the crunchy" was also a fun order, with crunchy garbanzo beans and tempura flakes mixed with spicy mayo on top of an avocado, cucumber, and shiso herb leaf roll.
19. Make Out (Culver City)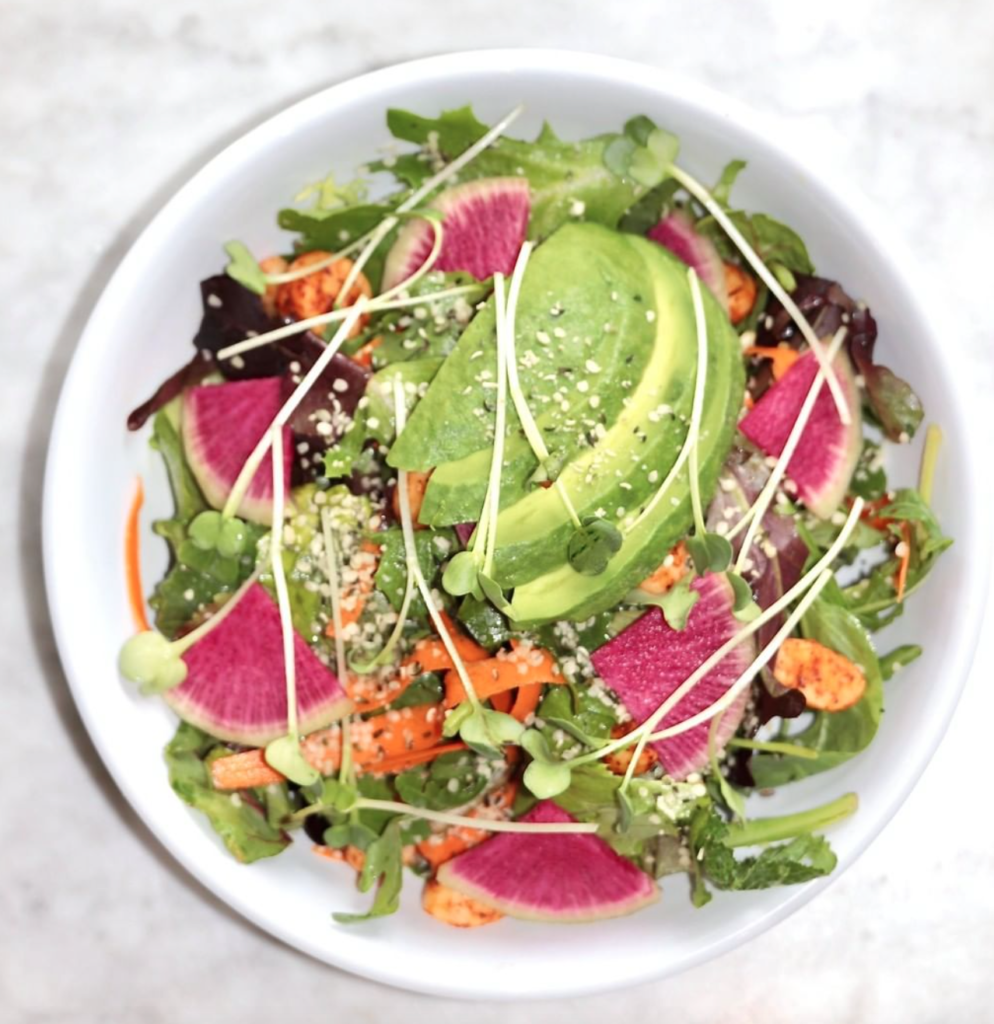 Make Out is the third Matthew Kenney restaurant to make it on this list, and though it's a more pared-down version, the consistency and quality remain the same as all of the MKC eateries. Make Out is a great vegan spot to meet a friend for a quick bite or coffee, with super fresh salads, bowls, smoothies, and coffees. I love their signature "make out" salad, pictured above.
20. The Vegan Joint (West LA, Downtown, Woodland Hills)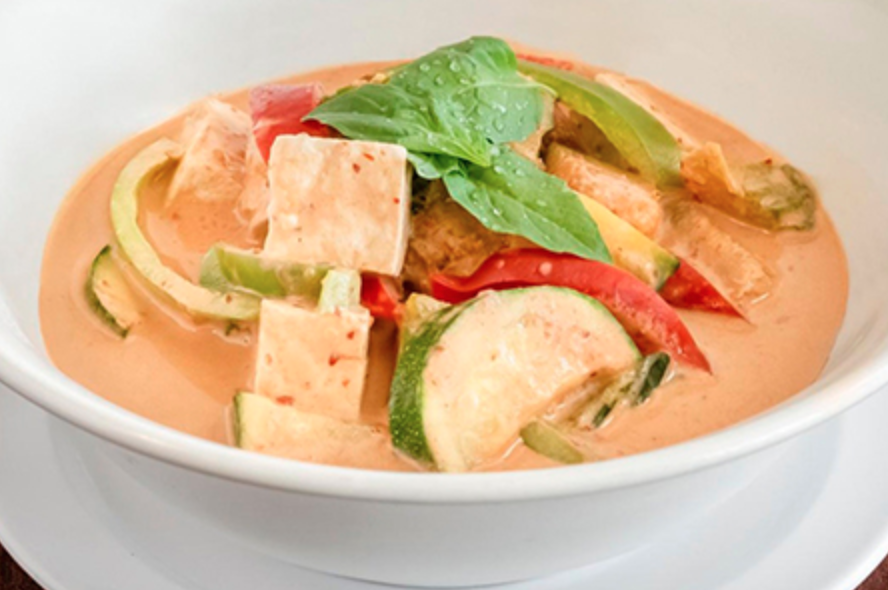 The Vegan Joint is another fast-casual vegan restaurant in Los Angeles that deserves a lot of praise for its extensive, versatile menu – they do everything from Thai, to Mexican, to American – and I've never ordered anything there that I didn't like. Their pumpkin curry is so good, as is the veggie soup, tofu scramble breakfast burrito, and crispy veggie spring rolls (they really do it all)!
If you've made it this far – well – you're probably hungry so use that Google map above to find the closest spot to whet that vegan appetite.
And, thank you for coming along on this very long, albeit worthwhile journey that has resulted in what is certainly my longest blog post to date, and yet it's probably the most fun I've had while writing a post. taste testing my way around the best vegan restaurants in LA hasn't been too torturous, either.
Taking stock of all of the remarkable plant-based food options we have in this city has been such a heartening reminder of the growth we're seeing in the vegan space. I hope you try each and every restaurant on this list, and please leave a comment below if you visited any of these spots – or share any others I may have missed!