VEGAN CHICAGO: THE BEST VEGAN FOOD I ATE IN CHICAGO
Chicago: the home of deep-dish pizza, Midwestern manners, and…vegan food?! You read that right – the Windy City has a ton to offer in terms of plant-based grub, so I of course had to compile a list of the best vegan food I ate in Chicago immediately upon my return. So, let's talk vegan Chicago.
This was actually my first time visiting the city and I hadn't done much research on places I wanted to see and eat at prior. Luckily, my friend, Bonnie, put together an awesome itinerary for us; and as someone who typically goes into any trip with pretty locked-in plans, it was really nice to go into this one with pretty minimal expectations. The trip was really about spending one-on-one time with one of my oldest friends, and, of course, doing a lot of eating our way through town.
So we did just that – and we did it well. We ate at a few fully vegan or vegetarian restaurants and several that had ample vegan options. And while I knew I was visiting a foodie city, I honestly was surprised at the quality and prevalence of vegan food in Chicago. Sometimes, as an Angeleno, I feel like I live on a plant-based island, but it was amazing to see that Midwesterners are clearly down for plant-based food, too.
So whether you live in the area or are heading there soon, definitely take a look at this list of the best vegan food in Chicago, do some taste-testing, and let me know how you fared (and any spots I missed)!
Vegan Chicago: 11 Restaurants for the Best Vegan Food in 2022
Check out this Google Map of Chicago's vegan restaurants we hit (including a few that I have yet to try). Note that not all of these restaurants are fully plant-based, but they still deliver some of the best vegan food in Chicago:
Location: Logan Square and Lakeview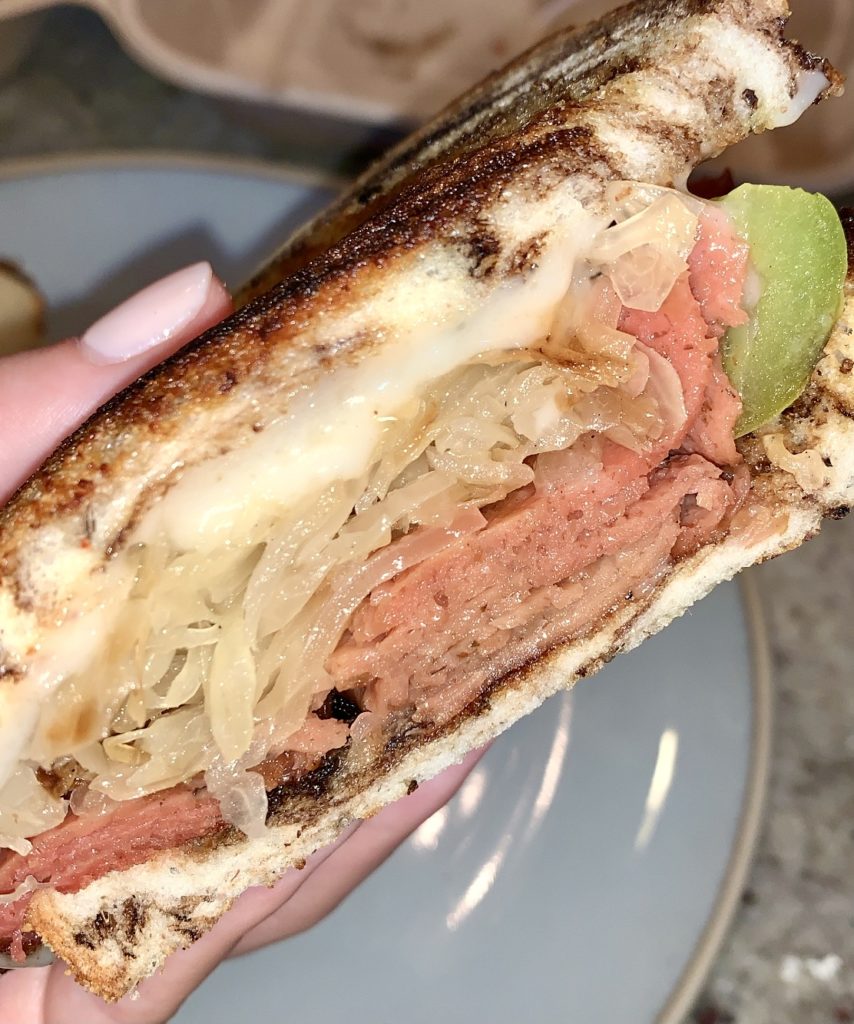 We saved the best for last with this one. It was my final evening in Chicago, we were winding down from a very full long weekend, and just had to round out the trip with renowned Chicago Diner (whose tagline is meat-free since '83)!
If you're like me and live and die for diner food, you'll revel over Chicago Diner's menu. This is the kind of place where you really can't go wrong with anything on the menu, but we went for a few of their most popular menu items, including the reuben sandwich, Cuban sandwich, loaded hot dog, spinach artichoke dip, and caesar salad (we had three of us dining on this evening, so don't be too alarmed). But wow, did this place live up to its reputation. It's truly a must-visit and is well-loved by vegans, vegetarians, omnivores, and anyone that loves stellar diner food.
Location: Wicker Park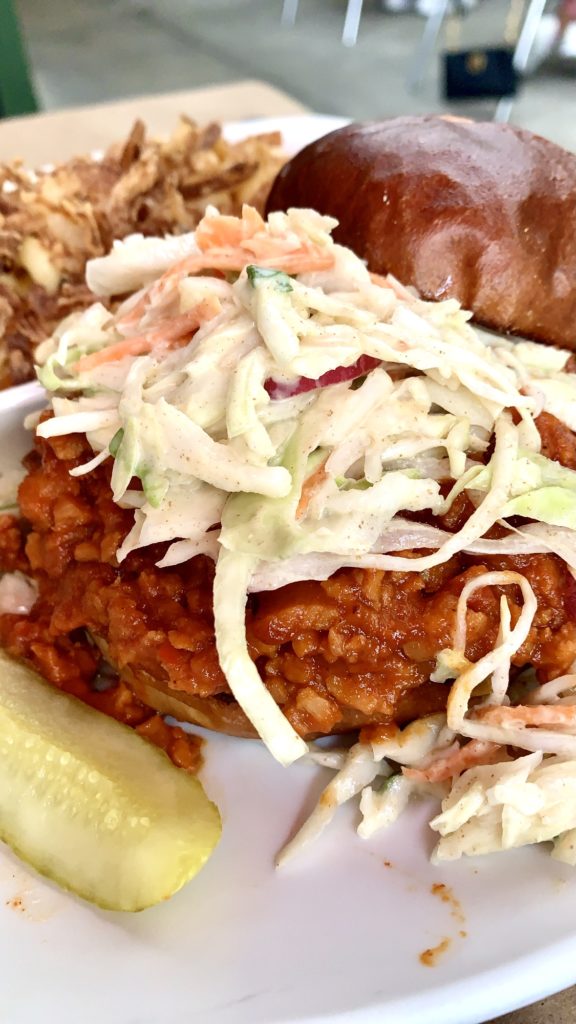 Though Handlebar is listed as my #2 spot on this list, it's really tied for first with Chicago Diner, if I'm being honest. This vegan and vegetarian restaurant in Wicker Park is very special and touted as a favorite by locals. It often has a bit of a wait, and for good reason.
As I took my first bite into their sloppy joe, I understood what the fuss was all about. Though Handlebar is a no-frills place, their food is really spectacular. Bonnie and I had a hard time choosing what to order, but I'm so glad we settled on the Sloppy Joe to share – their perfectly marinated carne de soya, incredibly tangy BBQ sauce, creamy coleslaw, and pillowy pretzel bun made for the best sloppy joe I've ever had. We also split the Everything Green Salad with vegan ranch and their vegan dream mac on the side (the fried onions really made the dish).
Locations: West Loop and Avondale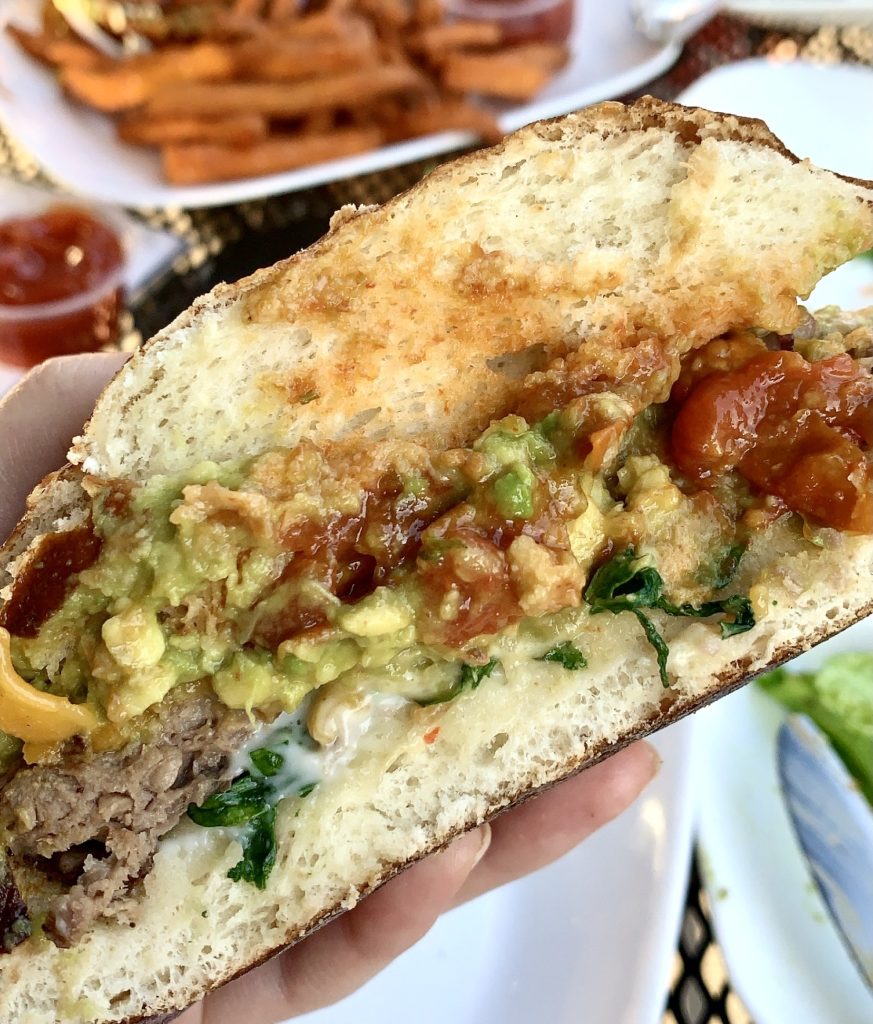 If you're craving an incredibly satisfying vegan burger in Chicago, Kuma's Corner is your spot. The Converge is their only fully vegan burger (the black bean veggie patty has eggs) but man, did they clearly take their time in perfecting this burger.
The Converge has everything you want in a decadent vegan burger, complete with an Impossible patty, cherry tomato jam, avocado mash, arugula, red onion, vegan cheddar, and roasted garlic mayo on a homestyle bun. It's just excellent.
Location: Wicker Park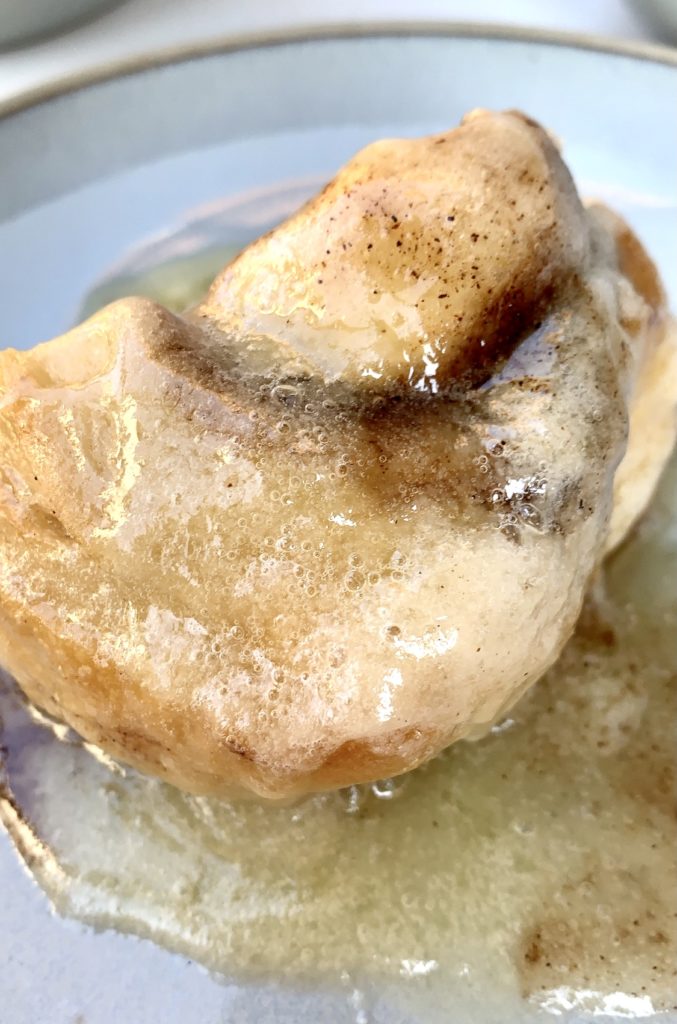 This place brings me back to my childhood mall memories…except there's a new cinnamon roll shop in town. Enter: Cinnaholic – a 100% plant-based cinnamon bun shop.
As we walked into the Cinnaholic storefront in Wicker Park, I was filled with nostalgia as the sweet smell of cinnamon buns surrounded us. Except these buns are fully vegan and, while quite sweet, a much healthier alternative to what most of us ate as kids. And wow, are they good – between the yeasty, gooey pastry dough laced with cinnamon sugar, and the warm, melty cream cheese frosting, this spot is clearly a front-runner for the best vegan dessert in Chicago.
Location: Kimball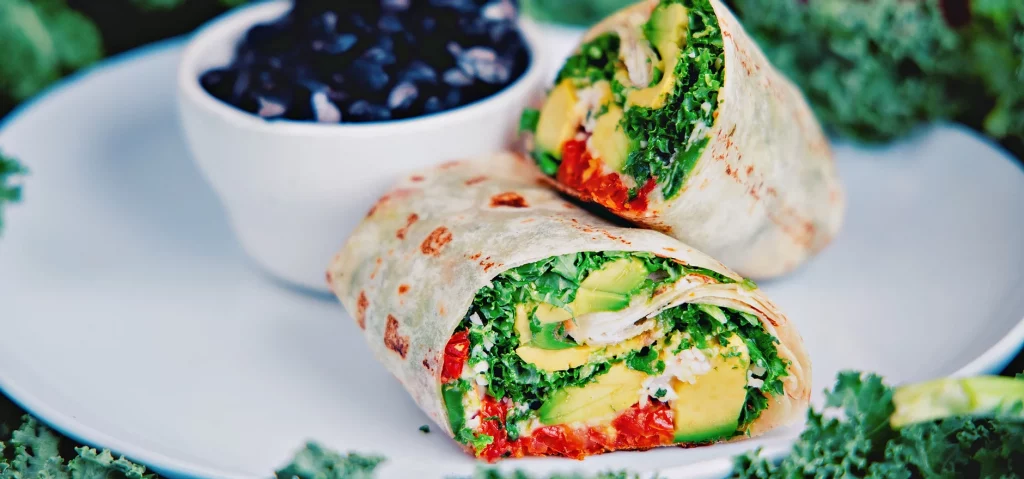 This 100% plant-based join was such a welcome reprieve from a couple of consecutively indulgent meals we had (no regrets)! Kale My Name has a broad menu of clean yet super tasty items. I ordered the avocado caesar wrap and roasted pepper and eggplant dip with pita and it was such a light, satisfying meal.
I also made a mental note for my next visit that they hold an afternoon tea party every day from 11 am-5 pm, too! For $35 you get an array of organic teas and fixings, avocado toast, pita and dips, and vegan cookies.
Location: Wicker Park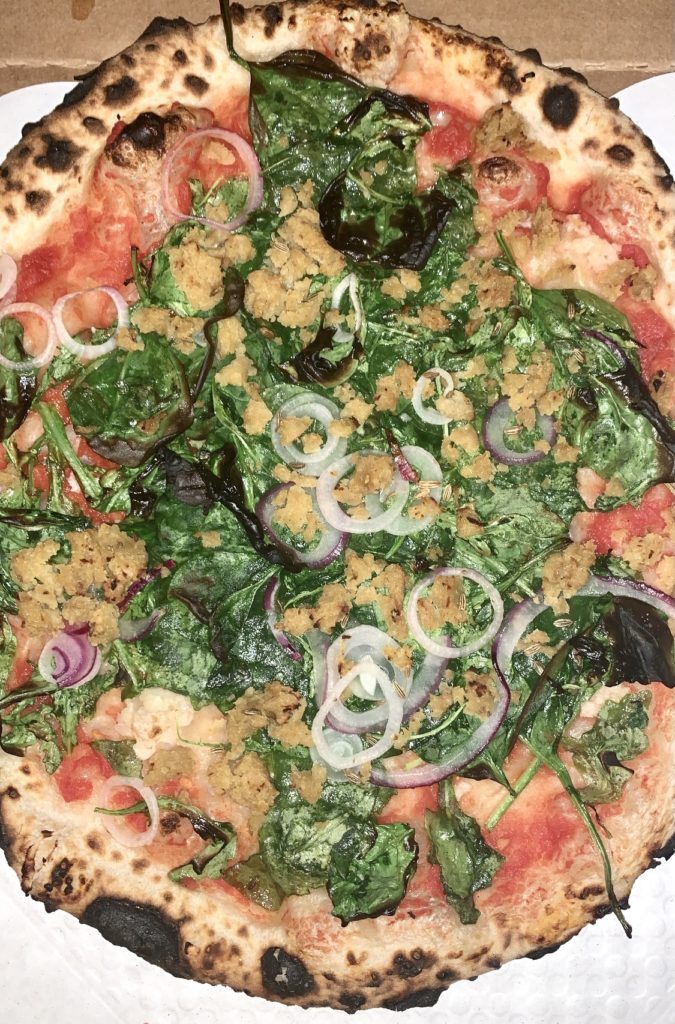 I'd been to Paulie Gee's in Brooklyn before I was vegan (B.V.) and absolutely fell in love with their pizzas. But it wasn't until my Chicago trip that I realized they have a vegan pizza menu, which was a delightful realization.
They have a handful of vegan 'za options, and we opted for their Rabbit Pie with Italian tomatoes, garlic, baby arugula, baby spinach, red onions, soy chili glaze, and house-made vegan fennel sausage (so good and not too heavy on the fennel, which is a must for me).
Location: Logan Square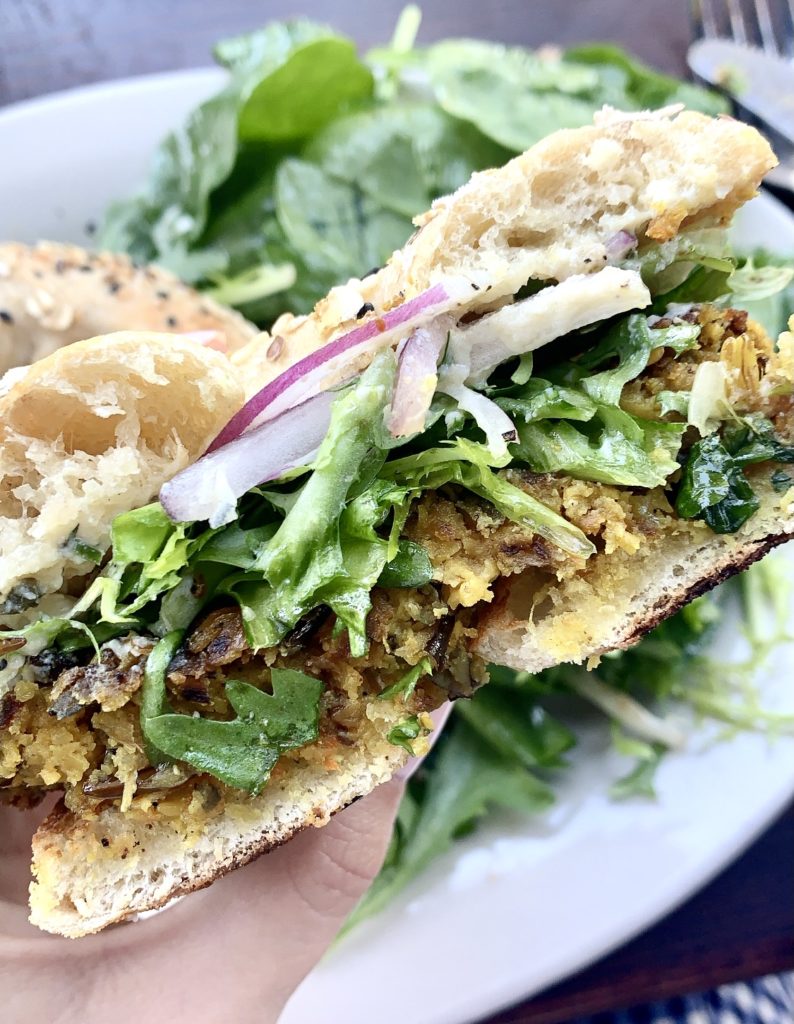 Not to be confused with the Vegas of Tahoe, but instead a charming vegan brunch and vegan dinner spot in Chicago's Logan Square neighborhood. If you're in the mood for a bagel, this is the place (they're all vegan)! The rest of their menu isn't plant-based, though they offer some other vegan options, like a tofu scramble.
I opted for their Olympian on an everything bagel, i.e., an incredible bagel sandwich with a veggie patty, homemade vegan tofu ricotta, red onion, and garlic confit.
Location: Logan Square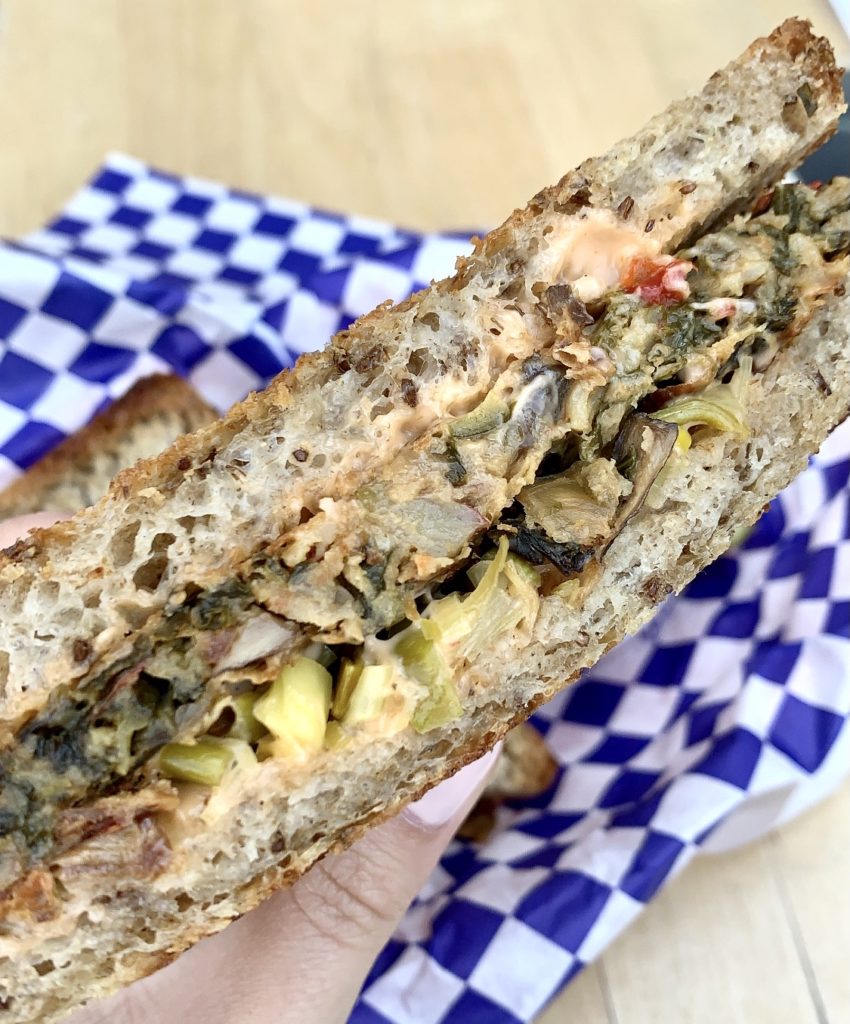 This locals spot in Logan Square is unassuming but offers a nice array of comfort food, vegan ice creams, and a solid iced coffee. I actually had my last meal here before heading to the airport, and opted for their kale burger patty melt. It was the perfect meal to fuel me up before a flight and so delicious.
It also made me realize I hadn't had a patty melt since I'd gone vegan and it was honestly even tastier with a veggie patty. Theirs is served on house-made rye bread, with their kale burger, caramelized leeks, and thousand island dressing – YUM.
A Few Vegan Restaurants in Chicago that I Missed…
If I learned anything this trip, it was that Chicago has so much more to offer than I could imagine – between the lake, its countless parks, the warm Chicagoans, and yes, the endless vegan restaurants, I seriously cannot wait to go back.
I've already started planning out the restaurants on my next vegan Chicago tour.
Location: Magnificent Mile
I'm very sad I didn't get the chance to experience Althea's beautiful vegan food on this trip, as it's actually a Matthew Kenney restaurant (the founder of the Future Food Institute course and the mastermind of so many incredible restaurants, including Plant Food + Wine, one of my top vegan restaurants in LA). I peeped the menu and while they have some Matthew Kenney favorites (like the kelp noodle cacio e pepe and raw zucchini lasagna that I learned in the course), they also have a handful of dishes that are totally new to me (maitake barbacoa tacos, anyone)?! This will be a must-try on my next Chicago trip.
Location: Uptown
Brass Heart takes fine dining to the next level with what looks like a remarkable seasonal tasting menu – and the best part is, they have a separate, completely vegan menu. With dishes like trumpet mushroom mole and eggplant confit, this is a special occasion restaurant that gets rave reviews from vegans and meat-eaters, alike – landing it squarely amongst my top picks for round two for my next vegan Chicago trip.
Location: Lakeview
Ok, I'm kicking myself for not making it to this one, too, because they do…drumroll…VEGAN DEEP DISH PIZZA. It seems crazy that I didn't try the quintessential Chicago dish while visiting, but I honestly didn't know this place existed until after the fact. But Kitchen 17 seems like a true gem and is 100% vegan. While they're famous for their deep dish, they also offer a slew of other vegan comfort foods like a buffalo burger, chicken parm, and Philly cheesesteak.
Did I Miss Any of Your Favorite Vegan Food in Chicago?
Let me know in the comments below! I'm always looking for an "excuse" to come back and try more of the best vegan restaurants in Chicago.
Thanks for joining me on my never-ending food tour and if you haven't already, check out a few of my other vegan restaurant city guides (packed full of vegan food hit lists I've had a lot of fun sampling from) right here:
Stay tuned for more!