THE BEST VEGAN FOOD IN PARIS (20 RESTAURANTS, PATISSERIES, AND CAFES)
When you think of dining in France, steak frites, buttery pastries, and anything cream-based probably come to mind; but if my recent visit to Paris taught me anything, it's that the French know good food, period – so I'm beyond elated to now share with you a list of the best vegan food in Paris.
The French are well-regarded for being forward-thinkers with a high level of attunement toward the planet, so its no wonder that Parisians have taken their affinity for dining and shifted it in a more plant-forward, climate-friendly direction. So if you're headed to Paris and are vegan, plant-based, or purely curious what vegan Paris has to offer, believe me when I say you'll still be indulging in spectacular food that just happens to be sans animal products.
With that, I'm very pleased to share with you the incredible places we dined, as well as some others that earn high marks that we didn't make it to during this quick visit. Some are fully vegan, some are vegetarian, and some are just veg-friendly, but all are sure to please the palette. With that, I'll get into my round-up of the best vegan food in Paris. Bon apetit!
The Best Vegan Food in Paris: Where We Ate, Ranked
We only had a few days in Paris, but somehow we managed to fit in a whole lot of eating during our brief stay. Check out the best restaurants, patisseries, cafes, and even burger joints we dined at in the list below.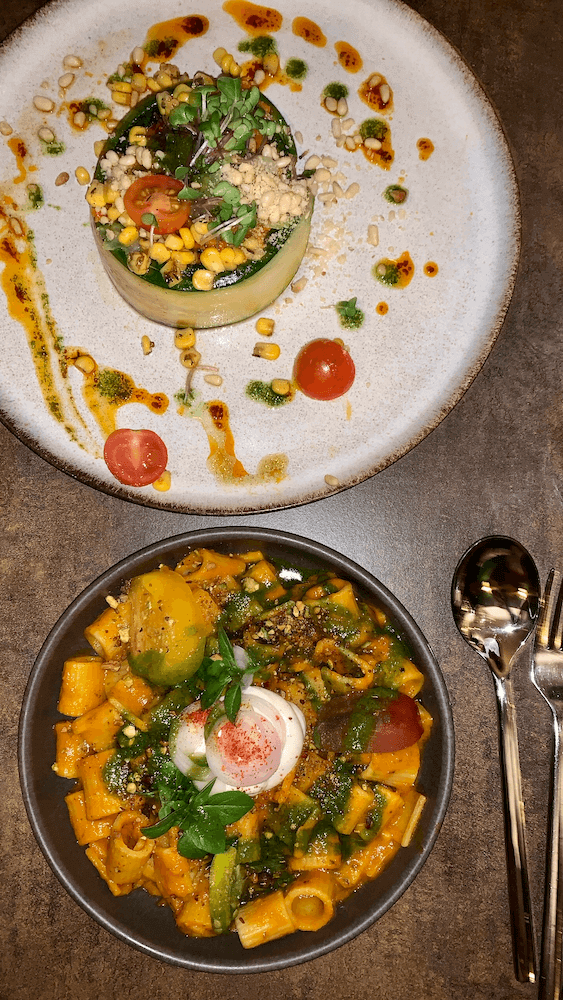 Created by two sons of an innkeeper that are equally as passionate about food as they are the environment, Le Potager de Charlotte is an exceptional Parisian restaurant. They now have two locations, of which we dined in their newest in the 17th Arrondissement. With a seasonal take on food, their menu is constantly rotating to offer patrons the best plant-forward dishes of the moment; we shared their grilled romaine caesar, rigatoni with creamy heirloom tomato sauce and pesto, a delicious grain-based dish wrapped in thinly-sliced zucchini, and a delicious berry crumble for dessert. The ambiance in the restaurants was also lovely, with deep green tones, velvet upholstery and contemporary light fixtures, Le Potager de Charlotte is simply a wonderful place to spend an evening in Paris and I couldn't recommend it more.
2. Soya (8th Arrondissment)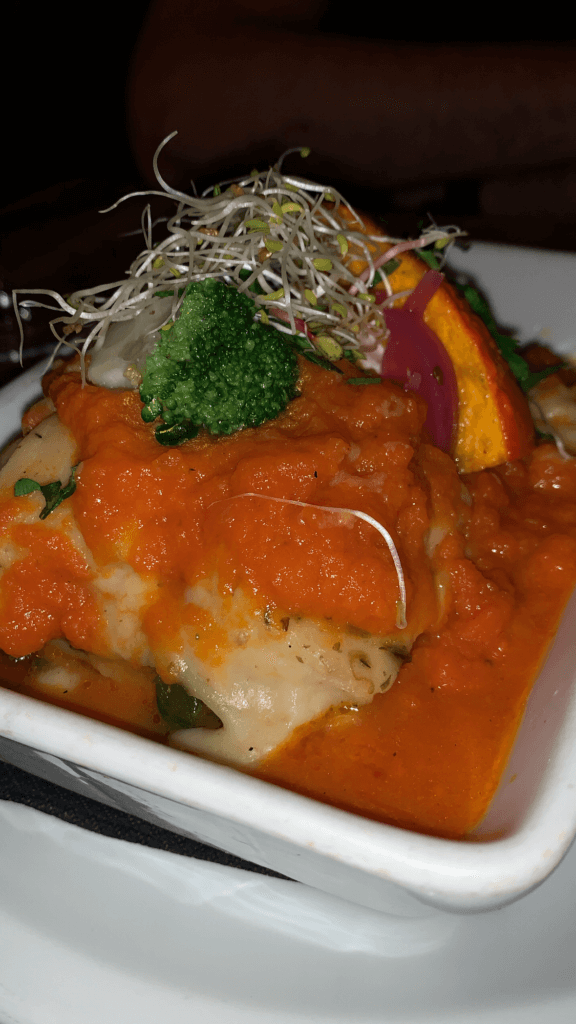 We had to fly through Paris on the way home, which gave us a final 24 hours to spend in the city – poor us, an extra day in Paris! And it proved to be quite the culinary tour, starting with a tea for gluttons at Plaza Athénée (below) followed by a delightful dinner at Soya, which I just adored. They have this cozy, rustic vibe going that was exactly what we wanted for our last meal on a chilly fall evening, and the food was just as comforting. We started with their soyafels – crispy croquettes with rice, tofu, fresh herbs and a delicious veggie mayo dip. And for our main, we shared their simple salad (which was so fresh and not-so-simple), as well as their lasagna which I savored every bite of. They use a cashew ricotta, tons of seasonal veggies, béchamel sauce, and one of the most flavorful marinaras I've ever had. We, of course, had to order their carrot cake for dessert, which presented the perfect blend of spice and sweetness. Très bien!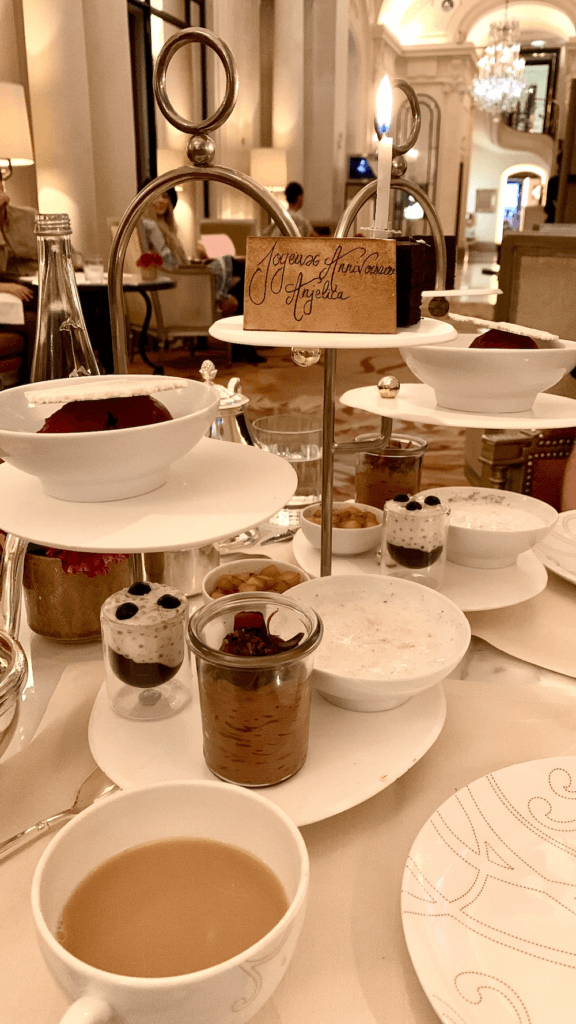 There are few places in Paris more coveted the Plaza Athénée. A quintessential hotel that's hosted stars from Katherine Hepburn to Jackie O., (they've got a photo wall to prove it), it's an ornate piece of Parisian history that has maintained its stature as the city's hotspot over the decades; and of the many things this establishment is famous for, its afternoon tea offering might rank highest. While it may be a bit of a surprise that they made it onto my list of the best vegan food in Paris, get this: they do a VEGAN TEA SERVICE (!!!) and it was truly everything I could have hoped and dreamed for. We're talking tea served in antique silver vessels, decadent tea sandwiches, and a dessert tower so beautiful you might weep. The candle and engraved 'joyeux anniversaire' in gold-dusted chocolate was a nice touch, too.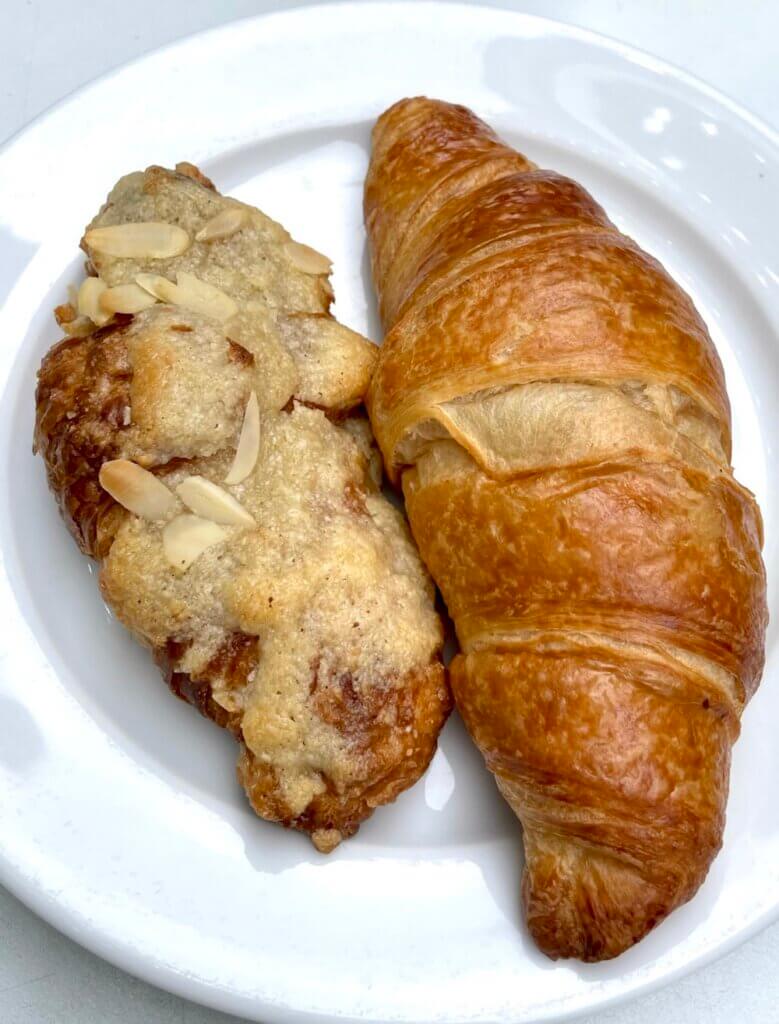 Cloud Cakes is a gem. With light and buttery croissants and other tasty pastries and light bites, this cafe has everything you'd want out of a patisserie – and it's 100% vegan. And while I'm often a purist when it comes to my croissants, I have to admit that their almond croissant may have been my favorite. They offer breakfast, lunch, and dinner, with everything from pancakes, to avocado toasts, to salads and sloppy Joe's.
5. Naked Burger (6th and 17th Arondissement)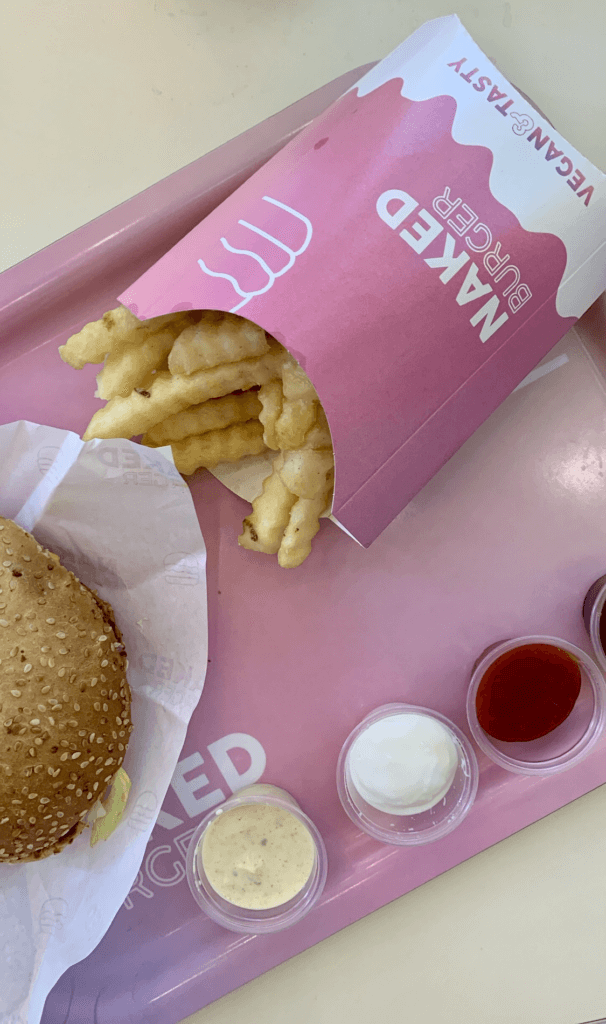 We're big burger people, so when we learned of this joint in the neighborhood we were staying in, we had to check it out. Their food did not disappoint – they use Beyond patties for their burgers, awesome special sauce, and crinkle fries, in addition to a slew of other awesome menu items like 'filet no-fish,' cheesy bacon burger, chick'n nuggets, and their 'nasty dog' take on a vegan hot dog.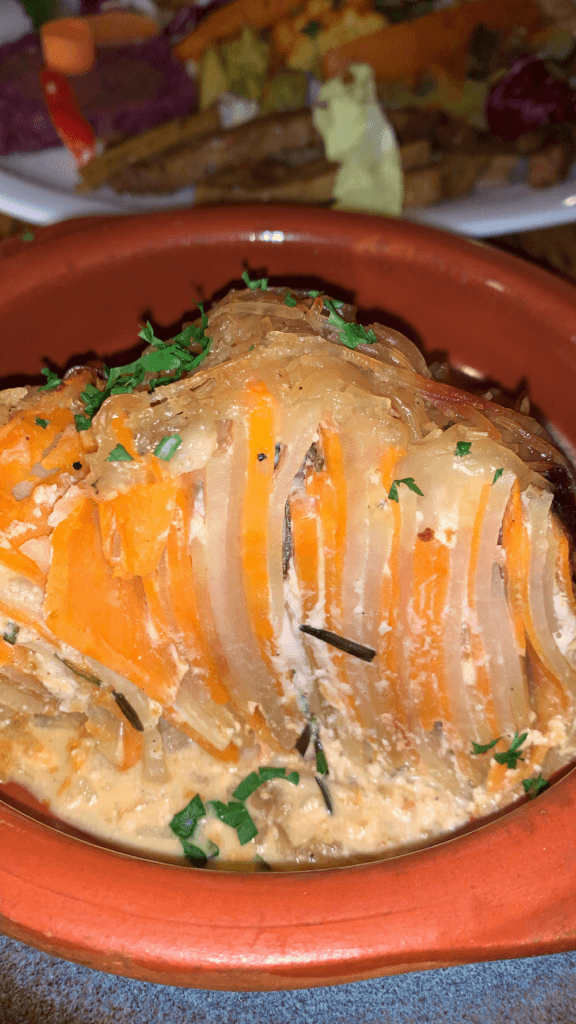 We ended up going to this restaurant on a whim, and I'm so glad we did. It's a funky, cozy vegetarian spot that had comfort foods like vegan potatoes gratin and warm chocolate brownies for dessert – it was just perfect for a low-key evening. I was also stunned by how delicious their 'salade de charlotte' was, with mesclun, apples, raisins vegan cheese, and a creamy, tangy dressing.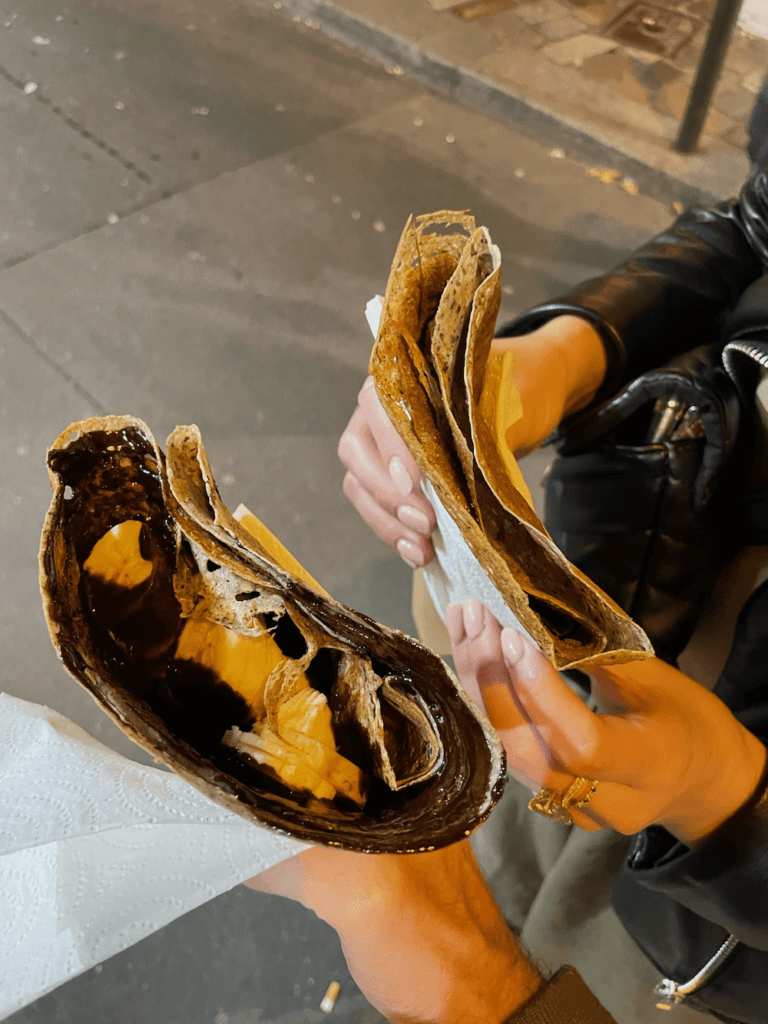 There are many a creperie in this city, but Culture Crepes is unique in that they offer buckwheat, organic crepes with plenty of vegan options. I ordered the cinnamon and sugar, and R had the chocolate banana.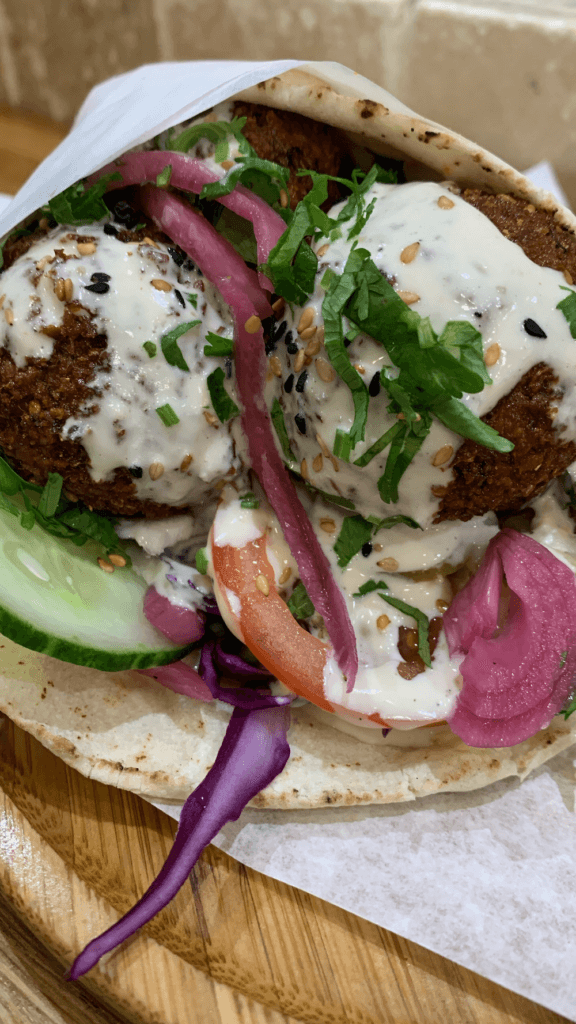 Our flight to Paris was delayed, resulting in a very late night arrival. But, you're only in Paris so often, so we headed out as soon as we checked in to our hotel to roam around our neighborhood in the 6th, eventually venturing into the nearby Latin quarter. We randomly stumbled upon this Mediterranean spot, and yet it ended up being an incredible first meal in Paris. We ordered the vegan falafel pita and it was one of the best I'd ever had – loaded with delicious pickles, garlic tahini, tomatoes and cabbage, it was the 2nd dinner we didn't know we needed.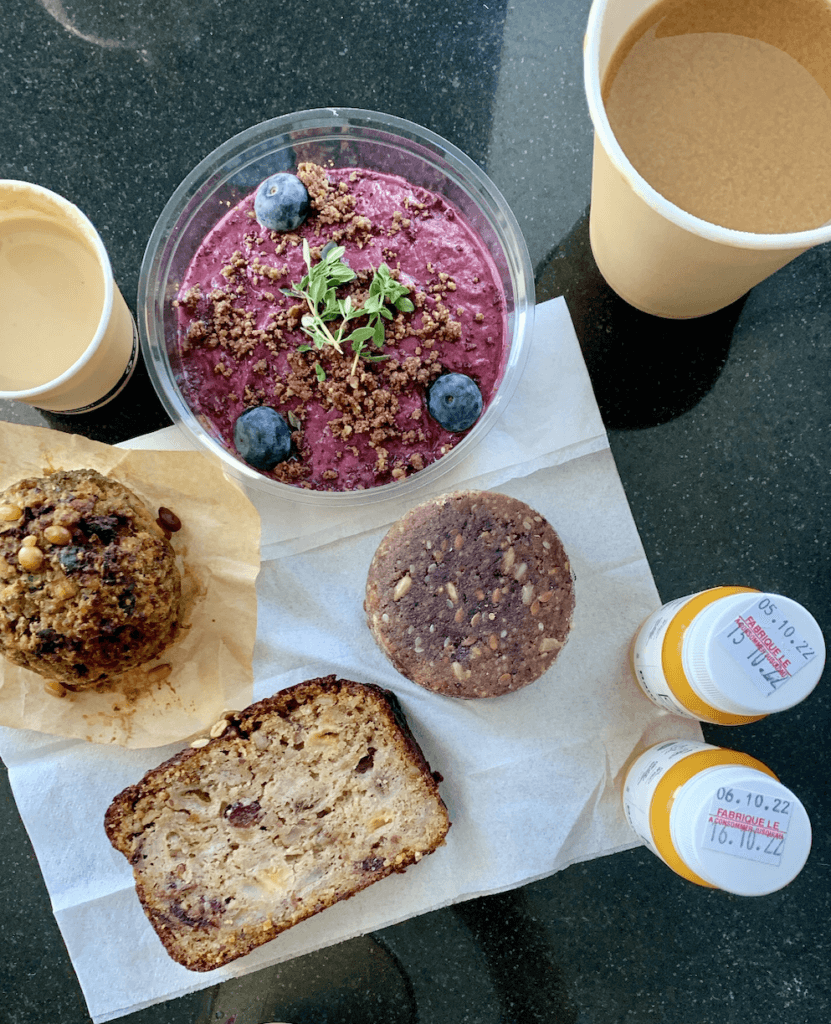 For a cafe in Paris, Wild & the Moon is *very* L.A., and I mean that in the best way. Part juice bar, part coffee shop, this is where you go to detox and pay a pretty penny for a green juice and vegan muffin after indulging on a little too much wine and cheese the night prior. The food quality is clearly great, though, as is their espresso. We also ordered a savory veggie biscuit (my favorite), acai pudding, banana bread, date cake, and immunity shots, all of which fueled us very well before our flight home that afternoon.
Best Vegan Food in Paris: 'Saved for Later' Spots
I'll be the first to admit that three days in Paris is simply not enough, particularly when you're on a vegan food tour. We will surely be heading back soon to tick the below eateries off our list that, by the internet's account, are also very worth your consideration.
Self-described as a "former charcuterie, now vegan bistro" with "funky, veggie-vegan and colorful" cuisine, Abbatoir Vegetal is a restaurant I'm still kicking myself for not making it to. With a light and airy space adorned with aerial succulents and brass finishings, it looks like a beautiful setting to enjoy a veg-forward meal. With an all-day menu serving up everything from sweet potato pancakes, to a vegan cheese plate, to a stellar cocktail list, I truly cannot wait to go back and try this place out.
A very on-trend spot with cheeky branding and backing from The Sugar Doctor (creator of "Sugar Safe" alternatives to popular dishes), Charli's is serving up some very good-looking yet healthy comfort foods like "mac no cheese," shakshuka, and "no'tella" toast. They're also keto, paleo, and vegan-friendly.
10. Sol Semillia (10th Arrondissement)
Part health-food restaurant, part bulk pantry, Sol Semillia is a lovely plant-based establishment in the beloved Canal St. Martin neighborhood.
There are no shortage of amazing patisseries in Paris, but VG gets particularly high marks from its patrons. Specializing in vegan artisanal pastries, they offer all the traditional yet refined delicacies you'd hope for in a patisserie – from brioche, to pain au chocolat, to madeleines, they've got it all.
12. Maoz (Latin Quarter)
Maoz' tagline is "vegan fast food," and I just love that. It's a very popular mediterranean joint with two locations in the Latin quarter, they're known for incredible falafel, stuffed to the brim pitas, and great fries, to boot.
13. Bodhi Vegan (19th Arrondissement)
A vegan Southeast Asian spot in Paris?! Sign me up. With Vietnamese favorites like pho and vermicelli noodle salad (bun), as well as other fusion items like tempura, sushi, wonton soup and various curries, Bodhi has (quite literally) everything to satisfy your Asian food cravings – and they have around 100 menu items to prove it.
14. Primeur (19th Arrondissement)
Primeur is described as a hidden gem with a small but excellent menu and fair prices. They're organic, fully vegan, and have an eclectic menu with things like curries, lasagna, and vegan chocolate mousse.
15. Comptoir Veggie (Bastille / 12th Arrondissement)
Looking for a killer vegan breakfast and lunch spot in Bastille? Look no further than Comptoir Veggie, a plant-based restaurant with everything from buddha bowls, to veggie sandwiches, to focaccia and cheese toasts, and an array of desserts.
A "vegan concept store," Aujour'dhui Demain is where you go to for eco-friendly, vegan gifts and food items, followed by a delicious burger or tacos when you're done shopping.
17. Maisie Cafe (1st Arrondissement)
Maisie is a chic vegan and gluten-free cafe in the ritzy 1st arrondissement. They pride themselves on offering organic, ethical, and traceable menu items that are built around plants.
18. BrEAThe (Pigalle/9th and Montorgueil/2nd)
With two locations – Pigalle and Montorgueil – BrEAThe looks like the kind of place you go for a cool vibe and an even better dining experience. An Asian-fusion restaurant with everything from ramen to maki, they've been touted by tourists and Parisians, alike, for having some of the best, most creative vegan food in the city.
19. SO NAT (9th Arrondissement)
SO NAT might be in the fast-casual category, but their menu and ethos is anything but basic. With certified organic ingredients and a planet and animal-cruelty free approach to food, they're a must-visit for vegans. They're known for amazing buddha bowls, and have a great assortment of soups, salads, and other healthy items.
A vegan, organic, gluten-free, and PH-based restaurant in Paris…who would have thought! Whether you're grabbing a quick and nourishing lunch from their small but flavorful menu or attending one of their cooking classes, PH7 Equilibre isn't one to miss.
Did I miss any of the best vegan food in Paris?
If you found this while in Paris or are visiting soon, I envy you. It's such a magical city, made even more so by all of the vegan culinary experiences now available. And if I missed any fantastic vegan spots that should be added, please drop me a note in the comments section below!
If you haven't already, be sure to check out my list of the best vegan restaurants in London, LA, and Chicago. Salut!