THE BEST VEGAN FOOD I ATE IN SANTA BARBARA
Like most of us, I've been occupying this strange limbo between wanderlust and pandemic realities over the past year. Knowing I'd been feeling a bit cooped up, my boyfriend, Ryan, surprised me with a trip to Santa Barbara this past weekend. We got in plenty of R&R, beach time, and most importantly, we ate our way through town. So I naturally had to share the best vegan food I ate in Santa Barbara, with Oliver's easily sliding into the #1 spot (tons more on our dining experience below).
There are a handful of awesome vegan restaurants in Santa Barbara and several that have solid vegan options. That being said, we noticed that there were a lot of spots (particularly on State Street) that aren't as vegan-friendly – so I hope this list will serve as a good starting point for those seeking out plant-forward fare.
We were only in town for two nights and didn't make it everywhere on our list, but all the more reason to go back soon! We're happy to keep taste-testing all the vegan food in Santa Barbara, and beyond, for you guys 🙂
The Best Vegan Food I Ate in Santa Barbara
Check out this Google Map of the restaurants we hit (and a couple we have yet to):
Location: Montecito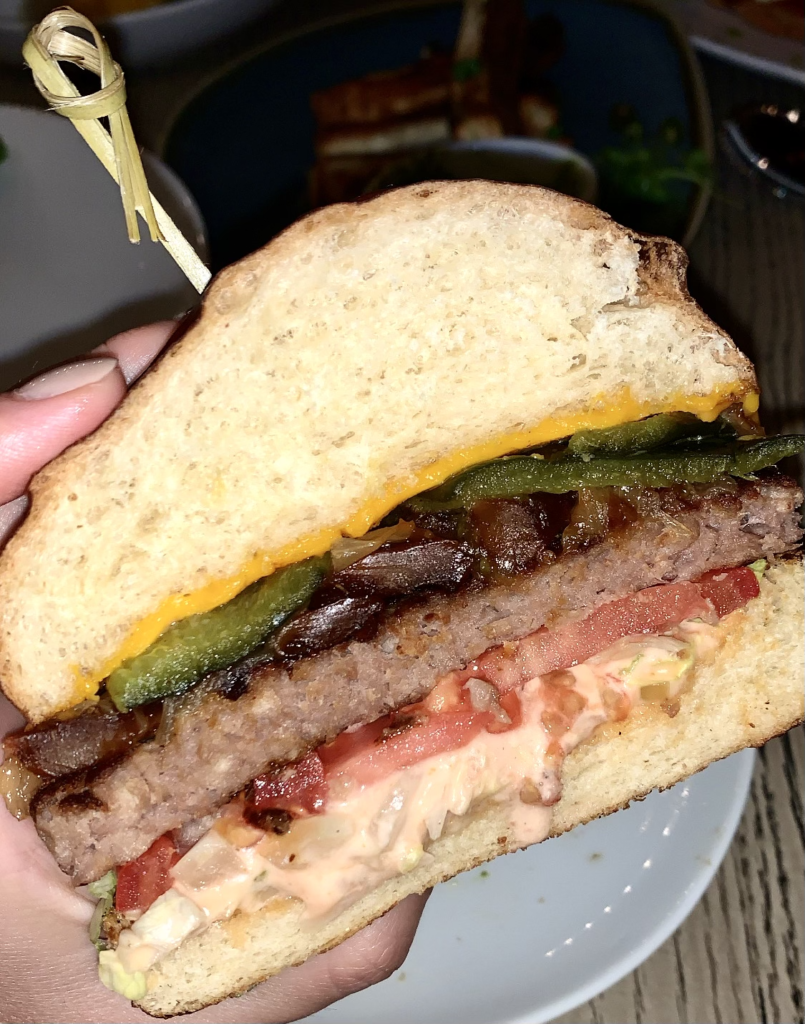 This restaurant was a dream. Fully vegan with an outdoor, string light-lined patio and perched above downtown Montecito, Oliver's is the perfect restaurant for anyone who loves good food. Period. It is an absolute must-visit when staying in the Santa Barbara area.
We had big eyes and hungry stomachs, so we feasted (we are very willing to sacrifice our waistlines for the sake of this blog, if you couldn't tell). Here's what we ordered, and highly recommend you do, as well!
Montecito Mint
If you're an Angeleno and are familiar with The Wellesbourne, you've likely tried their Eastsider, of which this is very similar. It's made with gin, mint, cucumber, and lime – super refreshing for a summer night.
Herb Roasted Sweet Potatoes with Thai Chili and Green Garlic Dipping Sauce
I already knew I was going to love these based upon the description – but if I had known these were Japanese sweet potatoes…I would have placed two orders. The Thai Chili oil packs a subtle punch, while the green garlic dipping sauce presented a dreamy, creamy mix of garlic and cilantro flavors.
Roman Style Artichoke Hearts
These scrumptious artichoke hearts were grilled to perfection and topped with crispy breadcrumbs, but what really brought this dish home was the marinated stuffed peppadew peppers with vegan feta and the lemon aioli dipping sauce.
Italian Sausage & Peppadew Flatbread
This flatbread was a showstopper – and Ry and I agreed that it was our favorite dish of the night. With red sauce, mozzarella, pepper jack, yellow bell pepper, red onion, jalapeño, and cashew ranch, it was pretty much as good as any flatbread gets, vegan or not. The crust was perfectly crisp and the plant-based sausage crumbles were savory and light on the fennel, which I appreciated.
Oliver's Burger (pictured)
The pretzel bun, sharp vegan cheddar, roasted poblano peppers, and special sauce were delicious and everything you want in a juicy burger. For me, what kept this from being GREAT was the coconut bacon – I loved the flavor, but the consistency was a bit chewy for my liking. Overall, a very tasty Impossible burger, though!
Key Lime Pie
This was my stepdad, Robert's, favorite dessert – so we of course had to order it in his honor. And, I'm confident when I say that Robert would have loved it, even sans dairy. The key lime filling was light, airy, and had the perfect ratio of tart to sweet; and the granola crust was so unique and out-of-this-world buttery.
Location: Santa Barbara, Goleta, Simi Valley, Westlake Village, Moorpark, Santa Maria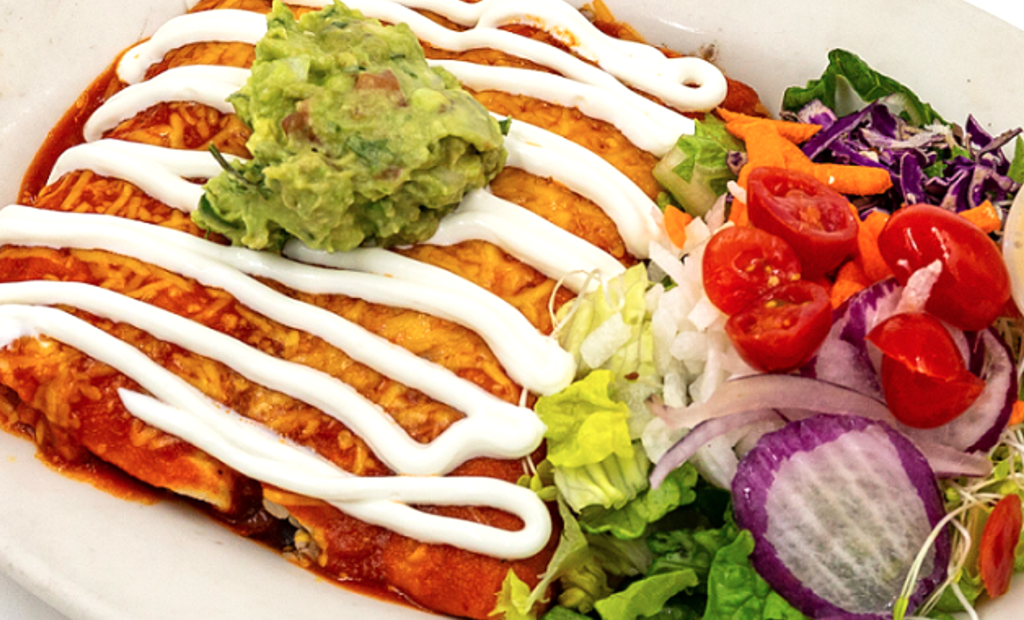 We were in the mood for Mexican and stumbled upon Natural Cafe. While they're not 100% vegan, I appreciated that they offered tons of vegan dishes and also offered Asian and American cuisine, in addition to Mexican. Their food also tasted so wholesome and clean (not typically how I feel post-burrito)! Here's what we ordered:
Buddha Burrito
This was an unexpectedly BIG burrito, and we were so there for it. Packed with tons of fresh sautéed veggies, pinto beans, rice, cheese, and guacamole, it was equal parts nourishing and satisfying.
Veggie Tacos
The tacos presented a similar sautéed veggie mix, but in a taco topped with sprouts and super melty Chao cheese.
Locations: Santa Barbara, Montecito, and Carpinteria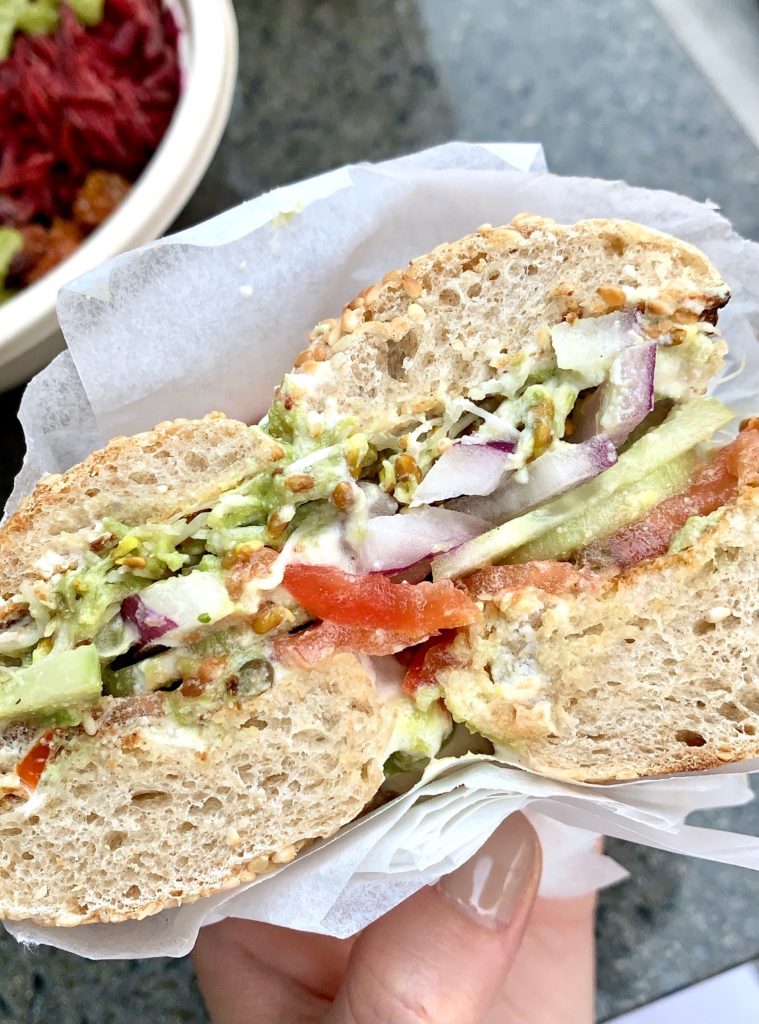 Come for the juice, stay for the bagel (though I probably could have used a juice cleanse at the end of the weekend, I will never turn down a loaded bagel). That, plus their other salad, smoothie, and juice selection makes it the kind of place you can find clean, healthy, and filling food – all in one stop.
Farm to Bagel (pictured)
This bagel was, by far, our favorite thing we ordered. Served on a seeded sourdough bagel, it includes a cashew cream cheese that had us wondering if they'd used the dairy stuff because it was so creamy (it was, in fact, non-dairy), as well as crisp cucumber, tomato, red onion, capers, and sprouts – its everything you want in a bagel and more.
Ranch Bowl
This is a local organic veggie bowl with spinach, carrots, beets, and golden berries, on top of a bed of forbidden rice and finished with crunchy activated almonds. Top it off with their Green Goddess dressing and it's the perfect grain and veg bowl.
The Breakfast Club Smoothie
Strawberries, blueberries, spinach, granola, almond butter, plant protein, and cashew milk. Yum!
The Hulk
A delicious blend of banana, dates, cordyceps, coconut butter, plant protein, matcha powder, greens blend, and cashew milk. This was my favorite, Ryan's was the Breakfast Club above 🙂
Location: Santa Barbara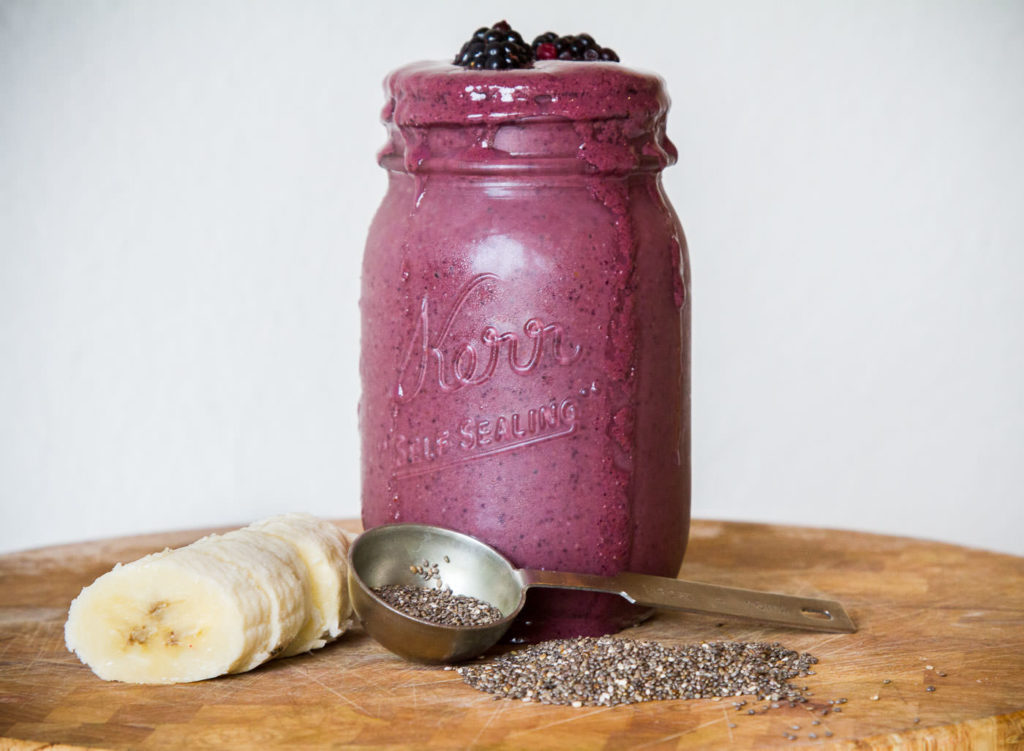 This is another spot that isn't fully vegan but offers a good range of healthy, vegan options like avocado toast, smoothies, and baked goods.
Avocado Toast
They use a really interesting and hearty bagel/bread for the toast. While simple, this avocado toast was satisfying without leaving us feeling heavy. We ordered both their standard avocado toast and the pesto, and they were both tasty but we preferred the OG toast sans pesto.
Blueberry Banana Bread
We learned that nearly all of their baked goods are vegan at Green Table (yay)! We ordered a slice of their blueberry banana bread which was grain-free, super moist, and offered just the right amount of sweetness.
SB Greens Smoothie
This was a tasty blend of kale, spinach, strawberries, banana, chia seeds, plant protein, raw almond milk – basically my everyday smoothie recipe, which was so nice to find while traveling.
Morning Superstar Smoothie
A simpler, fruit-forward smoothie with berries, bananas, matcha, raw almond milk, chia seeds, raw and sprouted vegan protein, coconut water – this one was Ryan's pick.
What's Next On Our Santa Barbara Vegan Food Hit List
Although we missed a few spots on our list this trip, I wanted to note a couple of all-vegan restaurants that we'll definitely be checking out on our next visit – vegan food tours are never-ending, after all!
Location: Santa Barbara
A vegan Mediterranean spot that gets stellar reviews. Need we way more?
Location: Santa Barbara
Burritos nachos, tacos…this place seems like the mecca of vegan Mexican food, and it has celeb-approved photos on the wall to prove it.
Did I miss any of your favorite vegan food in Santa Barbara?
Let me know in the comments below! Excited to add more spots to the hit list 🙂
Thanks for following along and if you haven't already, check out our post on the 6 Best Vegan Breakfast Burritos in LA – in fact, some might deem it required reading.