10 BEST VEGAN BURGERS IN LOS ANGELES: A GUIDE TO LA'S TOP PLANT-BASED BURGERS
Take this as your fair warning that this list of the best vegan burgers in Los Angeles will make you incredibly hungry (and excited)… so if you're not in a place where you can get your hands on one of these beautiful plant-based burgers ASAP, then please tread lightly.
Whether you're a fan of the Impossible patty, Beyond Meat burger, or a good ol' house-made plant patty, we've got you covered. And while most of the restaurants we're featuring in this list are 100% plant-based, a couple of them aren't…yet still manage to have veg-friendly menus with incredible vegan burgers.
10 Best Vegan Burgers in Los Angeles (LA's Top Plant-Based Burgers)
Here's a handy Google Maps list of all the top vegan burgers here:
Now let's get straight to our top pick with the best vegan burgers in LA…
1. Nomoo (Fairfax)
Hailing as the best vegan burger in Los Angeles (on our list, anyways) is the very special plant-based burger joint, Nomoo (on Melrose Ave. in the Fairfax neighborhood). This old-school, diner-themed restaurant holds a special place in my heart, largely because their menu features single or double Impossible Patty burgers, alongside a BBQ 'Facon' Burger and Hot Chick'n that all come sandwiched between a savory brioche bun and delectable toppings.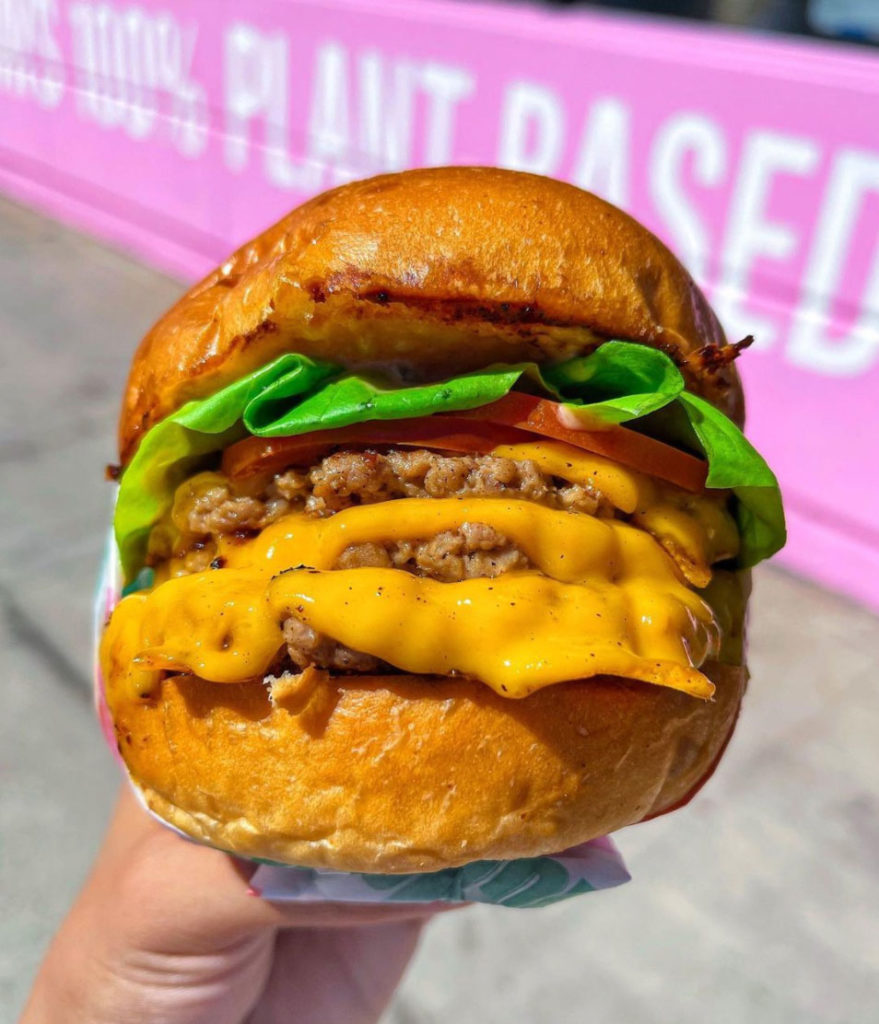 Pictured above is my personal favorite order, The Nomoo burger, with two Impossible patties, two slices of perfectly melted non-dairy American cheese, Nomoo sauce, house pickles, lettuce, tomato, onion and their gourmet brioche buns. For the full scoop on what Nomoo has to offer, in addition to their classic vegan burger, here's a snapshot of their menu featuring other amazing sandwiches, wings, fries, shakes and more: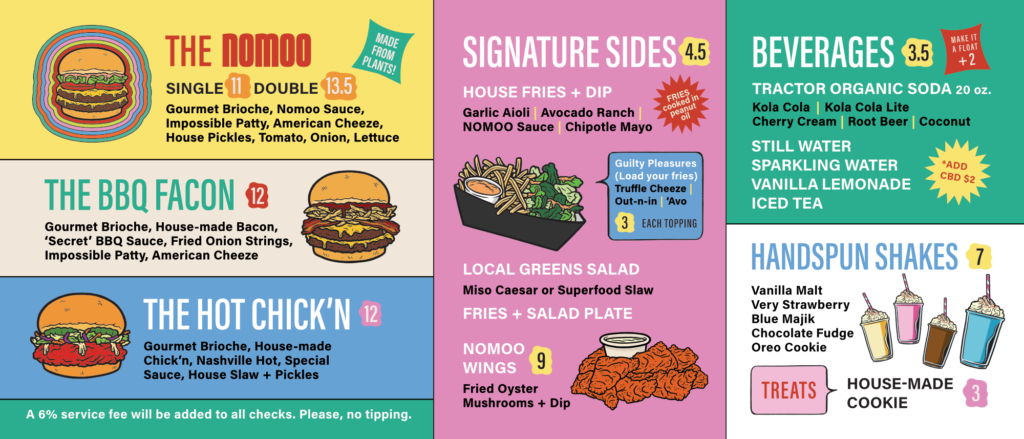 At the end of the day, what makes Nomoo so special (and deserving of being the best vegan burger in Los Angeles), is their impressive attention to detail and consistently delicious fare. The brioche buns are crunchy and fluffy, the veggie ingredients are fresh and crispy, the Impossible patties are seasoned to perfection—it doesn't get much better than this! Oh, and we highly recommend trying each of their four dips – my favorite is the house Nomoo sauce, Anj's is the garlic aioli.
It was a tough choice ranking VOWburger as #2 on this list, because it's very close to matching the quality and taste of what Nomoo serves up, but the latter packs a few more special options onto their menu. On top of just the food, Nomoo's diner-style location and decor also brings a more exciting experience & atmosphere to enjoy your meal.
From the perspective of which restaurant delivers the best vegan burgers in LA though, it's a difficult call. I'll need to go back to both spots for a side-by-side comparison soon.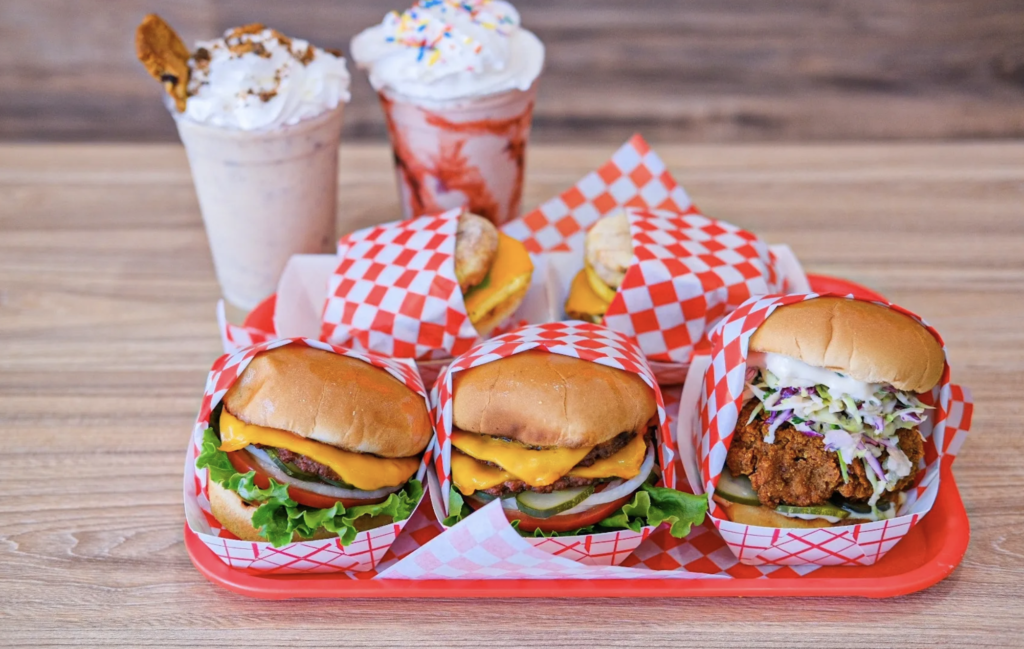 The classic VOWburger comes with an Impossible patty, vegan American cheese, lettuce, tomatoes, pickles, onions, and their house VOWsauce. If you're not in the mood for a vegan burger when you stop by VOW, try their VOWchickn sandwich (in either regular or Nashville style). What also makes VowBurger a standout in my book are their curly fries – seasoned to perfection, crisp, and totally delectable. They also have what I've been told is one of the tastiest breakfast burritos and breakfast sandwiches in LA too, so I'll be going back very soon.
3. Flower Burger (West Hollywood, Culver City)
Flower Burger undoubtedly makes the most photogenic vegan burgers in LA, and they have the flavors to match their colorful creations. With all housemade plant-based patties, this 100% vegan fast food restaurant has a beautiful location in West Hollywood and a smaller takeout/delivery spot in Culver City that serves the westside.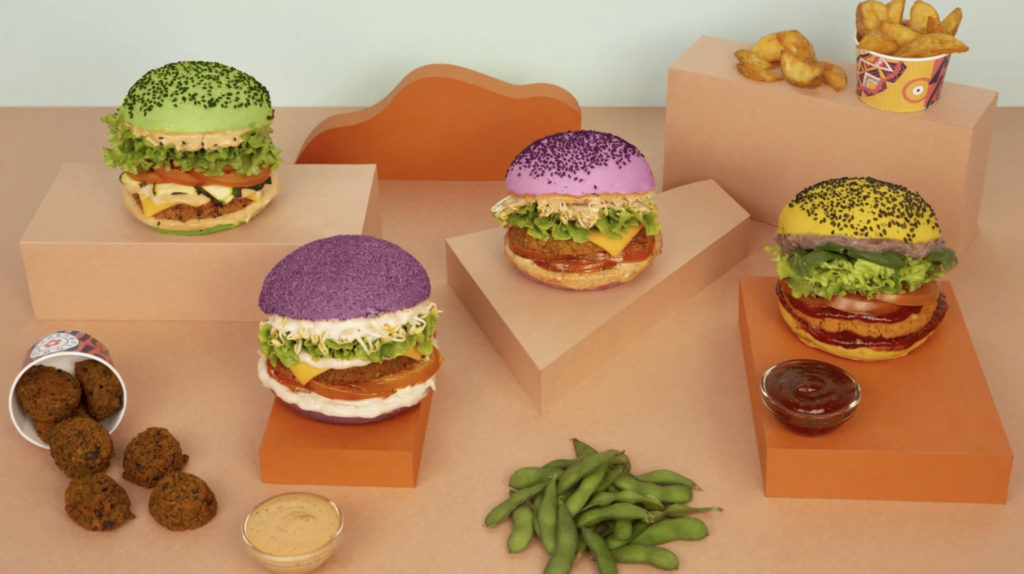 Personally, I like the namesake 'Flower Burger' best from their menu, which comes with a seitan and red kidney bean patty, housemade flower cheddar, soybean sprouts, and their special Magik sauce that I'm determined to somehow acquire a massive bottle of one day. If you want a BBQ-themed option, try their Jungle Burger.
4. Calabra (Santa Monica)
Sitting atop The Proper hotel in Santa Monica resides one of my favorite restaurants, Calabra. This outdoor rooftop restaurant and bar serves a fusion of Mediterranean and California cuisine in a beautiful setting with the ocean not far away. The stellar views are matched with a special selection of boutique wines, seasonal cocktails and small-batch spirits that all pair nicely with their vegan burger and other options for plant-based fare.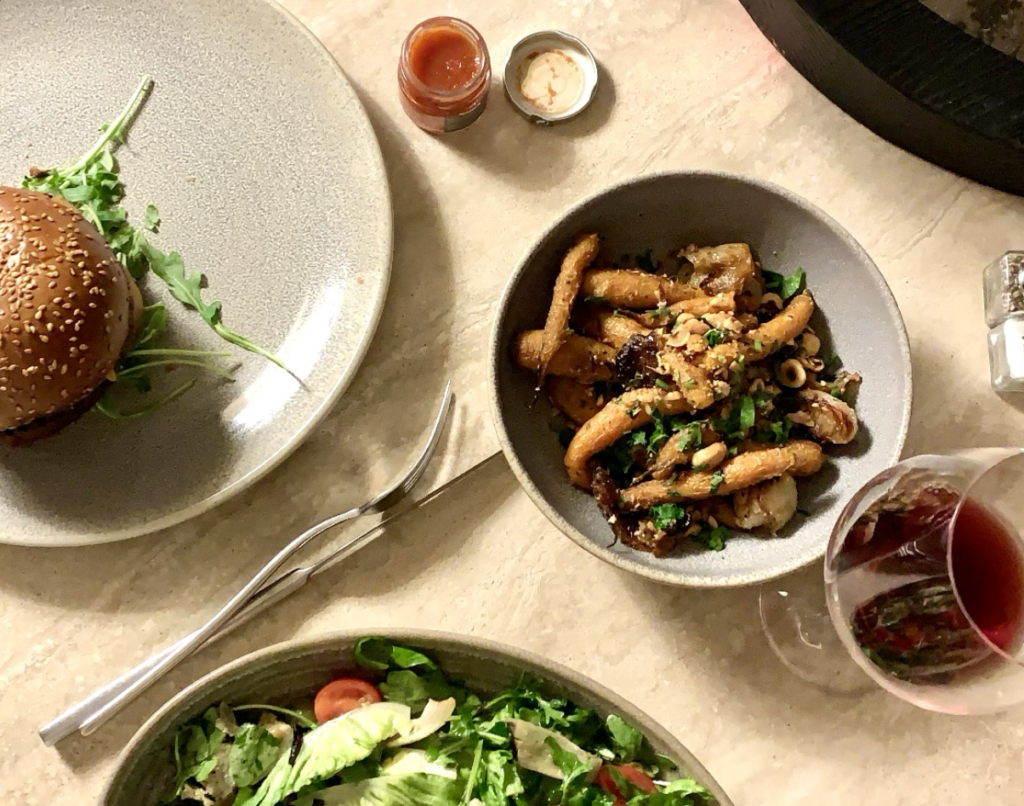 As one of the only restaurants on this list of the best vegan burgers in LA that isn't fully plant-based, the kitchen at Calabra is very accommodating with dietary restrictions, offering a plant-based burger that's out of this world. Be sure to order their mezze platter, too!
5. Monty's Good Burger (Culver City, Beverly Grove, Koreatown, Echo Park)
This popular LA-based vegan fast food chain has some of the best branding around (with a cute pup front & center), and they have the eats to back up their impeccable reputation. Plus, with four spread out locations where you can enjoy these vegan burgers in Los Angeles, a Monty's is never far away.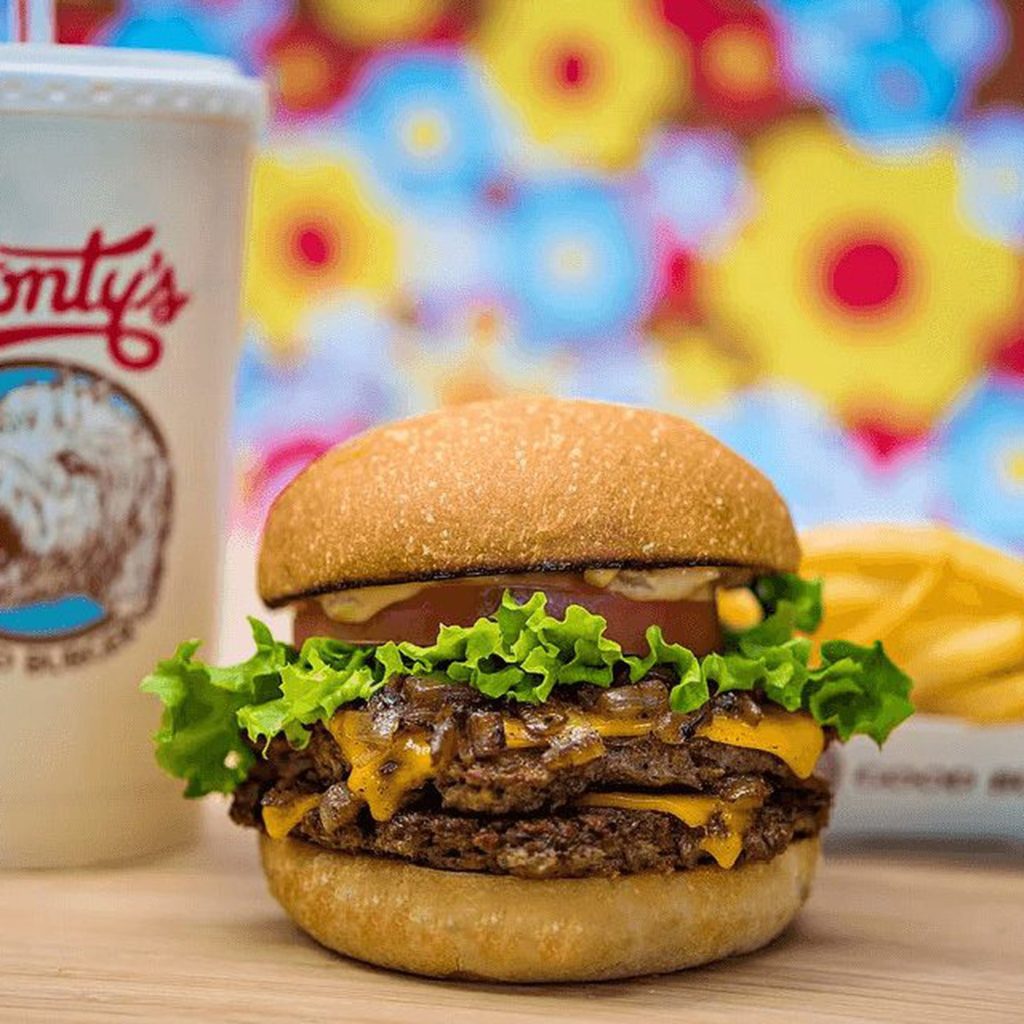 Their classic vegan cheese burger comes with an Impossible 2.0 patty, Follow Your Heart cheese, amazing house spread, lettuce, tomato, house pickles and grilled onions on a bakery-fresh potato-style artisan bun. Monty's really continues to thrive with their fries, tater tots and fantastic dipping sauces.

If you've really brought your appetite on your next trip to Monty's, add a shake, float, or cookie to your order and you won't regret it. Their 100% plant-based shakes are made with Oatly's delicious and creamy soft serve.
6. Berbere (Santa Monica)
As a Santa Monica resident, I welcomed Berbere with open arms during the fall of 2021. This unique Ethiopian restaurant lends a very special flavor profile to a globally inspired menu featuring traditional Ethiopian dishes alongside tacos, sliders, salads, one of my favorite vegan breakfast burritos, delicious pancakes and of course…one of the best vegan burgers in Los Angeles, hands down.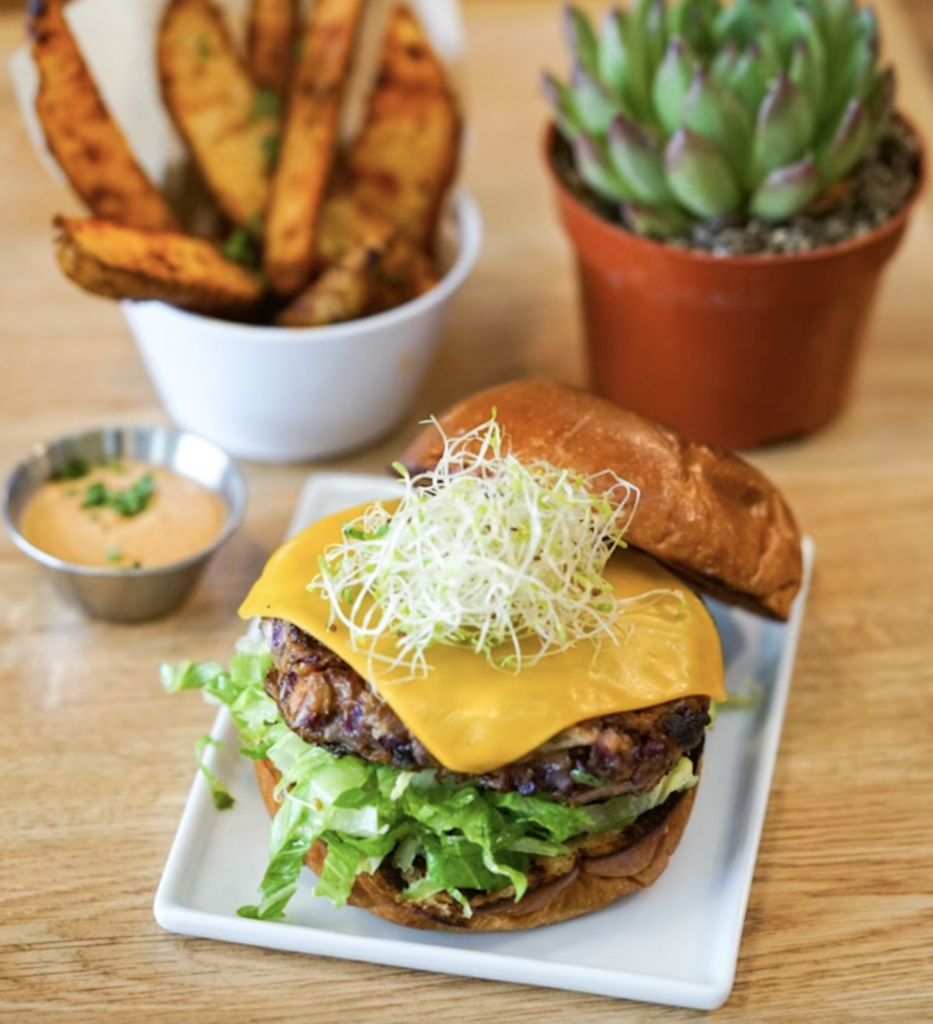 This housemade plant patty is made with butternut squash, carrots, red onion and cabbage, then gets a creamy cilantro sauce spread before being topped with micro greens and sandwiched between a fluffy bun. On the side, you'll get the very special Berbere roasted potatoes with their in-house dipping sauce that'll blow your mind.
If you find yourself on the westside of LA, this fully plant-based restaurant is a must-stop.
7. HiHo Cheeseburger (Santa Monica, Mid-Wilshire, Marina del Rey)
Before going vegan, HiHo was the home of quite possibly my favorite burger, and without a doubt the best french fries I've ever tasted (perhaps because they're twice-fried and seasoned to perfection). It came as no surprise that HiHo also makes an incredible vegetarian option; if you remove the cheese and get the burger lettuce-wrapped (unfortunately, their bun isn't vegan), you'll get a tasty housemade vegan burger that'll bring pure joy to your tastebuds. Don't sleep on the fries, either.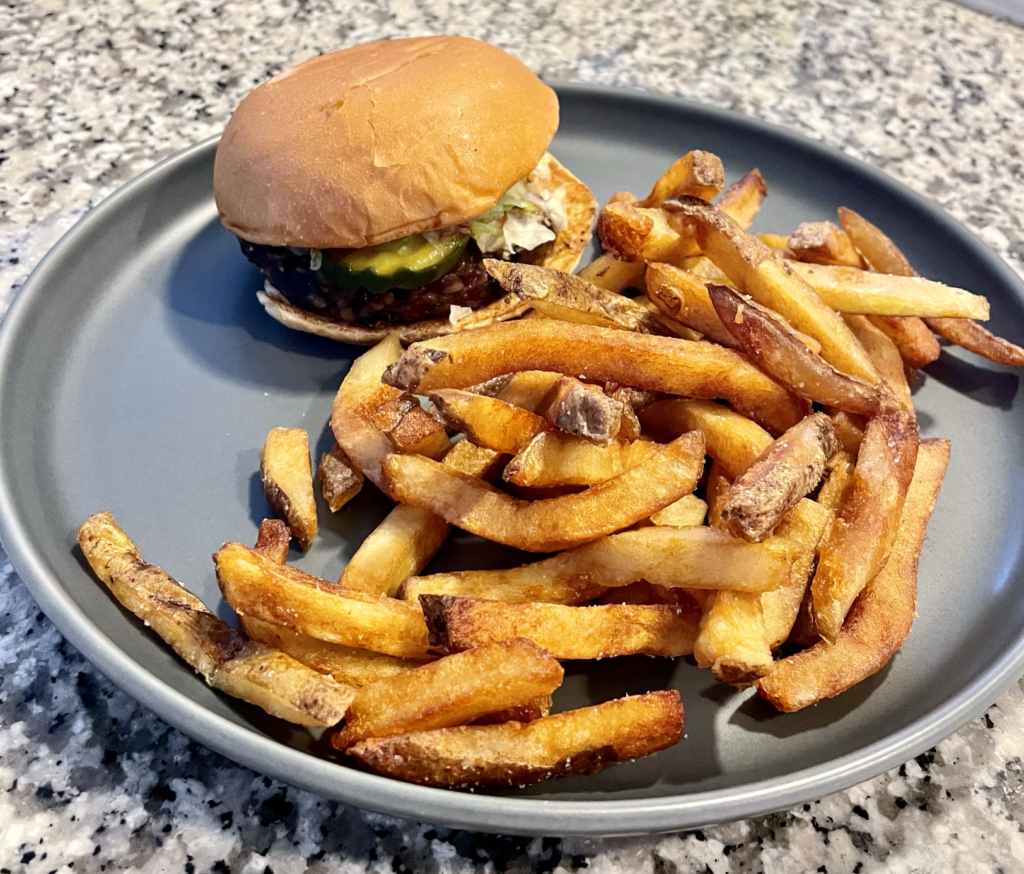 With the added bonus of being a gluten-free, housemade vegan patty, the Vegetarian HiHo burger (minus cheese to make it fully vegan) comes topped with ketchup, mustard, onion jam, lettuce and housemade pickles. Not only does this burger taste great, but it's also one of the lightest vegan burgers in LA, which always leaves me feeling great. Did I mention the fries? Don't forget to order the fries.
8. Honeybee Burger (West Los Angeles, Silverlake)
With two locations on opposite sides of LA, this 100% plant-based fast food restaurant serves up delicious vegan burgers with a choice between Impossible or Beyond patty, sliders, chick'n sandwiches, vegan fish sandwiches with Good Catch filets, nuggets, breakfast burritos, breakfast sandwiches, fries, mac & cheese and even shakes made with Oatly.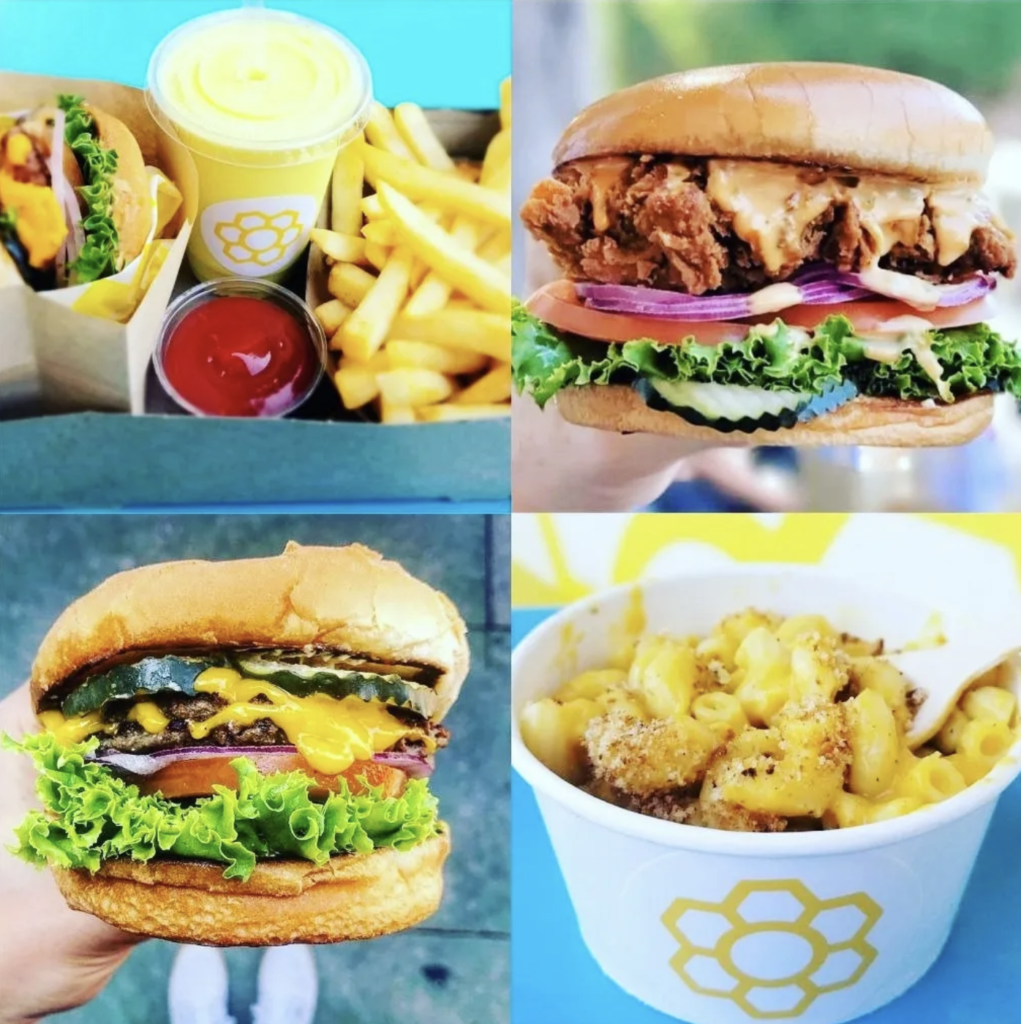 Recently selected as the best vegan burger in LA by VegNews, the Honeybee burger is their award-winning classic cheese burger with house sauce, house-made onion jam, lettuce, tomato, a thin ribbon of onion and house-made pickles with the choice between a Beyond or Impossible patty. You can double up the patties and cheese with the Queen Bee burger, and be sure to add an order of either the classic or sweet potato frots (fries + tater tots).
After closing down for a bit during the pandemic, Margo's Bar + Kitchen in Santa Monica has made a triumphant return, this time as a fully plant-based restaurant—an impressive transition worth applauding them for. One of the most popular staples on their new 100% vegan menu is the double smash burger with cheese, and WOW is it great.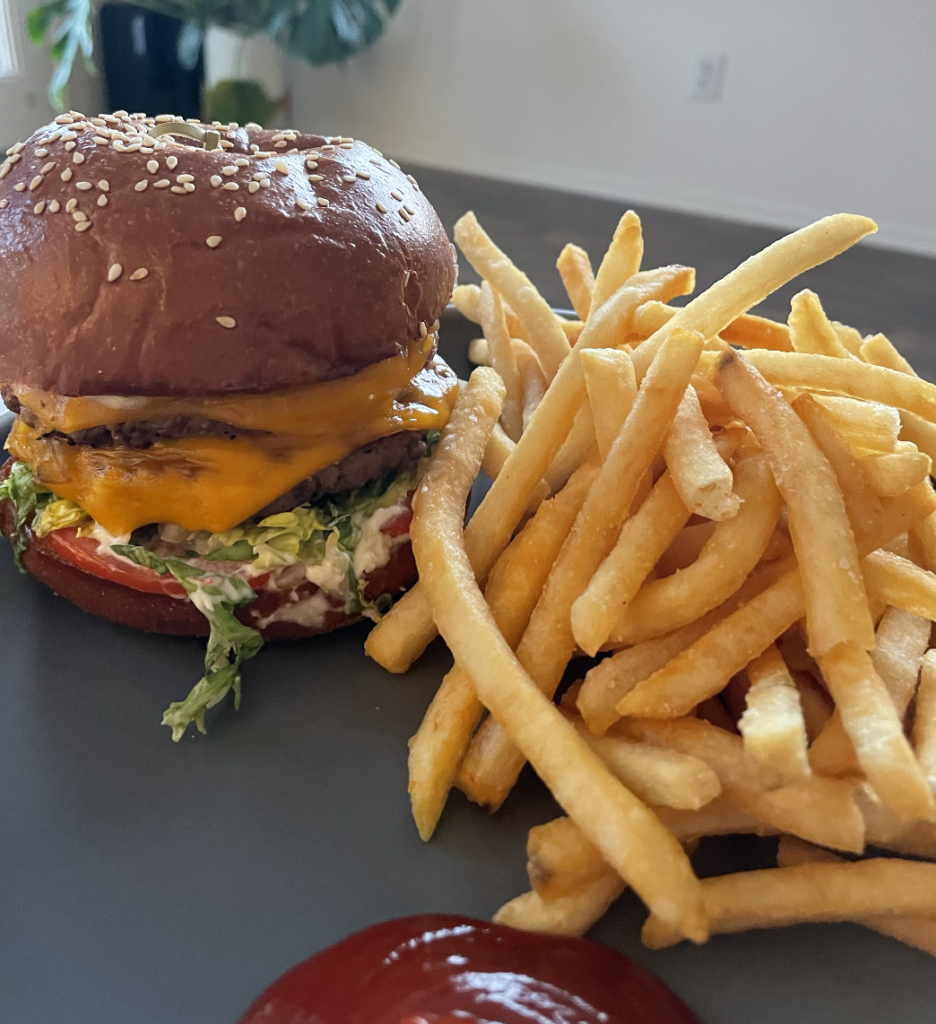 This tasty vegan burger comes with two Impossible patties, two slices of melty vegan American cheese, zesty house sauce, lettuce, tomato and caramelized onions with a side of french fries. This has become my go-to neighborhood vegan burger, and I'm almost embarrassed to admit that it's been a regular presence in my house lately.
Nic's on Beverly is one of LA's most special, 100% plant-based restaurants and is a true vegan paradise. It's no surprise that they make a great vegan burger, with one of the tastiest buns I've ever had. If you find yourself in mid-city, this burger (and restaurant as a whole) is a mandatory stop.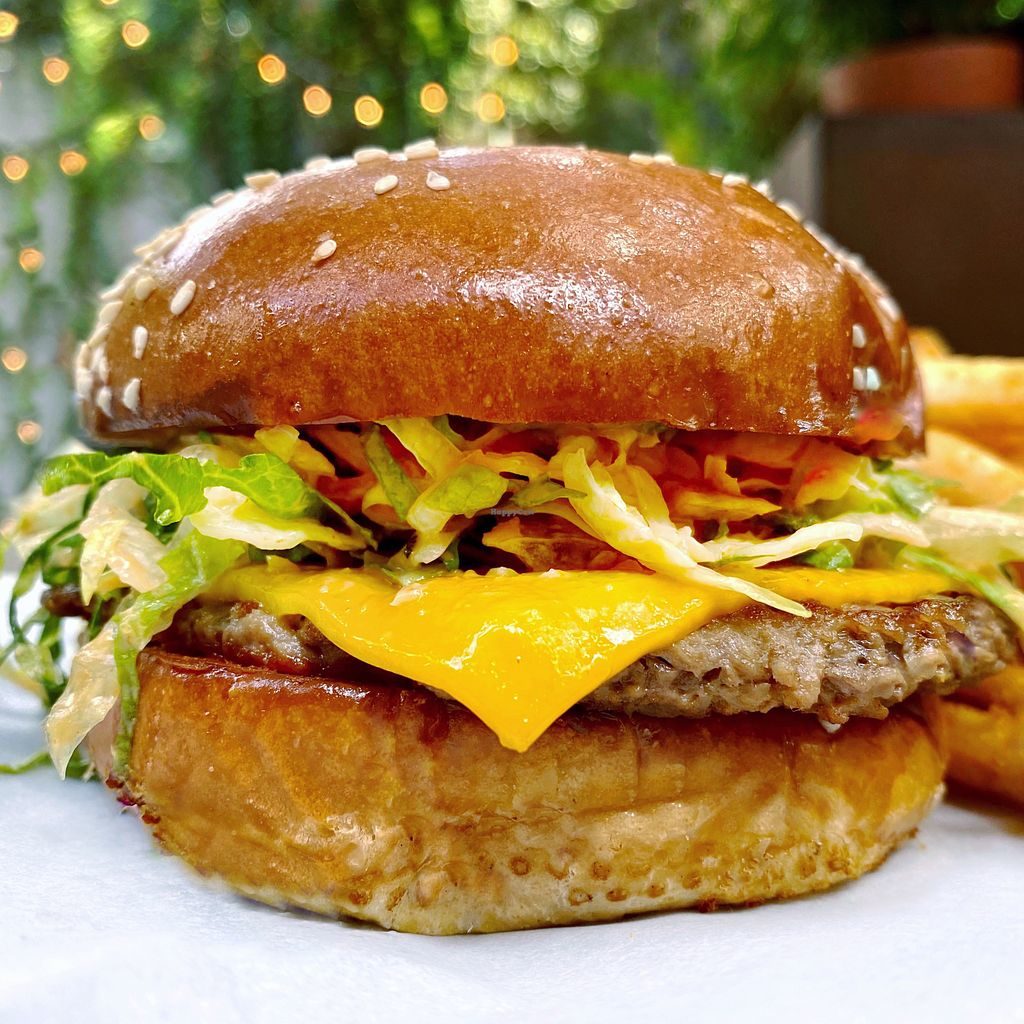 The Nic's Burger earns a spot on this list of the best vegan burgers in Los Angles for good reason. It comes with an Impossible patty, vegan American cheese, chef's sauce, romaine lettuce, pepperoncini and a side of fries.
Did We Miss Any of Your Favorite Vegan Burgers in Los Angeles (LA)?
Drop a reply in the comments below if we've missed one of your top picks.
I'd love an excuse to do some more "research" and explore all of the best vegan burgers LA has to offer.