THE BEST VEGAN FOOD IN LONDON (15 AMAZING RESTAURANTS)
I'll be honest – I thought it wasn't possible for any city to outdo Los Angeles when it comes to vegan food. But I'm willing to put my LA pride aside and humbly admit that London outdoes us, plain and simple.
Between the quantity and sheer quality of outstanding restaurants, I had some of the best vegan food in London that I'd ever experienced in my life. And it makes sense; we met so many vegans in London, and it really felt like veganism, and vegan culture, is far more amplified, encouraged, and normalized in this city. It was incredibly heartening to travel to a place and connect with people that were as passionate about vegan living and eating as we are. And boy, did we eat.
The Best Vegan Restaurants in London: Where We Ate, Ranked
Below you'll find what will surely be an ever-growing list of the best vegan food in London, as I don't think I'll be able to stay away for too long. The first half of this list includes rankings of all the restaurants we ate at and loved, followed by a handful of those we didn't make it to but get consistently rave reviews and are very much worth your consideration.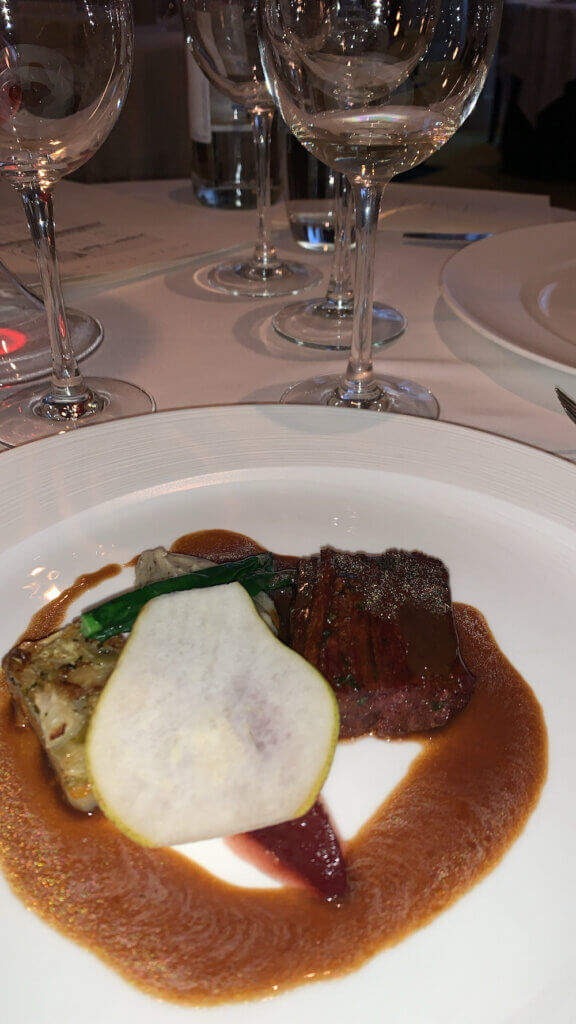 Gauthier is a very special place. Reopened in 2021 as a fully vegan restaurant, its chef and namesake, Alexis Gauthier, is intent on creating a 'new French gastronomy' that is good for the planet and animals, alike. On his website he writes that, "in order for the world to begin healing itself, we need to accept what global science is now agreed on. One of these harsh truths is there is no such thing as sustainable meat, fish or dairy. No amount of tree planting will greenwash this fact." Amen, Alexis.
In addition to the admirable ethos behind this restaurant, Gauthier snagged the #1 spot on my list of the best vegan food in London because the food is not only elevated, creative, and delicious, but it's remarkably affordable as far as vegan fine dining goes. At $55 per person for a 7-course tasting menu that will blow your mind, you just can't go wrong with Gauthier Soho and I couldn't recommend it more if you're planning on visiting London. Plus, you'll be dining with a Michelin-starred chef (though Gauthier Soho hasn't yet nabbed their own Michelin star).
They offer two tasting menu options, of which we opted for the Petit Diner; don't let the name fool you, though – it's plenty of food (again, seven courses)! But if you're wanting to go all-in on Gauthier, I certainly won't stop you, in fact, I encourage it – their ten-course Grand Diner allows guests to experience the full culinary spectrum of what Gauthier has to offer.
2. Mildred's (Covent Garden, Dalston, King's Cross, Camden, Soho, Mallow Borough Market)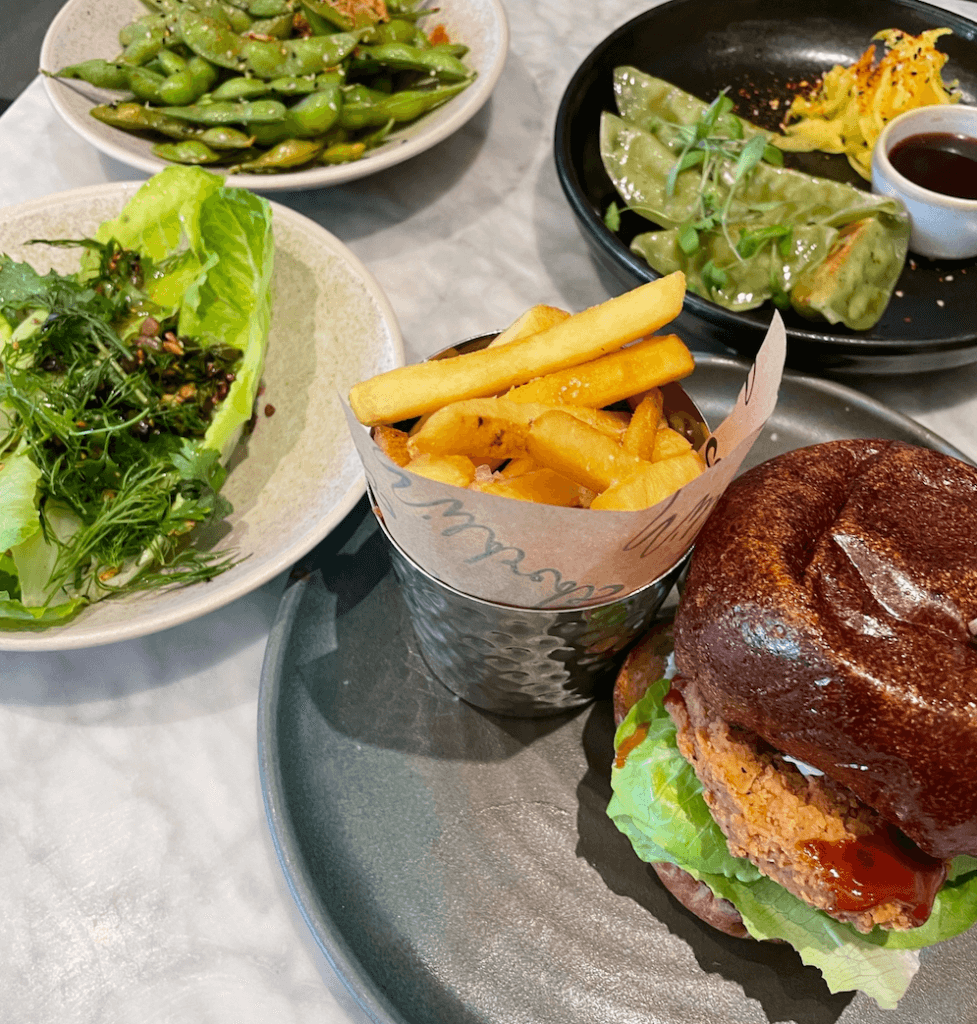 We had lunch at Mildred's on a rainy weekday, and I couldn't help but revel in the experience of being surrounded by Londoners from all walks of life, many of whom were enjoying a glass (or bottle) of wine while savoring delicious vegan food on a Monday afternoon. It was very cool to be part of this cultural microcosm, and as I ate I found myself plotting my imminent move to this Vegan mecca. But, daydreams aside, the food and experience at Mildred's was undeniably great.
With six locations spread across London, they've really nailed their offering. Their beautiful, colorful art showcased on walls painted colors of sage and lavender, it's easy to spend a couple of hours at Mildred's. Their food, though, my friends – is equally as magical. We tried their spynach gyoza with daikon pickle and orange lime ponzu, Nashville hot chick'n sandwich with a delightful slaw and pickles, and a delightfully fresh side salad with dill.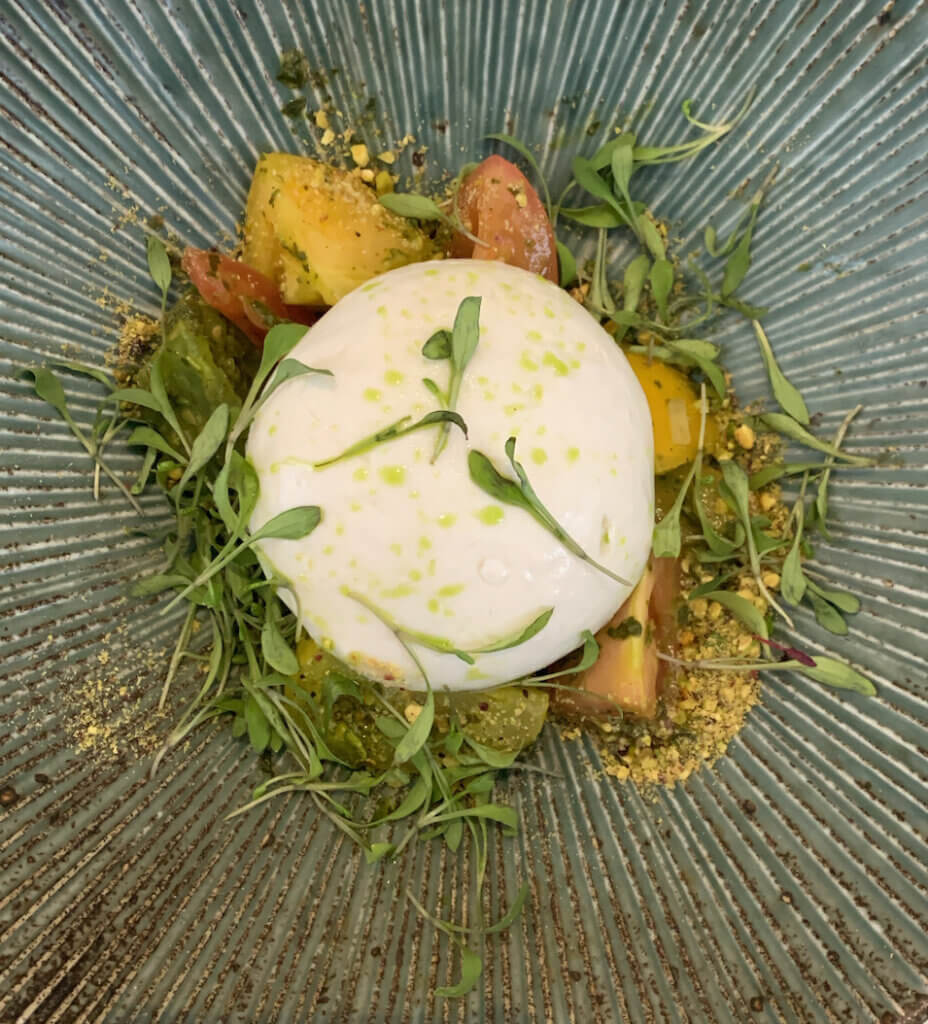 When people ask me if I miss cheese, I always say 'no way!' because I still have vegan cheese on the regular – just the non-dairy sort. But, I will admit that the one cheese I haven't found a vegan dupe for, yet, is burrata – that is, until, I dined at Holy Carrot. And yes, their take on burrata, namely "Burrella," is everything I'd been missing. Served with heirloom tomatoes, salsa verde, and basil oil, it's a creamy, bouncy, indulgent vegan cheese that easily met my high standards for burrata. We had that, the crispy maki rolls, caesar salad, and the apple cinnamon pancakes for "dessert," because, why not. I'm still keeping an eye out for a vegan truffle infused cheese!
Amongst their many beautiful vegan dishes, they also offer a vegan pisco sour, which was my BV (Before Vegan) cocktail of choice. Holy Carrot's version was delightfully frothy, lightly sweet, and the perfect complement to an all-around lovely meal. It's also worth noting that this restaurant is incredibly beautiful – with powder blue walls, whimsical arrangements of dried flowers hanging from the ceiling, and marble accents, it's as visually stunning as it is a joy for the palette.
4. Plants by Deliciously Ella (Mayfair)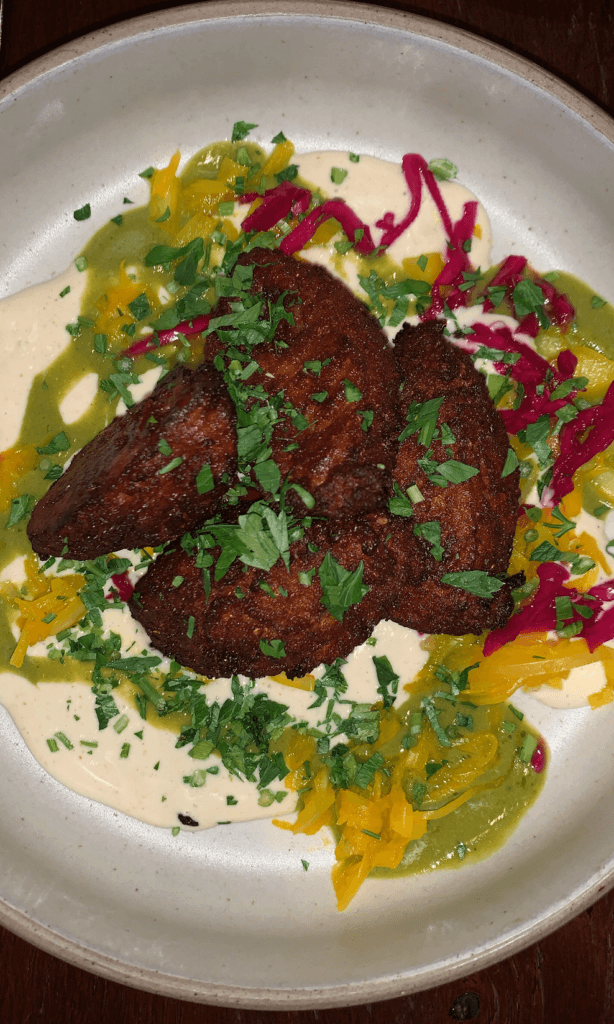 I've been an admirer of vegan blogger and entrepreneur Ella Mills for years and was thrilled to learn of her restaurant, Plants, opening. I, of course, ensured we dined there during our London visit and unsurprisingly, it was fantastic. We ordered the quinoa and sweet potato fritters with a tasty tahini cream and pickles to start, and shared the winter caesar (perhaps the best I've ever had) and walnut and beetroot risotto for our main. And while I'm not gluten-free myself, there were plenty of options for gluten-free diners at Plants. For dessert, we had to have the madeira and apricot mille-feuille. Everything was delightful and I can't wait to return and sample more menu items.
5. Cafe de Nata (Soho, Knightsbridge, Camden, South Kensington)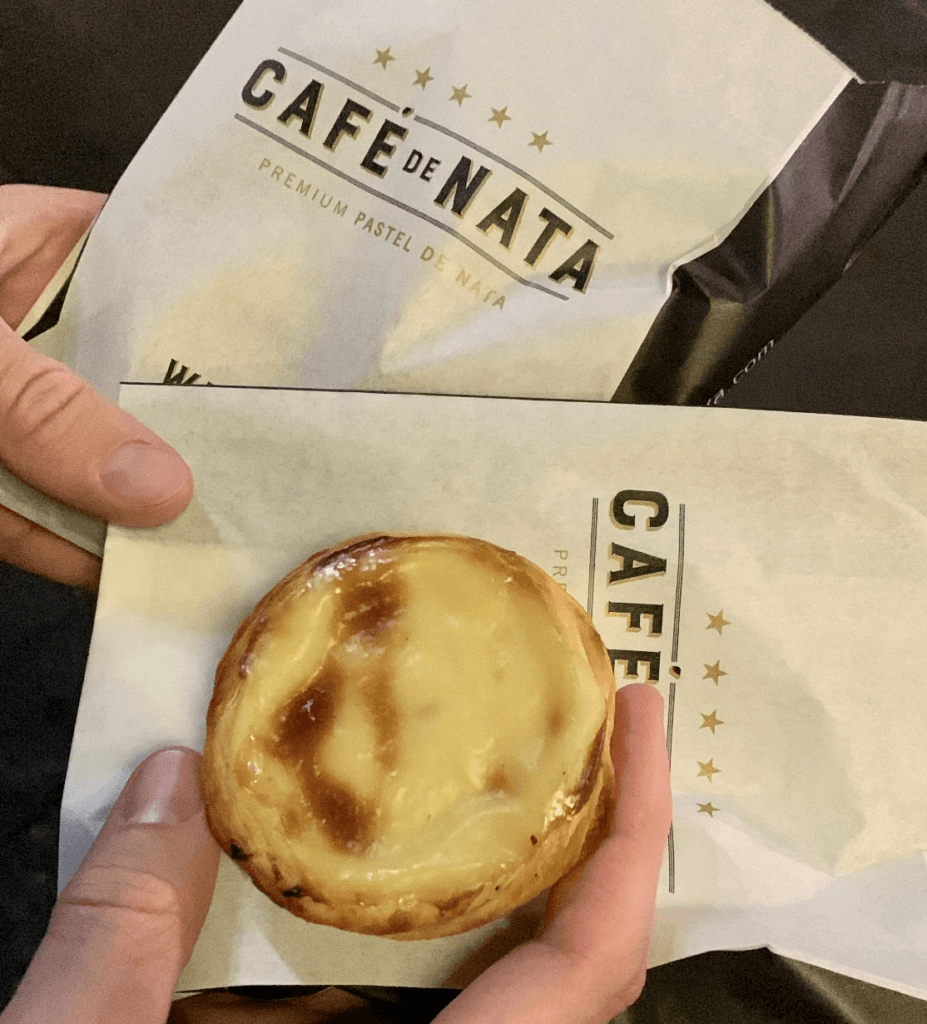 I would visit my family in Portugal most summers growing up, and the food I'd most look forward to (apart from my Avo Betina's cooking) were pasteis de nata: out-of-this world, flaky pastries filled with custard and charred to perfection. I hadn't been able to enjoy them since going vegan, until I stumbled upon a shop in Soho with a gigantic sign in the window that read, 'It's about vegan time!' I looked inside and realized they specialize, entirely, in pasteis de nata – vegan options, included. The minutes that followed were a flurry of excitement, decadence, and bliss – these pasteis taste *exactly* like the best ones I'd ever had in Portugal. Brava, Cafe de Nata. Brava!
6. Sagar Indian (Covent Garden, Hammersmith, West End, Harrow, Leicester Square)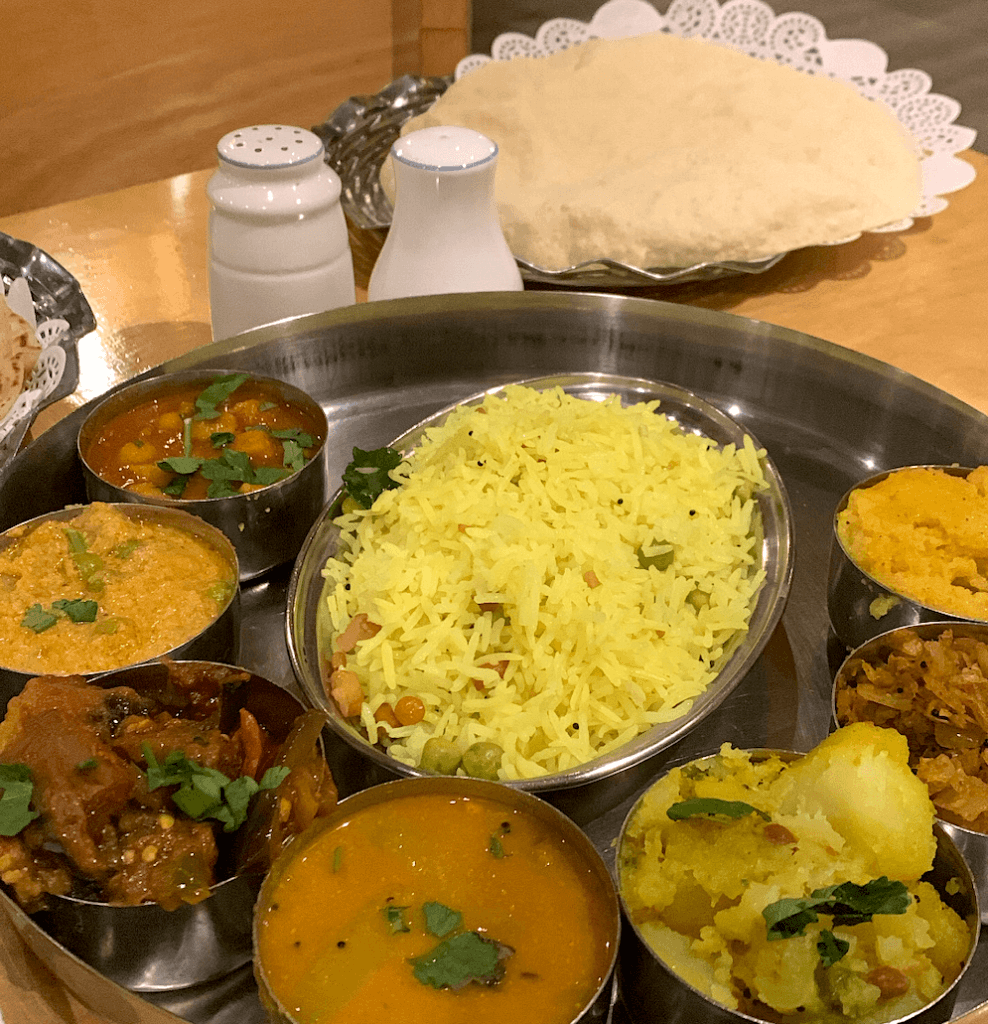 While London may be more newly recognized as a vegan hotspot, it's long been regarded as one of the top cities for Indian food in the world – so we knew we'd have to carve out time for a proper Indian meal while visiting. After doing some research, we learned that Sagar gets some of the highest marks for vegan-friendly Indian food in London, and the praise is well-deserved. We ordered the vegan thali platter which allowed us to sample several of their most popular dishes, included pappadam, channa masala, brinjal bhajii, vegetable korma, sambar, potato palya, suki bhajee, lemon rice, and paratha. We also tried the masala dosa, which was incredible.
7. Daylesford Organic (Brompton Cross, Marylebone, Notting Hill, Pimilco)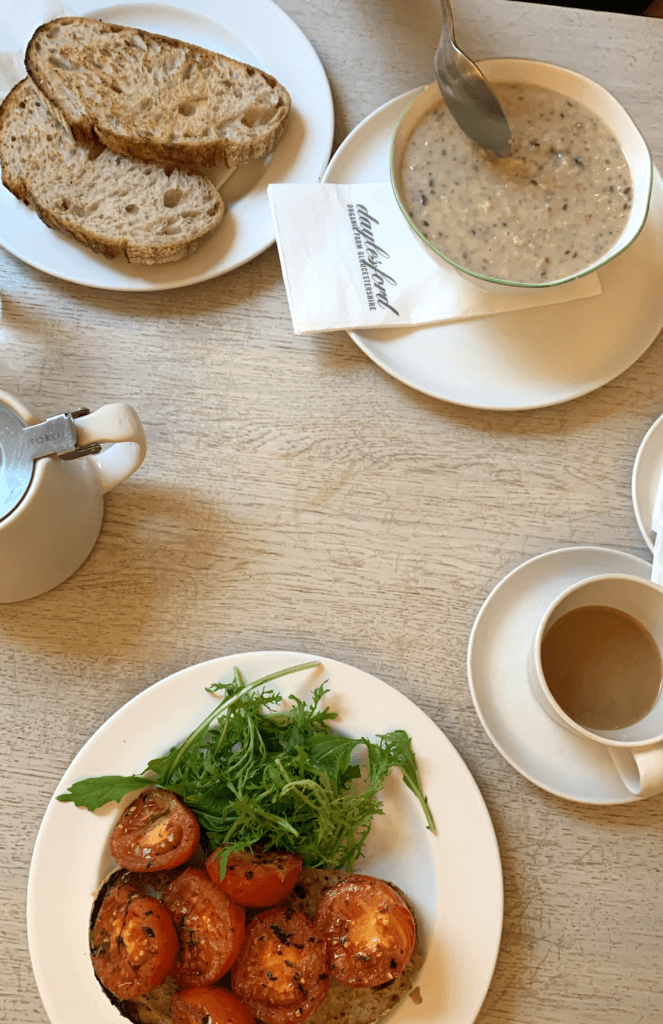 While Daylesford isn't a fully vegan spot, it's quite lovely and very worth visiting. We checked out their Notting Hill and OG Cotswolds farm locations and were enchanted by both. This remarkable brand offers a gourmet market, home goods, a full restaurant, and beyond; it's one of those places you could spend an entire afternoon, between eating (that sourdough bread!), shopping, and eating some more. At their Notting Hill location, we enjoyed a light breakfast of grilled heritage tomatoes on toast and perhaps the creamiest oatmeal I'd ever tried. Later, at their farm in the Costwolds, we devoured the orchard salad with kale, heritage apples, cranberries, spicy glazed pecans, and a sweet apple cider vinaigrette, as well as an incredible & savoury butternut squash soup. Oh, and their teas are incredible.
Best Vegan Restaurants in London: 'Saved for Later' Spots (Including Vegetarian Restaurants)
There were a handful of incredible eateries we didn't make it to on this particular trip – but from what I've gathered through extensive research, the below restaurants account for some of the best vegan food in London.
8. Farmacy (Notting Hill)
This is the place you go for brunch after eating one too many pasteis de nata the night prior. Come here to detox with a green juice and snack on a garden pizza in their aesthetic, airy space in Notting Hill. Several reviews we've read also suggest Farmacy has some of the best vegan ice cream you'll ever find—even more incentive to hurry back here on our next visit.
Unity Diner is perhaps a spot to plan on eating at at before detoxing at Farmacy…we're talking award-winning "tofish" & chips, cheesesteaks, tuna melts, vegan burgers, and vegan comfort food galore. They're also very mission-driven, with profits going directly toward animal rights work and their own Surge Animal Sanctuary.
Vegan Planet is a rare, fully vegan Chinese spot, serving up delicious things like dumplings, vegan peking "duck," sweet and sour "chicken," and basically everything we know and love from Chinese cuisine.
11. 222 Vegan (West Kensington)
This restaurant shows up on a lot of lists, with a broad menu offering everything from seitan stroganoff, to oyster mushroom & seitan raclette, to an asparagus and petit pois burger. 222 Vegan been around since 2004, and has maintained its stronghold as one of the best vegan restaurants in London ever since.
In addition to having one of the more original restaurant names I've ever encountered (try not to chuckle, just try) Phat Phuc is one of the best spots in London to go for killer noodles. Though it's technically a vegetarian restaurant and not fully vegan, their veg-friendly options are reportedly fantastic, offering Asian favorites like laksa, pho, and wok-fried noodles. One day soon, I want to find some vegan Japanese restaurants (like Itadaki Zen) & Thai restaurants for those special flavours in London for my next visit!
13. En Root (Clapham, Peckham)
En Root is self-described as "Indian-inspired vegan cuisine," and it was very difficult to decide between this restaurants and the several other incredible Indian vegan spots in London. We can't wait to try out them next time, as we've heard there's a special British twist to most of the best Indian-forward vegan restaurants in London!
Alkalizing, halal, kosher, sugar-free, whole-food, sustainable and vegan, Vantra really seems to do it all. With a health-centric vegan menu that is said to be equally as tasty as it is good for you, I'm particularly excited to try their nyonya curry, magical mushroom, kebab, and plant-based "eatphoria" (an Ethiopian style-dish) someday.
15. Pipoca (Little Portugal)
Half vegan creperie and cafe, half zero-waste store, Pipoca seems to be quite the gem in Little Portugal. Their galettes and crepes get awesome reviews, as does their next door shop which sells everything from bulk grains to eco-friendly home goods.
Did I Miss Any of the Best Vegan Restaurants in London?
While it seems you could live in London full-time and somehow never try all of the vegan food it has to offer, I'll be counting down the days until my next visit where I'll surely try to make a larger dent in my ever-growing list of the best plant-based restaurants in London.
Sadly, we didn't make it out to Hackney, Brixton, Islington (where Temple of Seitan & The Gate are) or Shoreditch on this trip, where so many great vegan restaurants can be found—from fantastic vegan pizza (like Purezza) & mac n cheese to epic vegan fast food, street food like tacos (a top vegan menu item for me), meat-free pop-up restaurants, and even upcoming prospects for Michelin-starred veggie forward restaurants (in my book, at least).
I'm also on the look out for more vegan Italian restaurants to add to my list for our next visit. I've heard great things about both Vegan Junk Food & The Vurger Co for their tasty vegan burgers. Wulf & Lamb has come up a lot for dinner too, as well as We Are Vegan Everything for more of a vegan brunch menu.
That said, please do let me know if there are any other vegan restaurants in London that didn't make it to this list! And if you're looking for some killer vegan restaurants state-side, be sure to check out my list of the best vegan restaurants in LA and Chicago. Cheers!